Leadership
40% fewer organizations identified their HR team as "anticipator" in 2021: Amogh Deshmukh, DDI
As we look back at 2021, what are some of the areas in which leadership excelled this year? We spoke to Amogh Deshmukh, Managing Director DDI, to gain a deeper insight into these trends.
A lot of things are changing as 2021 draws to a close. With the changing dynamics of businesses, work and employees, the world of work has transformed – for the better - offering the global leaders a never-before opportunity to reframe work, workforce and the workplace.
As we look back at 2021, what are some of the areas in which leadership excelled this year? And as we move into 2022, what do you think are going to be some of the defining trends in leadership next year? We spoke to Amogh Deshmukh, Managing Director DDI, to gain a deeper insight into these trends.
Here are a few excerpts.
Areas in which leadership excelled during this year
While everyone was struggling during this year to do virtual team management, but one thing that has improved during the pandemic times is decision making skills of leaders. Many leaders have realized that they really can't hold the control to themselves and they have gone about empowering others in the team. So decision making in many organisations has become much faster compared to that earlier trend of approval dependency. 
Since 2015, we have tracked how HR departments are positioned in their companies based on three categories:
Reactors: They ensure compliance with policies and practices, and respond to needs of the business by providing key tools/systems when asked.
Partners: HR works with business leaders to openly exchange information about current talent issues and collaboratively work toward mutual goals.
Anticipators: Leading a strong talent strategy, they use analytics and data to predict talent gaps in advance and provide insights about how talent quality relates to business goals.
As per DDI's latest HR Leadership Insights Report, wherein we asked HR and leaders as to what's the role they see HR perform, it was found that 40% fewer organisations identified their HR team as an anticipator in 2021. Though in the pandemic, HR's role as a partner really improved and all businesses recognized HR as a better partner than before, however, anticipators or HR who could see into the future, dropped down from by 40% from what it was at 2018 at 17% to 10% in 2021. So while HR improved on the partnership score card, by solving the here and now problem, but not many HR were really able to zoom out into the future of work and hybrid workforce. So in this context, they are coming out more as a reactor than partner.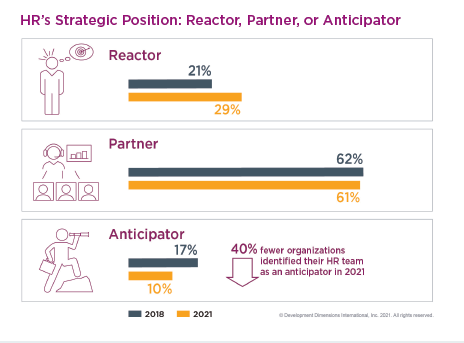 The fact that fewer organisations saw their HR team as an anticipator is not a good news because it clearly showed that while HR has responded well to the pandemic, yet they were not thinking ahead as to once we move out of the pandemic, how things are going to change. 
Fixing leadership development and succession planning gap against the background of the 'Great Resignation'
The things required for leadership development and bridging the succession gap has not changed i.e. you look at the business requirements and proactively develop talent for the future. So some best in class organisations that continued to invest in talent despite the pandemic have not seen a dramatic rise in attrition. This clearly points out that if the organisation can provide purpose and show a career direction to their talent, they will be able to steer clear of the Great Resignation wave. 
So the question that arises is whether HR and leadership are providing that purpose and having a career conversation proactively? While the mode of acquiring content for development can be digital, but the conversations cannot go away. The biggest mistake HR is doing right now is trying to replace the human element with the digital element, which will make them move further from employees, which then translates into the Great Resignation.
What HR needs to do for leadership in 2022
What HR needs to be cognizant of as we move into 2022 is that the leadership gap is on a rise and the succession bench strength has weakened further. We have been tracking the bench strength of organizations over many years and that has gone down from 18% in 2011 to 11% in 2020. And that is a worry because if you look at the investment every organization is making in leadership development, pretty much all of them are investing more and more. Yet the bench strength remains weak. 
So HR really needs to get back to the basics and not run after the net new shiny thing. HR needs to be invested into the learning of talent and ensure that leaders of the organisation are also involved in it. Ultimately, HR needs to partner with business on the leadership agenda, use data to make better talent decisions, and have a clearly defined set of leadership expectations/ competencies.