Employee Engagement
Engagement vs Passion
The two concepts are intertwined yet separate and hold significance of their own. Lets look at the two notions in the realm of employee productivity and understand the difference between an engaged employee and a passionate employee. Also, what impact they make to the organization?
Organizations today understand and value contributions made by an engaged employee. What needs to be understood is that an engaged employee may advance within the company by performing excellently but not necessarily advance the company in entireness, which a passionate worker will definitely do.
A passionate worker contributes more towards value creation than human capability for the company. The more passionate an employee is the more value he/she brings to the organization, which is an immeasurable benefit besides increased productivity.
"There is a difference between employees being engaged and passionate. They are two different things. Being engaged is one thing, being passionate is another. Engaged employees are switched on, conscientious about their work. They do everything what they are expected to do. They follow the rule book. They do everything you want them to do," says Milind Jadhav, CEO-Celectigence at a session in Mumbai NIPM National Conference 2016.
Passionate people are keen on exploring and experimenting in order to provide better outcome. They view new challenges as opportunities to learn additional skills. They are driven to develop new skills at an ever rapid scale.
"Passionate employees are people who don't just stick to the rule book. They do whatever it takes to delight customers"
"Passionate employees are people who don't just stick to the rule book. They do whatever it takes to delight customers. They are emotionally connected employees, they are passionate about the work they do and organization they work for. Passionate employees take organization to the next level. That's why you have iconic employees; iconic officers at different levels who emerge out of the organization and become big brands. They become brands in themselves and they don't need any introduction. This is where leadership issues come in. Leaders must create a work environment where employees are not just engaged but they feel passionate about what they do. The researchers have pinpointed that overall large majority of employees are passionate either about their work or organization . But out of these, only half of them are passionate about their organization, which is a cause of concern. Even the top performers can feel disconnected with the organization and may start looking for options outside. Therefore, analyzing the situation, researchers have created a phrase called 'Passion Deficit'," adds Milind Jadhav.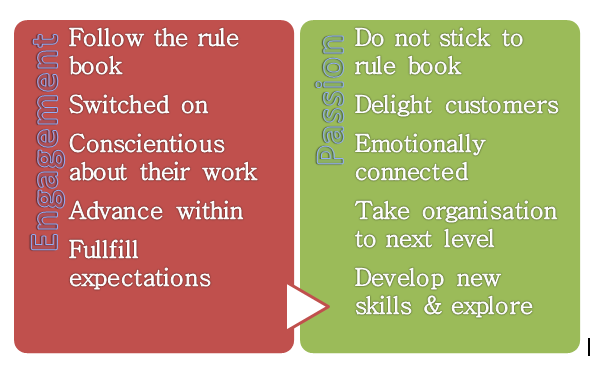 Therefore, organizations need to identify the variables that influence employee passion and also focus on what can be done for triggering passion in employees towards their organization.