Employee Engagement
ESG Alignment with DE&I: A Business necessity
Why do we need DE&I aligned for successful ESG adoption?
Globally, there is a strong movement for organisations to shift their focus from being only profit-centric to a more triple bottom line (people, planet and prosperity) centric. This is becoming not just a desirable shift, but an imperative to sustainable growth.
People are the starting point, the one common denominator that travels across the entire DNA of any system or organisation. People are the lifeblood and the most important reason and resource for an organisation to exist. Policies and practices get designed and developed for people to experience a culture of safety and well-being that allows them to contribute to their best potential, and bring their best ideas to fruition for the organisation's benefit.
Thus, it is undeniable that DE&I and access to resources for the people is a 'first principle' that fuels any organisation's growth engine, ensures sustainability and helps meet the business objectives. 
Integrating DE&I into all business decisions becomes the key to driving sustainability. And that means re-aligning business goals from only a consumption model to a more holistic contribution model. The impact and influence therefore to be measured across the full life cycle of cause and effect within the larger ecosystem. 
From the ESG lens, aligning DE&I across each of the E, S&G helps exponential positive outcomes in 
Meeting business & economic objectives of an organisation (financial & non-financial)
Supporting sustainable livelihoods within the entire ecosystem
Pursuing newer ways to fight climate change 
Transitioning to a net zero economy (equalizing consumption & contribution) 
Understanding the people - policies, processes, practices, experience framework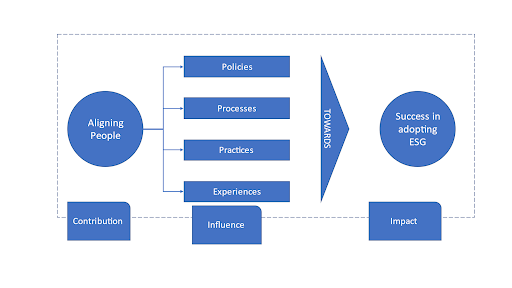 Policies, processes and practices around people impacts experience and vice versa. Each of these is interdependent and interconnected. Any short circuit negatively impacts the business outcomes for organisations.
For example, a recruitment policy that is fair, equitable, inclusive and experienced as such will normally reflect in attracting the best talent, lower attrition, and sustain a positive work culture leading to higher productivity- a direct positive impact on business outcomes.  
Similarly, keeping the focus on diversity across all the stakeholders has proven to bring agility, productivity, and innovations that help adapt to changing environments and come out with better solutions to existing challenges.
Companies that ranked lowest for both gender and ethnic/cultural diversity were 29% less likely to achieve above-average profitability (Diversity wins: How inclusion matters, May 19, 2020, McKinsey Report).
The success enablers for ESG implementation
Any organisation which is either already in the process of adopting the ESG framework or is planning to start the journey would need the following factors aligned- 
Leadership Commitment, Employee alignment, Stakeholder engagement, Disclosure & reporting. 
All these are People-centric dimensions and need to be addressed through the DE&I lens to be optimal and effective. In fact, even Disclosure and reporting need to be people-centric. For example, the Whistleblower policy needs a strong DEI flavour in order for people to feel safe to report.
The intersection of DE&I into the ESG Framework- identifying the key DE& I Elements within ESG 
A holistic value creation framework for individuals, organisations and the larger eco-system would require concurrently addressing a range of sustainability matters. These include economics, business ethics, environmental safety and transparency alongside human rights, fair labour practices, and well-being. Businesses are also expected to promote inclusive growth and equitable development while minimizing any adverse impacts on social, cultural and economic aspects of society and avoid human rights violations.
All the core elements under the ESG framework have a strong underlying component that intuitively addresses one or the other elements of D, E& I. The following table is an indicative compilation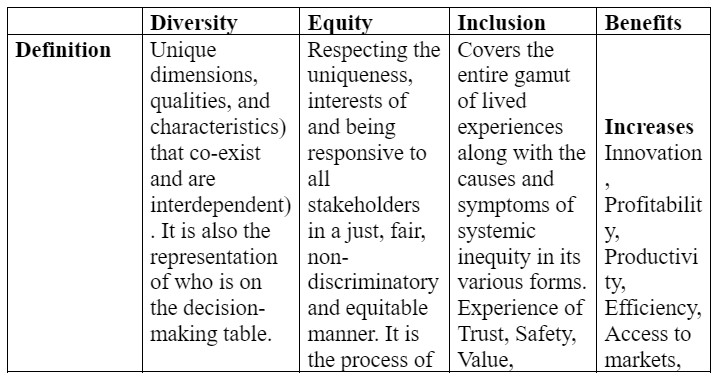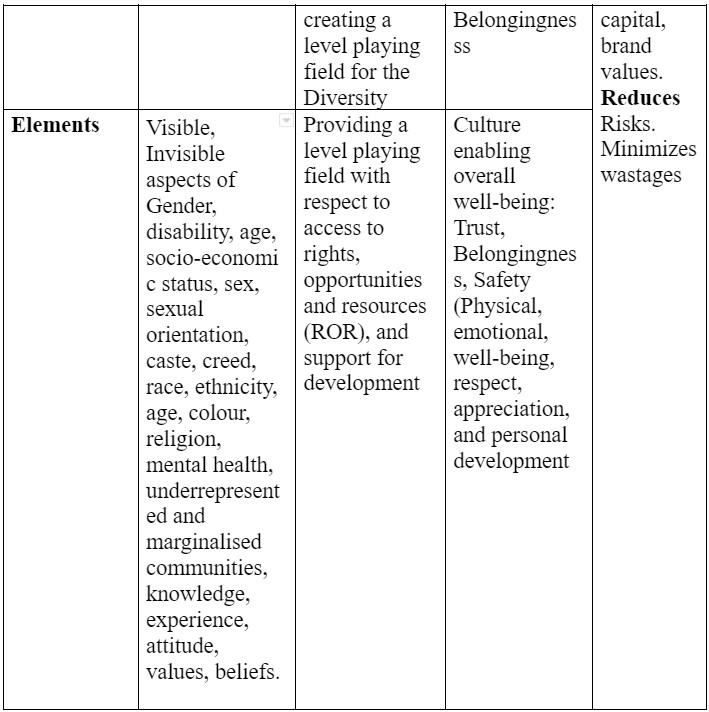 Superimposing the DE&I elements on the ESG framework on a macro level would broadly cover the following: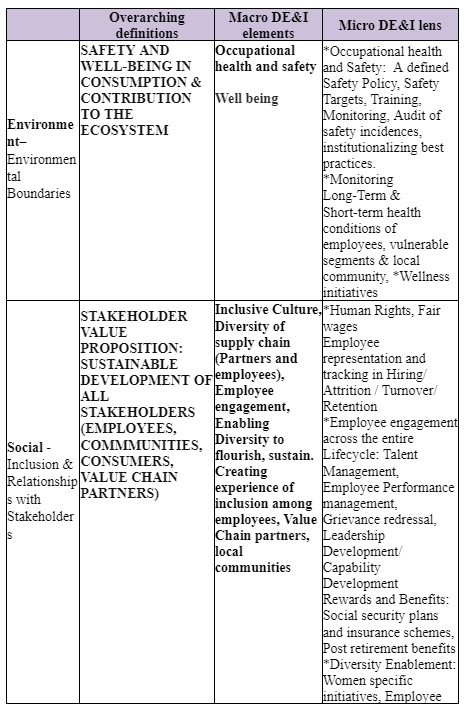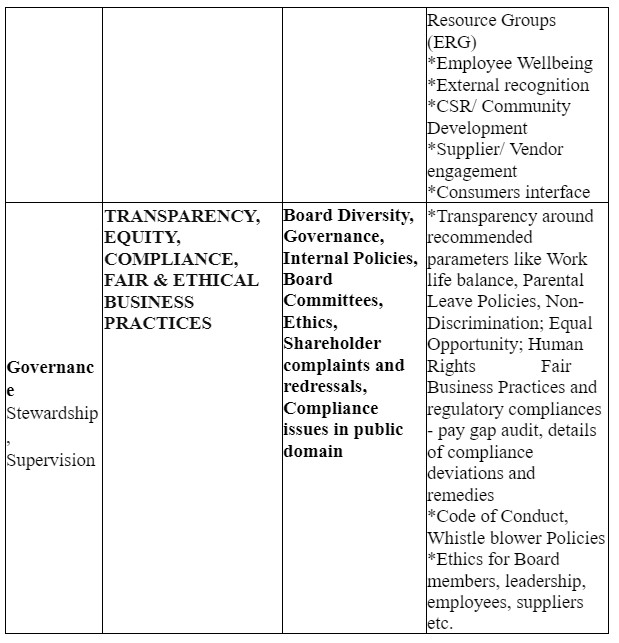 Process
Some of the steps could include undertaking a policy audit, an inclusion survey, reviewing policy utilization, conducting gender & another diversity-based infrastructure audit, and mapping secondary research for best practices. These will help in dovetailing DE&I into the culture, policies and practices and enable effective tracking of DE&I progress using requisite metrics.
The Benefits
Organisations that are oriented towards ESG and holistically address ESG issues along with the DE&I elements achieve better revenue growth, market access, capital access, cost savings, productivity, profitability, strengthening of stakeholder relations and improving their brand and reputation. 
There is a positive net impact (financial and non-financial) with aligning ESG & DEI in enhancing, replenishing resources, minimizing risks (including retaining best human capital). After all, relationships and reputation are two key parameters for sustained performance and long- term prosperity of an organization. 
Conclusion
The pushes and the pulls for adopting the ESG framework are undisputed. Investors, shareholders, regulators, citizens, employees, value chain partners, consumers are demanding a more holistic and sustainable approach to doing business that goes beyond economics alone. 
Herein lies the opportunity for organizations to reframe their business purpose, step up and contribute in shaping a more equal future. It provides the platform to redefine sustainability that
Takes into account risk management and value creation 
Marries Culture, Economic and Business Processes to integrate the financial and non financial transformation for collective larger good
The primary economic-consumption focus of linear economy has exposed organizations to many external vulnerabilities that can be threatening to their survival. The pandemic has uncovered the weaknesses in the existing systems and institutions in terms of agility and resilience. Moving to a Circular economy that combines consumption, contribution impact and influence as the core basis for business existence is the way forward. This will determine Responsible Business Practices that are Ssustainable, equitable, ethical and for the betterment of the larger ecosystem. 
No organisation can overlook addressing the world's major challenges around poverty, climate change, resource depletion, globalization and demographic shifts in their business functioning. Environmental, Social, and Governance (ESG) proposition provides an opportunity to accelerate top-line growth, reduce costs, uplift productivity and employee engagement. Besides, it helps conform to regulatory and legal compliances and enhances investment and asset optimization. Today, corporate performance, investment performance, and ESG issues are inextricably linked. 
The ESG framework recommends that organisations annually disclose policies and progress on matrices regarding social issues such as human rights, labor rights, health and safety, discrimination, well-being, fair practices, equity etc. Adopting ESG framework, therefore, initiates organizations into integrating their DE&I roadmap too and working towards an enabling culture.
To make this future viable, a planned integration of DE&I will assist sustainability both from an impact and influence perspective. It could be the segway to a net zero economy from both consumption & contribution perspective.