A Brand Reachout Initiative
HR Technology
How Tata Motors Finance improved its employee experience through digital transformation
From complex centralized workflows to secure and smart HRMS, Tata Motors Finance digitally transformed their HR processes and enhanced the efficiency of people related processes by leveraging technology. Here's a deep dive into their HR Digital transformation journey.
2020 brought both HR and technology at the center for ensuring business continuity, managing a blended workforce, and effectively transforming organizations to tide through the crisis and adapt to the new normal. While there is no lack of technologies to support HR today, what's frustrating is the dearth of simple, decentralized, and integrated systems that are easy to implement, easy to adopt, improve HR efficiency, and most importantly, raise up the employee experience exponentially. Tata Motors Finance (TMF), one of the pioneers of vehicle financing, also underwent a tech transformation with the intent to enhance the efficiency of people-related processes by leveraging technology to offer Employee Pro (EMPRO) HR Services and ultimately enable a great employee experience.
TMF's vision for HR- Simplify and Decentralize
"We needed change in the HR system to deliver the right digital experience from anywhere. With the Covid induced changes like Work-From-Anywhere, we needed an agile system that was flexible and employees-focused to create a future-ready workforce," shared Punit Puri, CHRO, Tata Motors Finance.
With a 6500+ strong workforce, Tata Motor Finance is one of the pioneers of vehicle financing established way back in 1957 (under a different name). The company has a strong footprint across India and operates through its own 260+ branch networks, in addition to Tata Motors dealers' sales outlets. 
As an organization, TATA Motors Finance follows the philosophy of 5 D- Develop, Digitise, Diversify, Divest and Deliver. The team knew that the right HR technology would facilitate employees to deliver more. Their vision was to use technology to enhance the efficiency of people-related processes by simplifying and decentralizing employee services.
TATA Motors Finance was using multiple, disparate, and centralized systems for Human Resource processes and services from the last 10 years, which needed to be transformed to have an employee-centric approach or what we branded as Employee Pro (EMPRO) HR Services. 
There were multiple challenges that needed addressal in the digital transformation journey. 
First, due to a lack of system integration, it was difficult to build a single source of employee data.
Secondly, the solutions that had been implemented earlier demanded a lot of manual input, complex workflow, and data entry digitization due to which the TAT of HR processes was high and data was scattered, inconsistent and lesser value for the business. There was also the challenge of inaccurate data flow due to disintegrated systems. This meant a significant HR bandwidth was spent on manual processes; there was a lack of anywhere, anytime services. Thus, employee experience suffered on account of the inadequate technologies.  
What was needed was a system to manage the complex workforce – on roll & off role employees but with unified & dynamic workflows for all employee types. 
Therefore, through a digital transformation, Tata Motors Finance was looking to address all these challenges such as inaccurate data flow, release the HR bandwidth for valuable HR work, and ultimately accelerate adoption/ acceptance in employees and enrich/ enhance the employee experience.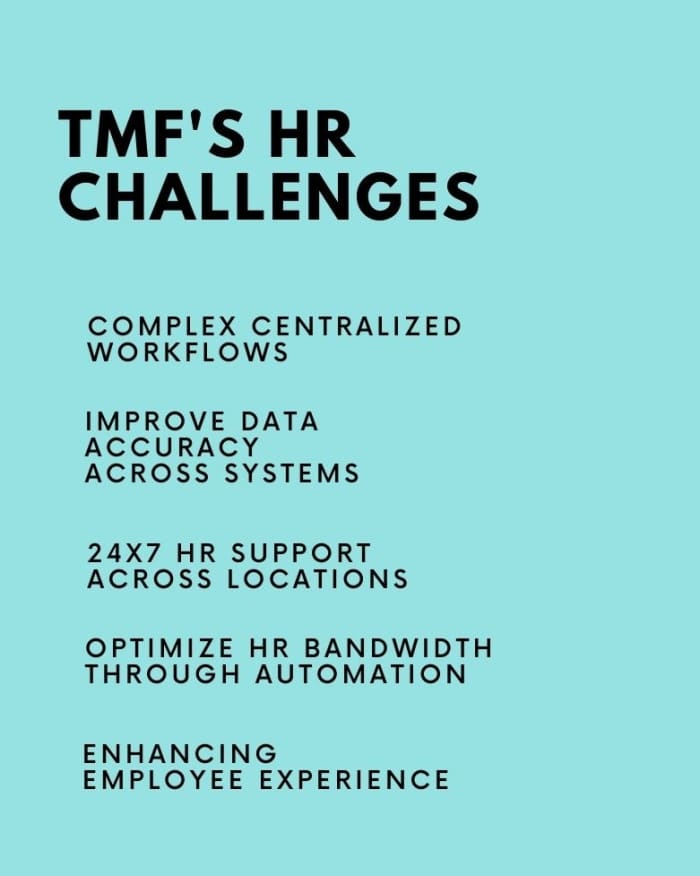 Selecting the right HR Tech Partner
TATA Motors Finance's vision for the transformation was very clear- they wanted to put in place a unified, real-time, integrated system (Hire to Retire Modules all-in-one platform) for a seamless employee experience. And for this, selecting the right HR tech partner was of utmost importance.
The firm was looking for a partner who:
Had an in-depth understanding of the HR industry and the BFSI industry
Possessed expertise & background in HR & people strategy
Provided a new age technology, end-to-end HR services on one platform that is robust, scalable, and    enterprise-grade
Offered open APIs for integrating with their current business system
Carried experience of implementing large scale HRMS for its 6500+ distributed workforce
Various HRMS vendors were evaluated on these criterions that could meet TMF's particular needs at scale.
The HR Technology Transformation Journey
The HR transformation journey was kick-started by implementing PeopleStrong Alt, a unified, real-time, integrated system with technology at the core and supported by a native workflow engine & in-built control. The HCM suite included modules such as Recruit, On-Boarding, HRIS, LTA, Confirmation, Transfer, Promotion, Exit, Performance, Compensation Zippi & Jinie (ChatBot), which were integrated together for a seamless experience. 
But the implementation also had its own set of challenges. Initially, bringing about a mindset change was the major challenge. Employees were used to a decade-old HRMS and its interface. To tackle change management, implementation was done in a phased manner. 
● Phase 1: HR Audit and Workflow Mapping where TATA Motors Finance and PeopleStrong analyzed the HR processes and systems in place.
● Phase 2: Implementation of the core HRIS & majority of other modules was done within a matter of 90 days. Features like an A.I. based chatbot and mobile-first services further helped TMF to bring the "New Code of Work" to the employees' work-life in the new normal, as the firm entered the lockdown period last year brought on by the pandemic.
● Phase 3: Extensive testing & training was done with the steer committee to ensure a superlative experience
● Phase 4: Governance on all levels – operational, tactical & strategic.
The rigorous approach led to the improvement in service efficiency. Employees adapted quickly to the simplicity and mobile-first feature of the HCM suite, which ultimately provided an improved experience.
Moreover, communication of the significant features was also very essential, it played an important role in the faster adoption of the new technology. Employees were educated & training sessions were conducted to help the Tata Motors Finance team make a smooth and easy transition. 
Impact and Outcomes    
The digital transformation process was both high-touch and high-tech, ensuring high end-user adoption. Thus, TATA Motors Finance was able to gain some immediate wins that showcased the success of this transformation.
It helped TATA Motors Finance to 
a) Enhance Employee Experience: This was reflected in an NPS score of 53, with a mobile adoption percentage of the new HRMS rising to almost 90%+, thus we could decipher enhancement in employee experience with the implementation of new technology.
b) Improve HR Efficiency: The digital transformation enabled the firm to save up on HR's bandwidth, thus giving them more time from transactional work to more value-added core HR work for business.
c) Build System Controls: The HRMS has been integrated with different business systems and has helped root out repetition of duplicate tasks with technology-based controls, with zero manual error reported in the last 12 months. Thus, the HRMS has become one source of data truth for all business-related activities.
d) Create Secure & Smart SaaS HR Tech: BFSI is a highly governed and regulated industry. With PeopleStrong's GDPR compliant & SSAE18 certified solution, Tata Motors Finance's employee data was safe & secure. But being on the cloud, it allowed the company to enjoy the benefits of the latest from the industry.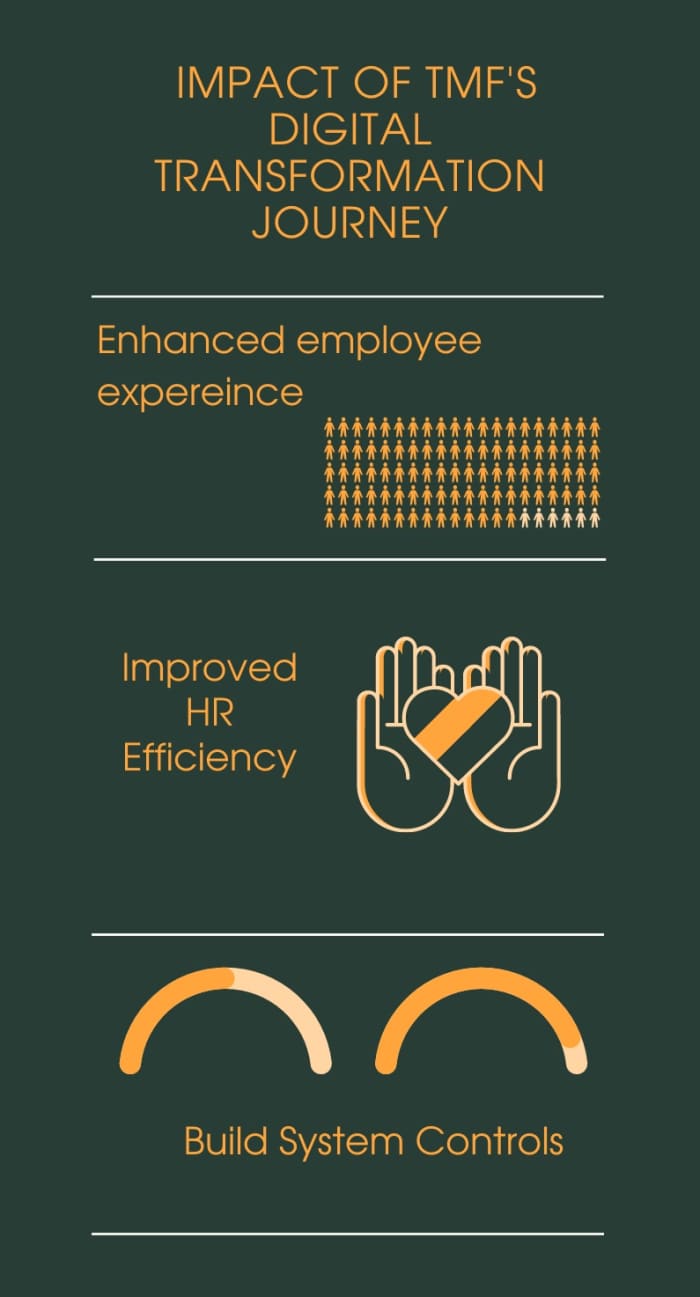 Over 6500+ strong workforce has been better enabled as a result of this transformation, highlighting the scale of effectiveness of this digitalization. 
The HR digital transformation journey of TATA Motors Finance has ultimately been of moving away from manual work to system-driven and value-added activities through simplifying HR processes and automating HR services by bringing in agility and speed at the core of each HR activity. TATA Motors Finance and PeopleStrong came together to create value not only for the 6500+ strong workforce but for many beyond. 
Punit Puri, CHRO, TATA Motors Finance aptly concludes, "We have a happier workforce that is able to see the power of transformational HR System now. However, we have a long roadmap ahead to add value to TMF by way of Predictive People Analytics that helps in taking people decisions, to have more digital assistants to improve service availability, as well as Robotic Process Automation to further improve HR's speed, quality and effectiveness."