HR Technology
Top 10 investments in Indian HR Tech space in 2019
Here's a quick look at the top news making fundraisings and acquisitions in the Indian HR Tech and Work Tech space this year.
As we close another exciting year for the HR Tech space, the market seems to be on a roll. The growing number of investments in the space is a validation of this. As per Deloitte Consulting LLP, the HR technology marketplace is a $400 Bn market globally. Investor interest in this sector is steadily growing globally and in India as well. It is estimated that Indian firms can save at least $600 Mn annually with HR tech. As organizations turn more towards digitization, investments in the sector are expected to grow.
Here's a quick look at the top 10 investments in the Indian HR Tech and Work Tech space this year.
Zeta raised a Series C investment of under $60 Mn from Sodexo at a valuation of $300 Mn. With this investment, Sodexo will acquire a minority stake of under 20 percent in Zeta. Zeta started its journey in the digital meal benefit market. Its present product portfolio includes a full-stack, cloud-native, neo-banking platform for issuance of credit, debit and prepaid products that enable legacy banks and new-age fintech institutions to launch retail and corporate fintech products. It also includes an enterprise solution for corporates, such as automated cafeteria, employee gifting and rewards, and recognition.
HR Technology platform Darwinbox raised a funding of $15 Mn in the month of September. This round was led by Sequoia India along with participation from existing investors Lightspeed India Partners, Endiya Partners and 3one4 Capital. Darwinbox's cloud based end-to-end Human Resource Management (HRMS) platform caters to HR needs across the entire employee lifecycle (hire-to-retire).
HR and Payroll software solutions firm Greytip Software Private Limited that operates HR Automation and Payroll Product, GreytHR, raised a Series C funding of Rs $4.8 Mn (34.5 Cr) from new investor Info Edge and existing investor MegaDelta Capital in October. The HR Tech firm will use the proceeds to grow from its current base of 9,000 clients and expand its product, sales, and marketing operations to newer markets.
Health benefits startup, ekincare, raised $3.6 Mn in a Series A funding round led by a new investor, with participation from existing investors including Venture East, Eight Roads and Touchstone equities in the month of November. The funds will be used to strengthen ekincare's technology platform, business development, marketing, and expand its portfolio of offerings in the corporate health benefits market.
Shortlist, the online platform connecting African and Indian employers to top talent, raised $2 Mn in a round of Series A financing led by Blue Haven Ventures, with participation from Zephyr Acorn, Compass Venture Capital, Potencia Ventures, and others in February.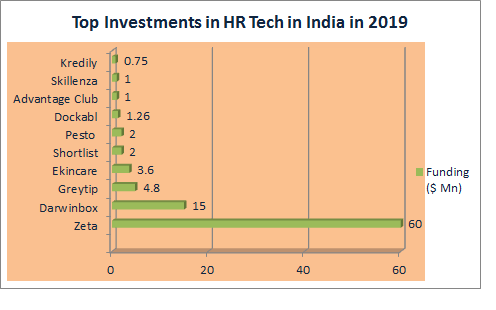 Pesto, a career accelerator startup raised seed funding of about $2 Mn led by Matrix Partners India in May. Swiggy Founders Sriharsha Majety, Rahul Jaimani and Nandan Reddy; Innov8 Founder Ritesh Malik; Posist Founder Ashish Tulsian and Jack Yeung of OIC Capital were among others who participated in this investment round.
Employee experience platform Dockabl raised $1.26 Mn in its Pre-Series A funding round led by a pool of marquee investors including Aditya Berlia (Apeejay Group of Companies), Ritesh Malik (Guerrilla Ventures), Sanjay Kapoor, Angad Singh Malhotra, and Arun Kapur in June. 
Gurugram based employee rewards and recognition platform Advantage Club raised $1 Mn as part of its pre-Series A round of funding led by GrowX Ventures and joined by early-stage investor Sprout Venture Partners, among others. Existing investors Axilor Ventures and Mumbai Angels, as well as angel investors, also participated in the round. 
Bengaluru based HR tech startup, Skillenza raised $1 Mn pre-Series-A funding in May. This round of funding was led by CBA Capital's Education Catalyst Fund (ECF), along with Blume Ventures and Tracxn Labs, Let'sVenture, CIO Angel Network, Keiretsu Forum, and Hyderabad Angels.
Founded in 2017, Kredily offers workflow automation for critical Payroll and HR processes soaring on its freemium model drawing considerable attention from small and medium enterprises. The two-year-old HR tech startup raised $750,000 in a seed funding round led by Fosun RZ Capital, an affiliate of Chinese conglomerate Fosun Group in June.
Top Acquisitions in Indian HR Tech Space in 2019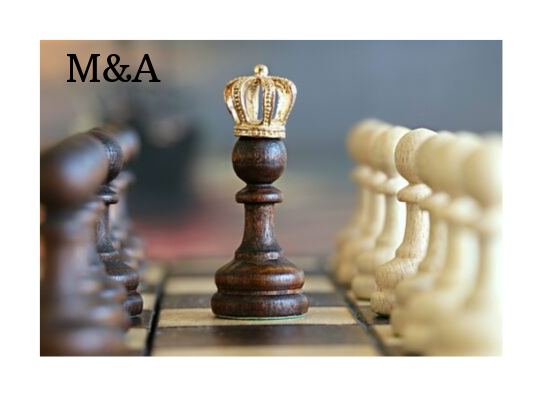 In the Indian HR tech space, a number of significant acquisitions were also undertaken in this year-
Software products company Zoho acquired ePoise Systems, a hiring automation product startup for an undisclosed amount. Founded in 2013 by Sachin Agrawal and Bishan Singh, ePoise automates multiple screening steps for multiple roles.
Online marketplace, OLX Group acquired Aasaanjobs, the recruitment platform for blue and grey-collar jobs in India to further strengthen its jobs vertical. With this acquisition, OLX Group looks to strengthen its position in the online job search segment.
In April, the global leader in employee recognition and workplace culture, O.C. Tanner acquired the recognition and rewards technology and business of Kwench, an India-based company that delivers cutting-edge, easy-to-use corporate recognition solutions.
Info Edge (India) Limited acquired 100% ownership of Highorbit Careers Pvt. Ltd (herein after "iimjobs") for a cash consideration of Rs. 80.82 Cr. Highorbit Careers Pvt. Ltd. is the owner of online job portals iimjobs.com and hirist.com.