Recruitment
Could the worst US hiring slump in 5 years benefit Donald Trump? 
The May jobs report reveals dismal figures of job creation in the United States for the time being. A close examination of the political rhetoric and the reality of jobs.
A soft jobs market could help Donald Trump win the White House if he presents a coherent program to fire up growth and puts substance into his promise to restore American greatness, writes economist Peter Morici.
What Trump is proposing is a non-pragmatic Make in America of sorts. But these jobs dont necessarily exist anymore.
The US economy has added only 38,000 jobs in the month of May, according to the unsettling and unexpected monthly report by the Bureau of Labor Statistics. The number of new jobs created has not fallen this low since September 2010, when the economy was just starting to rise out of recession.
The analysts were caught off guard and the gloom is palpable and widespread. Even after adjustment is made for the fluctuation caused by the nearly 40,000 Verizon workers on strike, the result greatly falls short of the economists' consensus expectations of 160,000+ jobs. Monthly employment growth averaged to 192,000 jobs, added in the first four months of 2016, which anyhow is a slowdown from 2015 figures. To make that worse, the data for March and April was revised downward by a combined 59,000 jobs.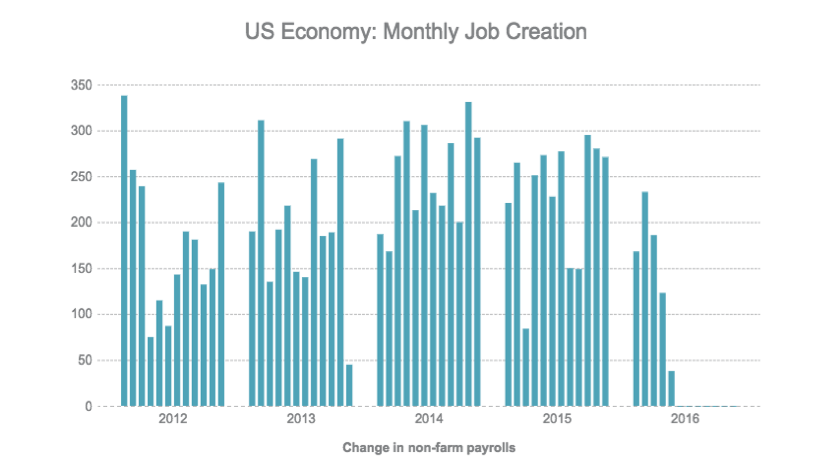 No. in thousands. Source: Bureau of Labor Statistics
The performance of the economy in the months before the presidential election has a significant impact on the results. A Gallup survey of 1,530 adults revealed that economy remains a top concern for US voters at more than 90 percent. 89 percent agreed on the same for jobs and employment. As Timothy Lee on Vox puts it, this is "an ominous sign for the US economy — and for Hillary Clinton's chances of beating Donald J. Trump in the November election." In general, poor economic performance could put a damper for the incumbent Democrats and for Hillary Clinton.
Indeed, job numbers get revised very often in the months to come as better data gets available to the Labor Department and the long term performance of the economy under the Obama government has seen several high points as well. The problem, however, is not the actual trends within the economy but how they are perceived by the American voters.
As per the report, the unemployment rate has further come down to 4.7 percent (from the 5 percent in April), which is the lowest the country has ever had since November 2007. Contrary to what it sounds like, this huge drop is actually a negative development. The standard measure of unemployment only includes people who are actively looking for work and too many disheartened Americans have given up looking for a job which means that they are not counted in the labor force. In a short term, that brings down the jobless rate. But as economist Peter Morici writes in the Washington Times, "Were the adult labor force participation the same today as prior to the financial crisis, the unemployment rate would be 9.3 percent". "In recent months, more Americans had been coming back into the job market. Now the trend appears to be hitting a plateau", said Patrick Gillespie of CNN Money.
There are sensible reasons to not give excessive weightage to a single month's report, such as a healthy number of quits. More than 2.9 million Americans quit their jobs in April, which indicates that they are finding new jobs, usually at a higher pay. But, any signs of a soft jobs market could still be an opportunity for Trump, whose campaign is based around disparaging immigrants and claims of getting the outsourced jobs – especially manufacturing jobs – back. "A soft jobs market could help Donald Trump win the White House if he presents a coherent program to fire up growth and puts substance into his promise to restore American greatness", writes Morici.
'Manufacturing jobs' and elections
The issue of saving and creating jobs in the US is far from new. Many politicians from both the Democratic and Republican parties believe that manufacturing jobs, in particular, deserve a special treatment. Before 2016, it was a much clamored subject in the 2012 presidential election debates between President Obama and his Republican rival, Mitt Romney. Donald Trump has simply latched on to this ongoing trend to build a revolting, forceful campaign. This has clearly worked to some extent, as Mr. Trump is now the de facto Republican nominee, much to the world's bafflement. According to a Gallup survey, voters have also given him an edge over Clinton on the issue of handling the economy – 53 over 43 percent.
Less educated, working-class white males have been the driving force behind Trump's ascension. Many of them have faced economic hardships due to a sharp reduction in manufacturing jobs over time. The billionaire, real-estate mogul has pledged to bring the jobs back from overseas (China, Mexico and Japan) and improve the American economy. One of his main arguments is that as a very successful businessman, he has already been creating jobs and plans to do that at a larger scale for the country as President.
His approach entails blocking trade with much of the world, especially China. Trump has accused China, Japan, Mexico (and sometimes India) of stealing American jobs and proposed to put tariffs as high as 45 percent on imports from these countries. His declared intentions are to penalize the companies that move their operations abroad, as evidenced in his recent diatribe against Ford for building a plant in Mexico.
While it is true that competition from China and other low-wage emerging economies has severely hurt some American workers as this study shows, the problem – despite the political rhetoric – is no longer simply of globalization. What Trump is proposing is a non-pragmatic 'Make in America' of sorts. But these jobs don't necessarily exist anymore.
In the recent years, a small but growing group of American companies with formerly-offshore manufacturing operations, have been moving production back to the US. This time, however, they are employing only a fraction of workers as compared to the olden days, due to increased automation. Indeed, while jobs have reduced sharply, the output from the manufacturing sector has increased consistently.
Service economy on the rise
Manufacturing jobs have indeed started phasing out all over the world, not just in developed countries. Even a modern manufacturing behemoth like China is having to pull the brakes sooner than predecessor Asian Tigers like Japan and Taiwan that relied on manufacturing. "Global employment in manufacturing is going down because productivity increases are exceeding increases in demand for manufactured products by a significant amount", said the Nobel-winning economist at Columbia University, Joseph Stiglitz. As professor Eduardo Porter comments in this article, "The consequences of this dynamic are often misunderstood, not least by politicians offering slogans to fix them".
Even if international trade is curtailed by the US, the evolution away from human labor and towards automation will continue because, as Charles Kenny of the independent Center for Global Development has showed. "While it's smart to focus on creating more stable, remunerative jobs, few of them are likely to come from manufacturing," writes Kenny.
For Indian economy and jobs market, any trade wars of US - China are likely to be destabilizing and detrimental. Rather than promising to refurbish a manufacturing renaissance, or start trade wars with chaotic global consequences, it would do well to for Mr. Trump to explain in clear and concrete terms how he will be able to help Americans without destabilizing the economy internally and of the rest of the world. Rather than bemoan the 'good old days', the challenge, suggests columnist Gregg Easterbrook, will be to create more white-collared jobs in the service economy which is fast taking over from manufacturing.
Morici notes that while many positions in the service economy (education, health care and professional and business services etc.) pay well, those often require a college or an advanced degree or expensive specialized training beyond high school. In light of this, an effective way to generate good-paying jobs in future maybe to incentivize college education by making it affordable for all and by realigning universities with the employable skills of the future that would be required in the post-manufacturing, artificial intelligence era.
Any such intention is however missing from Trump's rhetoric.