A Brand Reachout Initiative
Skilling
How PayMaya achieved 50% drop in attrition level

One HR Read similar articles
In this case study of PayMaya, we will look into how investing in building and developing talent led PayMaya to propel sustainable business growth.
With a growing user base of 28 million who tap on services such as remittance, consumer wallets, and business payment solutions, digital payments firm PayMaya processes hundreds of billions of pesos a year. But competition is rife in a saturated market that is constantly eyed by international giants. To make its first-mover advantage count, PayMaya ensures its 700-strong workforce is highly skilled, motivated, and well-equipped to propel the company into the future.
Business Challenge:
With the COVID-19 crisis upending traditional forms of economic transactions, contactless and mobile financial services are more important than ever - and so are PayMaya's employees who are the backbone of the company. There are two key challenges in talent management:
A rising risk of global competitors swooping in on its talent pool which it has built from scratch.
Ensuring that employees remain engaged as the pandemic reshapes the future of work.
Solution: Uncovering—and targeting—a nearby talent pool
Empowered employees drive business success- this is PayMaya's work ethic as it creates a highly engaged workforce for the future. Using both LinkedIn's strategic branding boost and LinkedIn Talent Insights' deep data has led to a strong employer brand, drawing more people to join the company. Empowering its hiring managers to take a more active role in the recruitment process also cultivates a culture of trust and ownership.
To drive employee engagement, PayMaya taps on Glint, LinkedIn's people success platform, to ascertain and respond to concerns among employees. It relies on LinkedIn's learning platform in its pivot to remote learning, which has generated not only significant cost savings but also greater personal growth for each employee. From hiring to learning, PayMaya is gearing its workforce for an uncertain landscape, with a focus on sustainable business growth.

"The solutions are so well-linked together and there's a lot of thought put into the synchronization of the platforms. When we do strategic planning for our people, at the top of the wish list is that it all links together - from the start of the employee journey when you touch base, to engagement and learning," shares Carla Lanza, Chief People Officer, PayMaya Philippines.
The results:
Headhunting fees for 10 senior executives reduced in 2020
High activation rate for LinkedIn Learning within six months, with a repeat learner rate of 72%
Above-benchmark employee engagement levels despite its workforce staying home during COVID-19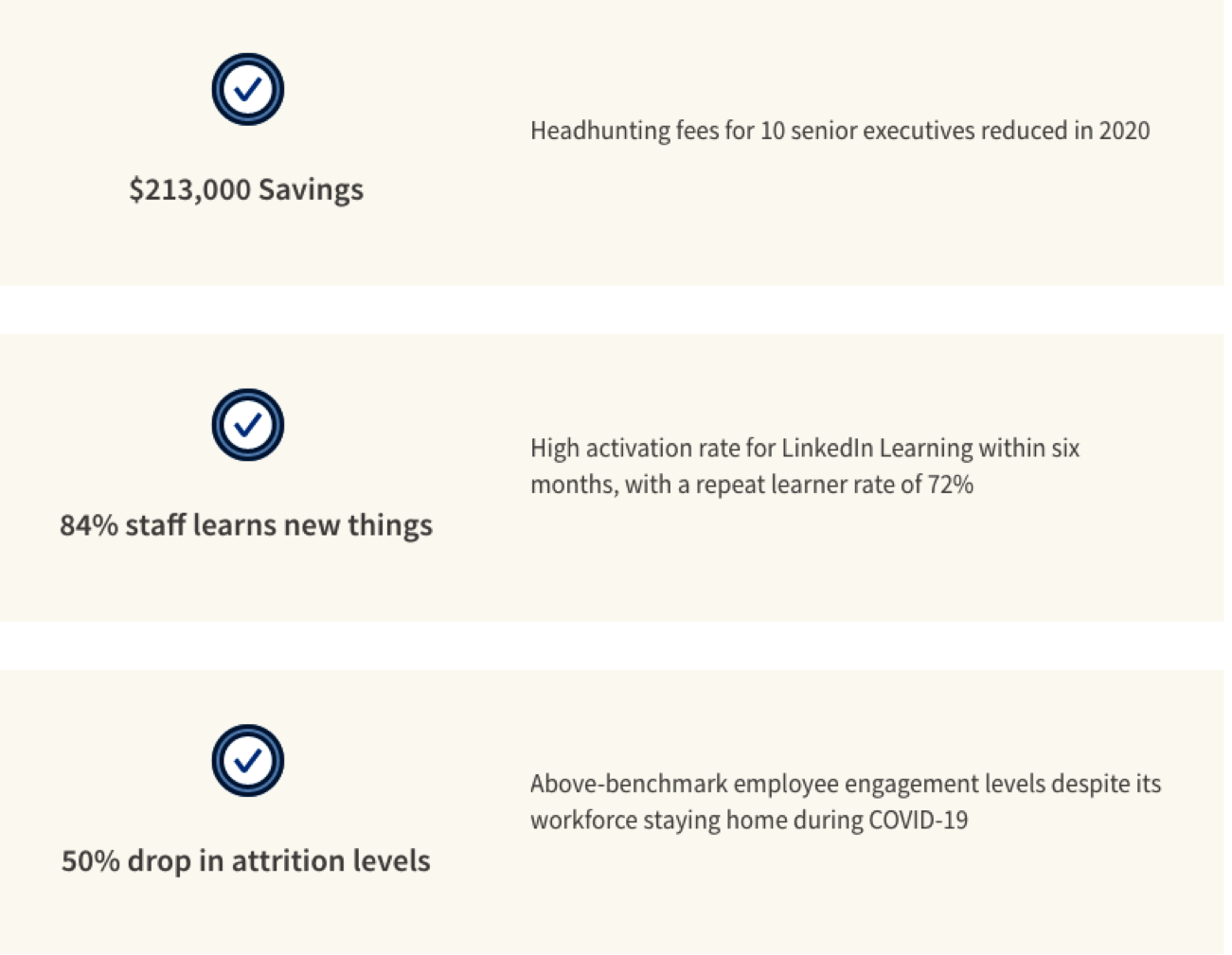 Access the full case study here.