Recruitment
Hiring to be steady, salary to increase in 2017: Michael Page report
Intense market competition and the lack of highly qualified candidates in the growing Indian economy has resulted in a growing talent crunch. That is why attracting and retaining talent are key areas of focus for employers, the report says.
India's employment market enjoyed a good year largely unaffected by the global economic slowdown in 2016, and 80% of employers in India are confident hiring activity will remain steady in 2017, according to the 2017 Michael Page India Salary and Employment Outlook report. The Michael Page Salary and Employment Outlook report, the copy of which is with People Matters, combines qualitative and quantitative research, as well as expert insight and commentaries into the senior executive and professional employment market. This year's report is based on the responses of over 300 employers across India.
Key highlights of the 2017 Michael Page India Salary and Employment Outlook
Of the 300 plus companies and employees surveyed across India:
44% of employees will leave their jobs due to limited career progression
88% of employers are offering 6 to 15% pay increments in the next 12 months
51% of employers are expected to give bonuses in the range of 6 to 15%
83% of employers say diversity and inclusion is a priority and have active workplace programmes in place.

"We have observed a positive outlook on companies' employment forecast in India. With new orders coming in from overseas firms seeking to utilise India's vast resources and labour pool, more foreign companies are investing in the manufacturing, infrastructure and renewable energy sectors. This is driving demand for specialist skill sets and professionals with both the technical expertise as well as the right cultural fit," said Sebastien Hampartzoumian, Senior Managing Director, Page Group Singapore and India.
Intense market competition and the lack of highly qualified candidates in the growing Indian economy has resulted in a growing talent crunch. That is why attracting and retaining talent are key areas of focus for employers. According to the survey career progression (79%), salary increments (56%) and learning and development programmes (40%) are the top 3 factors in talent retention. Flexible working hours (55%), providing and allowing work from home and remote access to work (47%) and better staff welfare benefits (42%) are among the most popular work-life balance policies.
THE SALARY REPORT:
FINANCE
Overall, annual salary hikes are expected to be between 6 and 15 per cent across all disciplines. Start-ups will typically offer a 10 to 15 per cent increase in fixed salary to candidates from bigger organisations, but the actual cost-to-company could be higher with the inclusion of stocks. Switching between similar organisations brings a 15 to 25 per cent increase for candidates, depending on seniority levels. Skills in demand include financial planning and analysis, with mature companies and start-ups looking to hire shared services staff and financial controllers. Companies within the e-commerce industry are also hiring vice-presidents of finance and chief financial officers.
According to the Salary table of the report, a CFO or a Finance Director with 10-15 years of experience at a large organization draws about Rs 60-90 lakh/Rs 70-90 lakh in Delhi/Mumbai. While CFOs with more than 15+ years draw Rs 90+ lakh per annum. Similarly, in SMEs, the CFO with 10-15 years of experience earns from Rs 45-75 lakh/60-80 lakh in Delhi/Mumbai.
FINANCIAL SERVICES & BANKING
In the corporate banking, in terms of candidate movement, the report more senior executives who are leaving the sector to join NBFCs — firms that provide banking services but do not hold a banking licence. Candidates that are in high demand include those who are adept in the digital banking, stressed assets and restructuring practice. In Finance, salary bands have increased for professionals at the vice-president level and above, a result of increased demand for business facing end-to-end skill sets. Hot jobs for 2017 include roles in product control, internal audit and compliance. In private banking, remuneration-wise, private bankers are increasingly interested in having employee stock ownership plans and greater profit-sharing schemes as part of their compensation package. Bankers who have at least six years of experience are preferred over junior counterparts given their established reputation and books. Those who have demonstrated employment stability, rather than job-hoppers, are also preferred. In Analytics, most of the senior analytics candidates in the BSFI sector continue to seek stability and a strong brand position over high salary increments. Hot jobs for 2017 include positions across data sciences, machine learning, digital analytics, risk modeling and risk strategy.
According to the Salary table of the report, Front Office -Investment Banking at an MNC Bank, the MD-Corporate Finance/M&A draws Rs 150-200 lakh/Rs 200 lakh per annum in Bangalore, Chennai Delhi-NCR/Mumbai. In Corporate Banking (Sales Function in MNC Banks, an MD draws Rs 90+ Lakh/Rs 100 lakh in Delhi/Mumbai. The MD of Head of Operations in MNC Banks and captives across India draws over Rs 90 lakh/100 lakh in Bangalore, Chennai, Delhi/Mumbai.
HUMAN RESOURCES
Despite an employer-driven market with strong availability of talent, companies still experience post-offer acceptance uncertainties from candidates, especially from top talent who receive multiple offers. Established organisations in India are mostly hiring for replacement roles, with few new roles created for specialist positions in human resources self-service, compensations and benefits, and talent management (TM). The report observed a clear preference to hire competent business school graduates over traditionally sought-after experienced leaders. In-house HR professionals will be sought after in 2017. Local organisations are looking to institutionalise their HR function and are investing more in it by creating new roles. This is specific to Indian organisations that have historically run their businesses without any HR professionals or have only had an administrative and payroll function. Hot jobs for 2017 include total rewards and TM specialists. TM specialists are also needed to initiate learning programmes for high potential employees as more companies focus on retaining top talent.
According to the Salary table of the report, in the Commerce & Industry, in the large & middle capital companies/listed companies, Head of HR with 16+ years of experience in a large company draws Rs 120+ lakh/150+ lakh in Delhi/Mumbai -- which is mostly at par or even above the CFOs. Head of HR in SMEs: Rs 75+ lakh/85+ lakh in Delhi/Mumbai. In Banking and Financial Services, the HR Head of a large company with 16+ years of experience draws more than Rs 110 lakh/130 lakh in Delhi/Mumbai.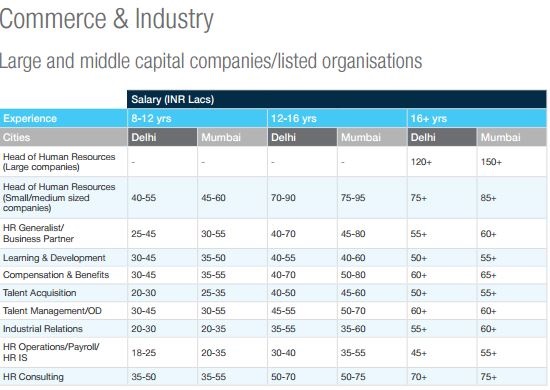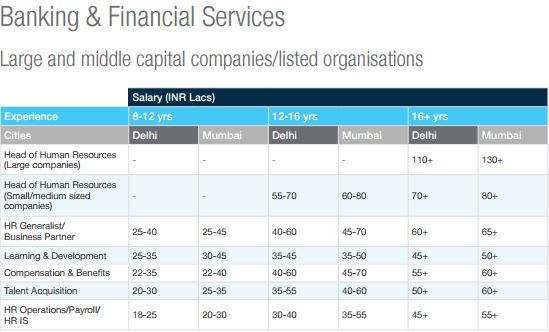 LEGAL
Indian companies are moving towards having more balanced, diverse teams and hiring of female candidates is on the rise. This openness to workplace diversity is most prominent in the fast-moving consumer goods, financial services and infrastructure sectors. Emerging sectors like financial services and e-commerce are offering more competitive salaries to attract top talent in emerging markets, compared with infrastructure, manufacturing, energy and other core sectors. Across industries, candidates with dual specialisation of legal and company secretarial (CS) skill sets are in high demand as companies seek to streamline teams and be more cost-efficient. More senior-level candidates are being sought after to lead legal, CS and compliance functions. Demand for compliance officers in the healthcare and financial services industries has increased as companies now need to work closely with regulators. In-house legal teams, being smaller in size, tend to hire more mid to senior-level legal professionals.
According to the Salary table report, Lawyers - Private Practice with 15+ years of experience draws more than Rs 100+ lakh/120+ lakh in Delhi/Mumbai. Lawyers -In-house (all industries excluding Financial Services) with 15+ years gets more than Rs 60 lakh/80 lakh in Delhi/Mumbai.
PROCUREMENT & SUPPLY CHAIN
The report witnessed an increased demand for candidates with deep experience in planning functions (demand and supply, sales and operation planning) across different levels. Due to the fluid external environments which are dependant on consumer spending patterns and government policies, talented strategists rather than pure play execution-oriented staff, are being courted for their ability to lead key initiatives and projects leading to operational efficiency. Average salary increment when switching jobs is approximately 18%.
According to the Salary table in the report, a top business school graduate in the procurement sector with 15+ years of experience draws Rs 75+ lakh in both Delhi & Mumbai. While a non-business school graduate draws with equal experience draws Rs 40+ lakh in Delhi & Mumbai.
SALES & MARKETING
Demand for digital marketing skills has substantially increased due to this rising trend. Rural businesses are experiencing aggressive growth in the FMCG and pharmaceutical industries, leading to increased demand for go-to-market professionals. In the urban sector, there is less scope to increase the number of touch points hence the major focus is to increase the sales from existing touch points by using activations, trade marketing & shopper marketing initiatives. Senior strategy consultants, particularly professionals with industry expertise in both consulting and commercial roles, are in high demand. Organisations are investing a substantial amount of time and money into employee retention strategies, particularly targeting the retention of sales and P&L heads.
According to the Salary table in the report, candidates from premium business schools in Consumer Goods in Sales Management with 15+ years of experience draws Rs 80+ lakh in Delhi/Mumbai.
Talent shortages are most evident in the fast-growing supply chain and logistics sector, especially for senior level plant managers. Rapid growth and an overall shortage of skills mean there is intense competition for high-calibre candidates. 60 per cent of companies are expecting to increase headcount, with middle managers comprising 45 per cent of these new employees. To attract and retain employees, a large majority (79 per cent) of employers are looking to structure clear progression paths.
The key will then be to continue prioritising internal development programmes in order to retain the best talent. One interesting observation is that companies are also going beyond gender when addressing workplace diversity. Survey results show that 83% of companies have placed diversity on medium to high priority.
For the full report, please click here
Disclaimer: Salaries are quoted as CTC (cost to company including basic salary, HRA, other allowance and retirals). All salaries are median ranges.