A Brand Reachout Initiative
Talent Acquisition
How can HR drive the Green Workforce agenda? A MasterClass for sustainable success

One HR Read similar articles
Discover how LinkedIn Talent Solutions and industry experts guide enterprises towards a sustainable future by leveraging top green skills. Gain insights on navigating the green skills revolution and bridging skill gaps for a more eco-conscious workforce.
In an era defined by sustainability, addressing skill shortages and unlocking new talent pools are paramount for enterprises. In this MasterClass in partnership with LinkedIn Talent Solutions, experts provide a roadmap for organisations to harness top green skills and leverage intelligent platforms to bridge skill gaps, propelling them towards a sustainable future.
The current landscape of Green Skills
Adhiraj Gupta, Principal Customer Success Manager at LinkedIn, contends that while organisations are recognising the importance of sustainable skills, there remains a gap in translating this awareness into action. He emphasises that sustainability extends beyond simply 'switching off the lights'; it requires a fundamental integration of green practices into both individual and organisational behaviours. Beginning with immediate fixes like energy-efficient lighting and heating, the progression towards sustainability involves sourcing energy from renewable providers and cultivating a workforce deeply conscious of their carbon footprint. LinkedIn's recent research underscores this shift, with a 12.3% increase in Green Talent among members in the past year, and 22.4% of job postings explicitly demanding at least one green skill. 
The talent-lens to sustainability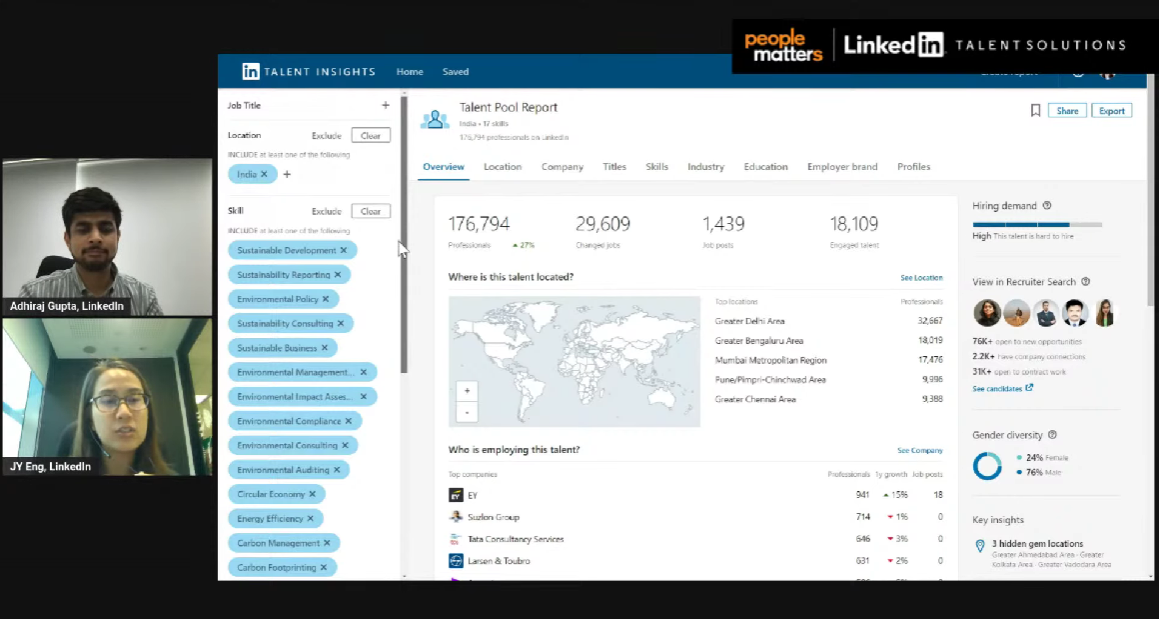 The transition towards green jobs necessitates a dual approach: reimagining existing roles and prioritising skills in recruitment. LinkedIn's extensive database of over 41,000 green skills empowers organisations to pinpoint and cultivate the talent needed for this transition. Jia Yun E., Principal Talent Insights Consultant at LinkedIn, stresses the importance of data-driven insights for HR to effectively partner with business leaders. 
This includes understanding industry-specific demands, gender diversity ratios, and tenure statistics within the green talent landscape. For example, a quick search on '17 different green skills in India' scours LinkedIn's repository of 41,000+ green skills to yield a snapshot of 17 core green skills in 176,000 professionals, and 1,400 job posts asking for green skills in India. Similarly, data around "median ten-year" for green talent-groups indicates 1.2 years, which reflects the high demand for such a niche area. HR leaders can use this to think through employee engagement and employee development plans to keep employees satisfied and fulfilled in their journeys. They can also directly compare the data against the market to know the locational spread of skills. 
Another interesting data point is job titles - sustainability is moving away from conventional green roles and every job is becoming greener. Software engineers must start becoming green in thinking, and their learning and development needs must be redefined with green literacy. By redefining roles to infuse sustainability across job functions, organisations can align with their long-term sustainable development goals.
Challenges in building a Green Workforce
The journey towards a green workforce is not without challenges. Many organisations cite a lack of specialised training programmes and limited access to diverse talent pools. Overcoming resistance to change, entrenched by traditional mindsets and cost concerns, is also a critical hurdle. However, businesses are increasingly realising the financial benefits of showcasing themselves as sustainable entities. This necessitates budget allocation for green initiatives and acquiring the right talent, combining technological prowess with cost-consciousness.
The role of tech in Green initiatives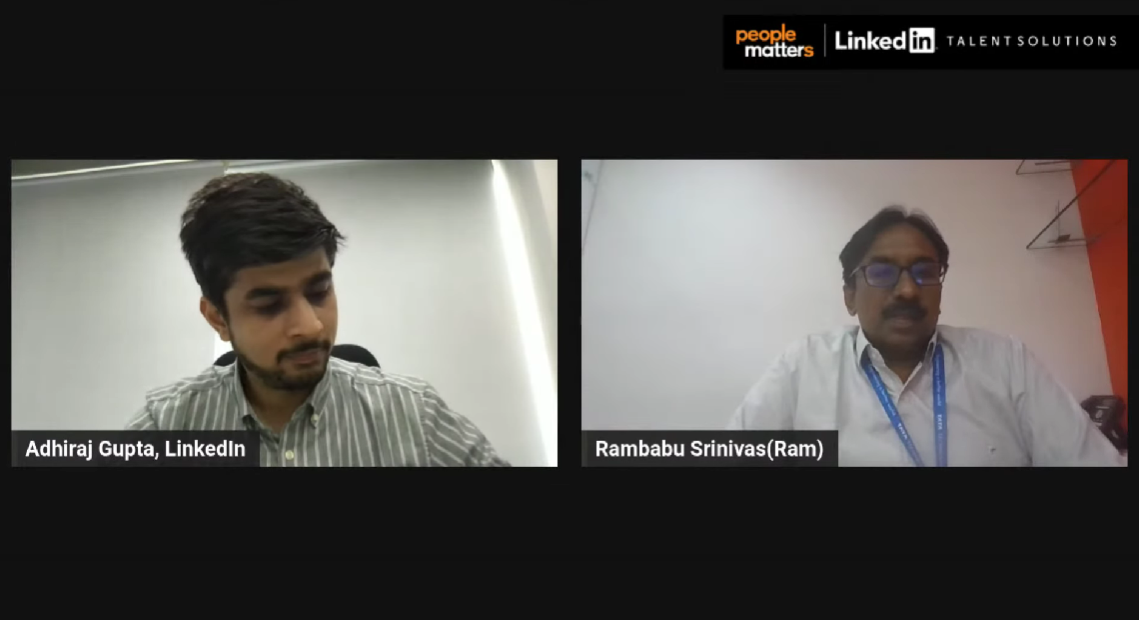 Rambabu Srinivas, Senior Vice President and Global Head of Talent Acquisition and RMG at Tata Technologies, underscores the imperative for HR to partner with business in preparing for the green skills revolution.  He advises, "We must look at procurement roles in the EV context, evaluate how people in their day-to-day jobs can become more green-enabled by building EV skills". Tata Technologies is the only India based services, company which has done an end-to-end design, development and delivery of EV to a customer. What's more is that they have set a target to be net zero by 2045 target set by TATA group.
HR must look at the future talent deficit amongst engineers. Tata Technologies runs multiple programmes for upskilling such as Stem Right which builds labs in schools for high school students to get started in STEM careers. Their Ready Engineers programme aims to mentor engineering students to make them project-ready on completion. Such initiatives help bridge the gap between industry and education systems. At an organisational level, engineers are trained to get into the EV space, thereby successfully identifying and nurturing talent for these for green roles. 
Harnessing AI, NLP, and digital technologies, the company successfully identifies and nurtures talent for green roles. Srinivas aimed to hire 150 engineers through a LinkedIn career page campaign, succeeded in getting 8000+ profiles and with a trained AI platform, sorted these profiles while upholding the responsibility of candidate communication and engagement. Srinivas also highlights the potential of automation in enhancing candidate experiences, while underscoring the enduring importance of the human touch.. For example, AI voice-overs which imitate the voice and style of a recruiter and AI feedback helps predict joining probability. 
The LinkedIn advantage for building Green Skills
LinkedIn is reimagining and making it easier for businesses to look for relevant and right talent. Its Recruitment site allows recruiters to raise a chatGPT-like query for the desired skills. For example, a search prompt like 'mechanical engineer with EV skills' gives insights like, "1700 people with these skills, 700 open to work, 300+ active in the past month and XYZ having shown interest in your company." 
TA professionals can simply analyse talent pools and narrow it to individual profiles. The platform enables talent pipeline building and employer branding for recruiters, enabling access to candidate profiles by the click of a button. It also drafts engaging communication and company information for potential hires. Their tool empowers TA and HR leaders to not just find the relevant candidates but also have an overall industry view for the buy-approach. 
The LinkedIn Learning module on the other hand beautifully complements buy with build by recommending curated programmes with predefined learning paths. For example, asking about environmental and sustainability goals can throw up relevant learning courses. This, along with a learning coach at LinkedIn recreates the effect of having an in-person career conversation with a senior. Leaders can better understand sustainability transformation or improve one's own sustainability skills by picking suitable courses. 
It has become imperative to kickstart the green skilling journey, and LinkedIn's published Green Skills Report is a great starting point for leaders to learn about the changing market landscape. The  Talent Insights platform is another great input to analyse one's own organisation's skills repertoire and competitors. Above all, leaders must usher in change by building green skills themselves and building a green attitude. 
To sum up, here are the key takeaways from this insightful discussion:
Sustainability is a critical consideration for enterprises in today's business landscape.
The integration of green practices goes beyond surface-level changes, requiring a fundamental shift in individual and organisational behaviours.
Overcoming challenges in building a green workforce involves targeted training programmes, accessing diverse talent pools, and budget allocation for green initiatives.
Technology plays a pivotal role in preparing for the green skills revolution, enabling organisations to identify, nurture, and engage talent effectively.
Leaders must proactively engage in green skills development and cultivate a culture of sustainability within their organisations.