A Brand Reachout Initiative
Learning & Development
Average Learning Health Index for organizations in India stands at 66 : EdCast Learning Health Index Study 2021
The EdCast Learning Health Index Study 2021 covered 124 leading organizations across industries and reveals that the average Learning Health Index (LHI) for the organizations surveyed stands at 66 as compared to 67 in 2020.
EdCast has launched the second edition of the EdCast Learning Health Index (LHI) Study  2021 in India, throwing light on the Learning Health Index of corporate India and identifying key opportunities to power the L&D community in their endeavor of building smart and healthy learning organizations.
The study covered 124 leading organizations across industries and reveals that the average Learning Health Index (LHI) for the organizations surveyed stands at 66 as compared to 67 in 2020.
The study is based on a Learning Health Framework built on eight primary dimensions of learning that contribute to an organization's learning health. These include Learning Strategy and Business Planning, Impact and Measurement, L&D Policies and Processes, L&D Portfolio, Learner Experience, Learning Culture, Tools and Technologies, and L&D Competence. There are Five Stages of Learning Health built into each of these dimensions, namely- Ailing, Coping, Developing, Nourishing and Thriving. The Learning Health Index is an aggregate of scores on each of the eight dimensions of learning health across a 5-point scale.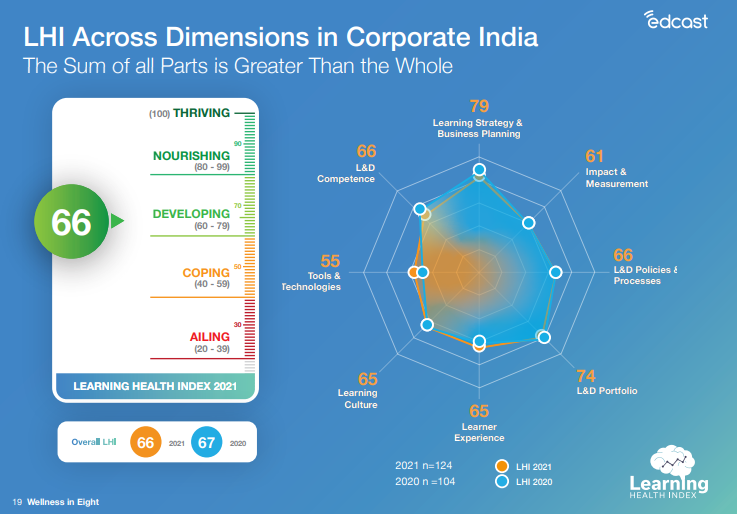 Josh Bersin, Founder and Dean, Josh Bersin Academy stated, "This year corporate learning has become more important than ever, forcing companies to up their game. This year's LHI analysis shows that 69% of companies now have highly aligned training teams, and CEOs and CHROs are deeply involved. As the world recovers from the Pandemic, as many as 25% of all workers are changing jobs, demanding companies to invest in all forms of development."
Here are some highlights from the study-
Highlights from the EdCast LHI Study 2021
With greater executive sponsorship for skilling and L&D professionals bullish on budget increases despite the onset of the pandemic, learning in organizations still remains largely underserved and underutilized. The study reveals that 7% of organizations are 'Ailing', 29% 'Coping' and 36% 'Developing'. 
Over 65% of organizations, as compared to over 75% in 2020, are yet to make a real shift from using traditional learning technologies. While we have seen improvements since 2020, this remains an area of weakness and opportunity.
Learning is aligned to business requirements and integral to business success in 69% of the organizations, as compared to 82% in 2020. L&D functions are responding with agility, readjusting learning priorities based on changing business needs.
88% of organizations, as compared to 91% in 2020, do not consistently personalize learner journeys to accommodate individual goals, preferences and styles of the learner.
With upskilling and reskilling a priority for organizations, the role and expectations from the L&D function are fast evolving. 52% of organizations, as compared to 44% in 2020 report that L&D professionals are not adept to meet the growing demands being placed on them.
Industry-wise LHI across Dimensions in Corporate India 
When it comes to breaking down LHI industry-wise, the Travel and Hospitality Industry bags the top spot with an LHI of 74, followed by the Conglomerates and Telecom industry at 73, and Insurance, Manufacturing, and Media & Entertainment at 71.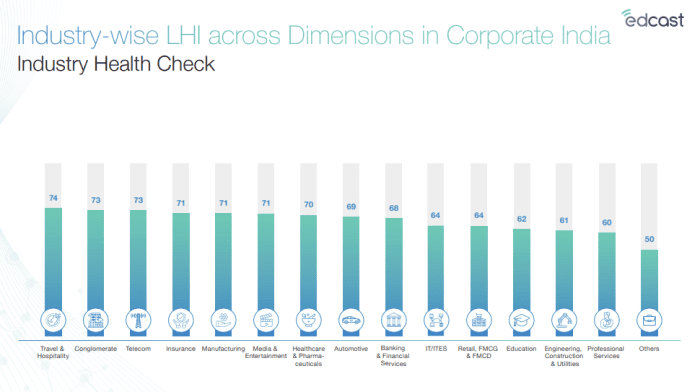 Here are a few more industry-wise insights-
100% of the organizations in the Travel & Hospitality, Media & Entertainment and Telecom sector have very agile L&D functions capable of frequently adjusting priorities based on business strategy.
56% of the organizations in the Healthcare & Pharmaceuticals sector report that they leverage a sophisticated suite of tools and technologies to streamline the flow of knowledge and provide learning at the point of need. 
67% of the organizations in the Telecom sector report that they make most modes of learning accessible at flexible timings within and outside office premises.
Rewards & Recognition emerges as the weakest aspect of Learning Culture across all industries with Conglomerates at 70 and the Manufacturing sector with a weak LHI of 58.
63% of Conglomerates report that the competencies and skills required for meeting L&D priorities are clearly defined with most members of the team qualified to execute the L&D mandate.
The report also highlighted that there are visible shifts taking place in the L&D tools and platforms marketplace. There is a clear move away from the LMS as being the core learning platform to those that are dynamic, promote self-directed learning and personalized learning experiences that employees are looking for (Learning Experience Platforms - LXP, micro-learning platforms, etc.). 
Learning in the flow of work, personalized learning experience, social learning, use of gamification, use of AI, and mobile learning are the top six tech trends identified by the study. Mobile Learning emerges as the top Tech Trend in 2021 with 64% of the organizations already implementing it and 15% planning to implement it within the next year. 
The report highlights a few key lessons to take away from COVID-19. A sustained effort of reskilling the workforce for employees to succeed in their jobs in a remote work environment is a must.  The Pandemic clearly highlighted the problem of employee stress, fatigue, and burnout with organizations realizing its negative impact on efficiency and bottom-line. L&D teams are paying greater attention to building resilience, agility, empathy, mental and physical wellness in their employees. Finally, the post-Covid job market requires organizations to build a competency-based learning ecosystem driven by an agile competency-based credentialing system, a standardized approach for identifying and recognizing competencies, and micro-credentials as building blocks for bundled credentials.
With upskilling and reskilling as a mission-critical priority for organizations, and with the growing importance being placed by employees on career and development opportunities, an urgent and systemic response is needed. L&D needs to act urgently and adopt a whole-system approach to build a comprehensive solution that addresses the systemic challenges and learning disabilities in organizations.
Click here to download the full report.
To know more about EdCast, visit www.edcast.com