A Brand Reachout Initiative
Learning & Development
Humanizing digital learning: Maximizing ROI from your learning initiatives
A human, empathic approach is necessary to maximize the benefits of the learning technology.
In 2021 and the years ahead, we are going to see a much significant shift towards a deeper value for learner-centric content, empowered of course by technology and innovations. In fact, according to People Matters research, the pandemic forced a lot of organizations to invest in HR tech and this has led to 75 percent of the L&D function becoming tech-enabled.
Digital learning solutions have a real chance to prove their worth and deliver measurable business value. This gives HR and L&D professionals a role to play in creating an effective digital learning environment, by humanizing digital learning. 
"A human, empathic approach is necessary to maximize the benefits of the learning technology."
"When learning online by using modern technologies, people may feel isolated and lose motivation for studying. Humanized learning can increase the relevance of content to learners and enhance their engagement and motivation. And it is the instructor's role entirely to create such a favorable environment for learning and development," shares Irene Cooper, Senior Customer Success Manager, iSpring.
So how do you Humanize digital learning to maximize the ROI of your digital learning solutions?
Getting people to trust on a digital learning solution
Learning should be a "pull" factor and not a "push" factor. It is imperative to understand that your digital learning program has a great value attached to it. Until and unless your employees don't see the efficacy of the learning program or course delivered through your new digital learning solution, chances are it is going to fail. 
Make your people trust the digital solution and the benefits they can gauge out of it. Here are some of the utility for learners:
Continuous learning: Research by Hermann Ebbinghaus indicates that humans learn better through short spurts of learning interventions on a continuous basis, rather than a once-in-a-while crash course. Digital learning does just that. It can be accessed anytime, anywhere, and via any device. The modern employee needs flexibility. Digital, bite-sized learning content that is available across touchpoints and devices is an organization's best bet to ensure continuous learning.
Individualized learning: Each learner has different learning needs, both in content and style. For example, the nature and depth of "communication training" needed for a salesperson may differ significantly from an IT employee. Classroom training often does not address this need. Digital training content can be packaged to suit the learner's needs while achieving the overall learning objective that drives business results.
Great employee experience: Information overload is likely to overwhelm employees, especially new ones. Many employees today turn to web search as a preferred learning channel, resulting in a lot of time and energy being wasted in getting what is truly needed. Why not deliver curated content right to the employee through digital learning platforms? It is not only efficient resourcing but creates a great employee experience.
"Successful digital learning starts with a strong sell of the 'why.' Learners should have a clear and simple answer to 'What's in it for me?' Will digital learning really help them develop their professional skills? Will it let them grow in their careers? So it's important to 'advertise' and present the idea of digital learning in such a way so that your learners believe in it," shares Irene.
Making learning interactive and experiential 
Interactivity and experience humanize eLearning by engaging learners with instructors, with subject-matter experts (SMEs), or with one another. Some of the tools you can look at while delivering your digital learning program:
Video tools: Create short videos that make it easy to add animations, still images, music, and more to your video messages.
Interactive role‑plays: Turn existing scripts into captivating role-play simulations. Simply choose a character and build the dialogue scene in a super easy drag-and-drop editor. No design or technical skills required.
Certification: Award learners with certificates upon course or test completion to confirm their qualification and skill level.
Polling: Polling is one of the necessary activities for training adults, and it doesn't matter if you're delivering ILT or VILT. Polls are one of the most effective methods of ensuring that your course is engaging and puts your learners at the forefront of their development process.
Digital bulletin boards: Spark creative collaboration by establishing a board around a topic and inviting learners and work teams to contribute their ideas, images, videos, and comments.
Digital brainstorming: Ideate collectively, even with remote team members, using an online brainstorming tool. Post a question or idea, and invite colleagues to respond. The answers form a word cloud, in real-time.
Making assessments more engaging
In order for employee training activities to be enthralling, adult learners need to feel they are in control of the learning process. This control makes them take a more active role in their learning, which is core to their engagement and knowledge retention. 
However, when it comes to assessing the learning progress, the learning program needs to break the monotony of plain old multiple-choice questions. Take this example of iSpring Suite. The tool allows creating drag-and-drop quizzes, which are free-form questions where learners answer by dragging and placing pictures, words, and/or shapes to specific areas on a slide. It features 14 ready-to-go question templates from the tried and true multiple-choice to matching, sequencing, drag-and-drop, and more.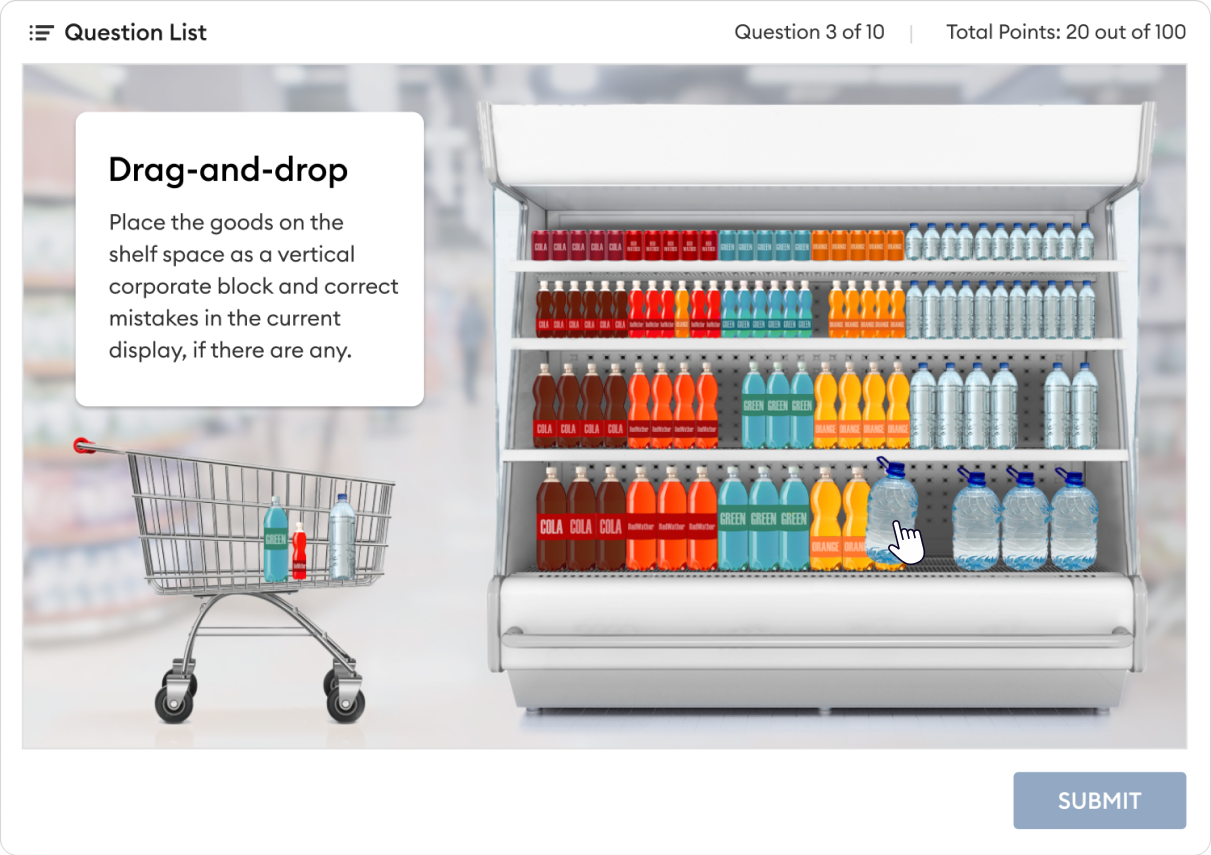 It further allows using branching scenarios and feedback slides to help employees reinforce their knowledge. Randomize questions and answers and set scoring rules to create truly cheat-proof tests.
To know more about iSpring Suite, click here.