A Brand Reachout Initiative
Learning & Development
The time is now: Transitioning to a Green Skills economy

One HR Read similar articles
In this panel discussion, we explore actionable insights for organisations in building a greener workforce by delving into how they can invest in skilling for sustainability and drive eco-conscious practices in the workplace.
As India takes proactive steps to address climate change and build a sustainable future, businesses are in a great position to attract and retain talent while contributing to a more sustainable economy. The transition to a greener economy is possible by identifying and upskilling employees in green skills. Ruchee Anand, Senior Director, Talent and Learning Solutions, India at LinkedIn highlighted how the Future of Work is closely linked to the Future of our planet, and the need for the green transition at a skill level as she opened this insightful and urgent panel discussion we hosted in partnership with LinkedIn Talent Solutions. 
The need for green skilling: A global outlook
While many countries have committed to sustainable growth, the question is how can economies grow in a more thoughtful and climate-friendly way, while providing more opportunities for people. The answer lies in transitioning to a green economy through green skills, alongside the ongoing economic, generational, and technological forces of change. 
Data also attests to this with the WEF Future of Jobs report highlighting how 69 million new jobs will be created and 83 million will be eliminated by 2027. A large part of this job creation will be because of the green transition.
The LinkedIn 2023 Green Skills report also indicates a shift in green skills and jobs, pointing out that green talent in the workforce grew 12.3% between 2022-2023. Around the world, 1 in 8 workers have one or more green skills as they are increasingly green-skilling and transitioning into green and greening jobs. The median LinkedIn hiring rate for workers with at least one green skill is 29% higher than the workforce average. As of today, 15% of all jobs on LinkedIn have at least 1 green skill and this has grown by 22.4% from last year. However, the growth in demand for green skills is outpacing the increase in supply globally.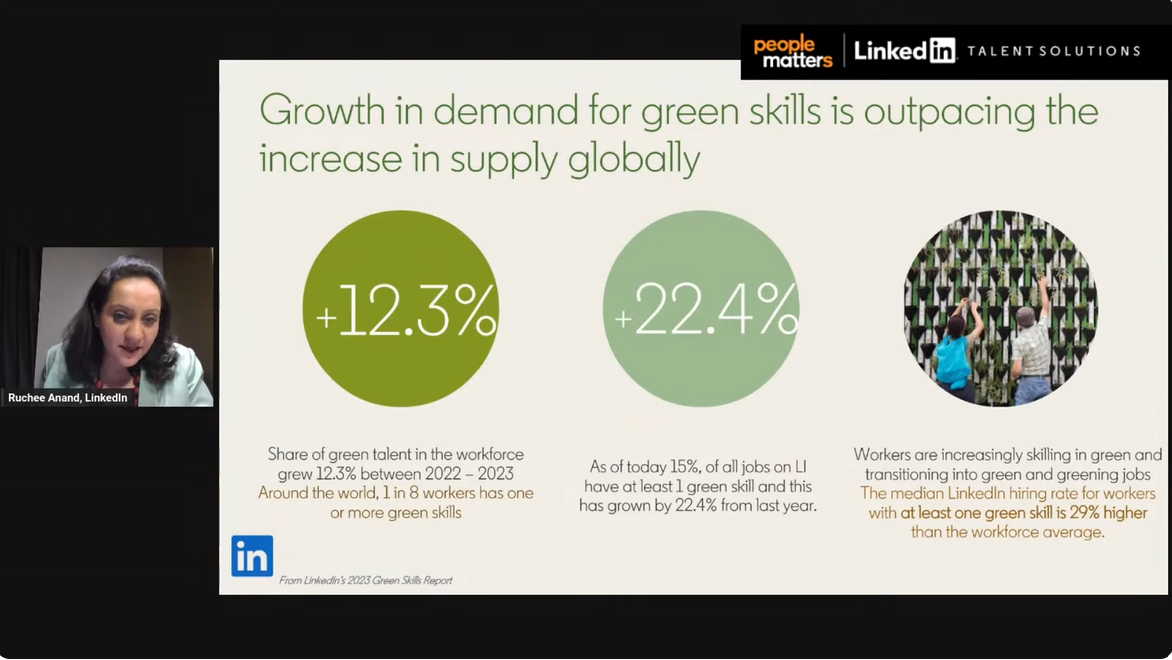 India's green-skills transition 
India has a goal to reach net zero carbon emissions by 2070. While there is a healthy 12% YoY growth of green talent, the demand for green jobs is still lagging behind (only 5.1% YoY). Hence, businesses must provide the right opportunities by helping workers upskill to green job roles as well as evolve job roles themselves. HR leaders must envisage what the green future looks like and reimagine jobs. For this, learning is the key.  
This rings especially true because sustainability is getting learners' attention – LinkedIn Learning shows a 5.6X growth in Sustainability course-views from July 2020 to June 2023.  Research also reveals that by using a skills-first approach, India's talent pipeline can increase by 12X, whereas globally it stands at 9X. Building the next generation of green talent means placing human capital at the heart of this transition. People must recognise the critical value of sustainability and make efforts to be greener in their day-to-day lives. 
How can companies go green in skills? 
Capt. Shantanu Chakravorty, Chief Learning Officer, Suzlon Group shared how the making of green skilling is from grey to blue to green. He explained, "The ecosystem of the value chain may not become completely grey. For example, a study showed that a 1000 mile run of a fossil fuel car and an EV car by Tesla have the same footprint. Because the EV giga factories have Lithium which is powered by coal, it is grey because the impact on the environment is still there." The key is to create awareness that the deployment and adaptation have to be tweaked into a green skill. 
Raja Radhakrishnan, President & CHRO, Ashok Leyland emphasised that as a company Ashok Leyland is ready to meet the market demand for green, "We have our subsidiary, Switch Mobility, as the world's largest electric bus manufacturing, with 750 electric buses already running. We have Hydrogen-based prototypes being tested in Ladakh". But the question persists, "How will the fuel for mobility change?" The challenge with electric is that 70% of the parts are totally different, leading to high investment barriers. Raja believes there is a need for more tech-development plans to usher in a phased change. 
Oberoi Realty dons the green hat by working closely with the government for MoEFCC (Ministry of Environment, Forest and Climate Change) regulations. Their new projects are all pre-LEAD (Leadership for Environment And Development) certified, with a platinum accreditation on their new building. This going green starts from the design stage, collaborating with international sustainable designers, planning energy efficient lighting, high potential insulation, high-end HVAC (Heating, ventilation, and air conditioning), water conservation, and ensuring procurement of reusable materials. 
Additionally, creating awareness with people and vendors is a team sport at Oberoi. While the top management is already aligned, HR processes tie in with the sustainability strategies. Unmesh Mayekar, Head of Human Resources Development, at Oberoi Realty shared, "While recruiting, we give preference to people who have been part of green buildings. We cascade ESG goals and green objectives to peoples' performance goals." It is not just about knowledge and abilities, but about attitude and values, so to drive a culture, Oberoi has made sustainability and environment a part of the mandatory e-learning induction program. Their values workshop helps share best practices, and the quarterly employee recognition programme evaluates nominations around green skills and green efforts. 
Rachna Sharma, Founder & CEO, of Climate Ready Leaders,  insightfully shared that every company has to look at where they stand in the sustainability journey and their impact on climate change. "Every business will have to look at it because climate impacts are worsening. Over time entire economy will be green and every job will be a climate job", she said. So HR must look at talent and create awareness, and work with leaders to start building the thinking process. Ruchee agreed that it is not the 'why', but the 'how' that everyone seeks. 
Organisations must also work closely with governments, availing public schemes for a lasting change. For example, the NEET programme around stipends-for-skills, and Madhya Pradesh's launch of green skills for diplomas enables organisations to train people on renewable energy and get a 9-month subsidy. Yet, challenges on the people front do abound, for example, attrition of talent in small towns, compensation mismatches compared to 'big city jobs', etc. The good part is that awareness exists amongst young people, and they are asking the right questions. So Shantanu believes that a three-pronged approach of mindset, skillset and toolset will make greening happen.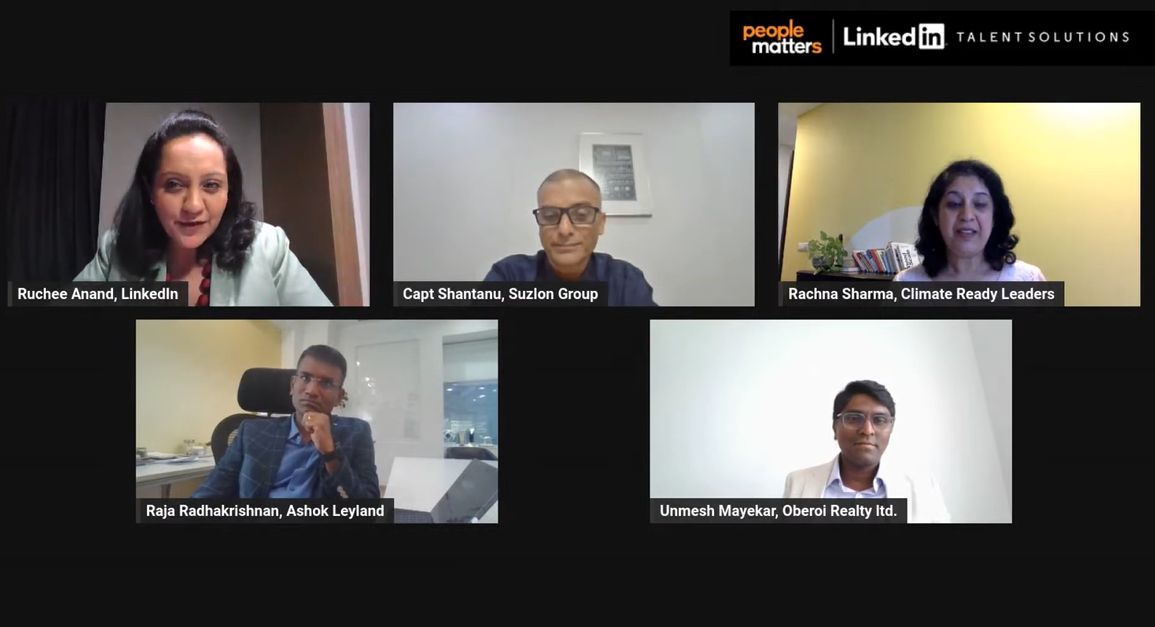 Closing lines: What's the road ahead?
Rachna believes that for any company to start on the sustainability journey, leadership-level awareness must be infused. For this, net zero 101 is essential to build the business case and attract the right talent. Operational efficiencies, reduced resources and waste, better brand reputation and lower costs, are some direct benefits. Rachna said, "Climate is the internet of this generation, what the internet did 30 years ago by building digital skills, is what climate is doing today by emphasising green skills."So organisations must create opportunities around learning and innovation. 
Public policies are equally important. Unmesh shared how SEBI has mandated the top 1000 companies to submit their sustainability reports, creating a compliance push. But above all, action stems from mindset. Raja said, "Many of our roles or jobs are less from learning, but more from experience, intuition and willingness to get things done". Talent attrition is less for fresh engineers at Ashok Leyland because of this mindset of being a responsible company and contributing to the planet's cause. Truly, the transition will go faster if we are able to infuse a mindset to think sustainability. Keep asking, "What are the skills to make any job a greener job?" 
To sum up, here are the key takeaways from this insightful discussion:
The shift from traditional skills to green skills may not be straightforward, and organisations must be prepared to navigate complexities like technology changes and investment barriers.
HR leaders can embed sustainability in company culture by cascading ESG goals to performance evaluations, incorporating sustainability in onboarding, and recognising green efforts through employee recognition programmes.
Building a greener workforce requires a three-pronged approach involving mindset, skillset, and toolset. HR professionals should work on changing the mindset, imparting the necessary skills, and providing the tools for employees to adopt sustainable practices.
Building awareness and commitment to sustainability at the leadership level is crucial for initiating and sustaining the transition. Net zero initiatives can be a key driver for attracting top talent.
Organisations should collaborate with government initiatives and public schemes aimed at promoting green skills and sustainability as it can empower them to make a lasting impact.
If you want to learn more about how you can master green skills and build a sustainable organisation, you can register for our upcoming Masterclass this 18th October on 'How can HR Drive the Green Workforce Agenda? A MasterClass for Sustainable Success.'