Employee Relations
COVID-19: Here's what companies are doing for working parents
Amidst this fear and confusion, leaders are doing their best to manage talent, maintain employee morale, ensure work from home effectiveness and strike a balance between firms' business objectives and people objectives.
The breakout of COVID-19 has taken the world by storm. The virus is ravaging countries like US, Spain, Italy, Germany, China, with India seeing a spike in a number of cases daily. Economies across the world are tanking. There is uncertainty about jobs, finances, salaries, overall health, and wellbeing. Amidst this fear and confusion, leaders are doing their best to manage talent, maintain employee morale, ensure work from home effectiveness and strike a balance between firms' business objectives and people objectives.
Key highlights from the recent research which surveyed 50 companies to understand how they are responding to COVID-19 are as below: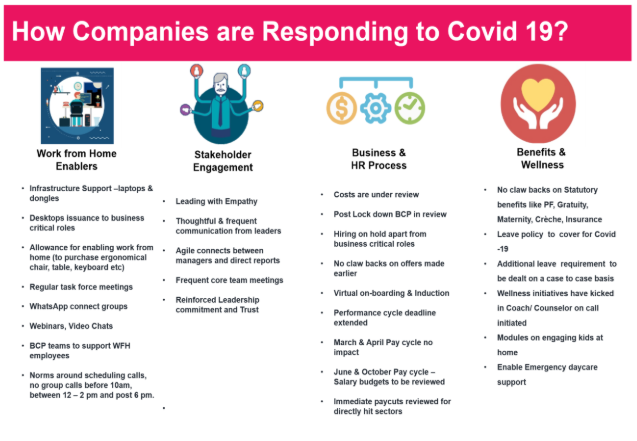 Work from home (WFH) policy level enablers viz. No group calls/ e-meeting before 10am, between 12 – 2pm and post 6pm. A leading tech, AI Company has provided reimbursement allowance for employees to buy items like ergonomic chair, table. Keyboard, ear pods to facilitate WFH
WFH soft enablers viz. Regular, frequent connect with teams down the line to stay connected 
Virtual onboarding, performance reviews are introduced
No clawback on statutory benefits like Insurance, Maternity, Crèche support, and Wellness initiatives 
Parental/ employee support programs like an expert session, mindfulness, yoga, and wellness session to cope with current times
Trust and Empathy are the two important pillars, based on which companies are taking decisions. Organizations are more supportive of their employee communities now than ever.
Best practices on engaging employees during COVID-19 
Companies are trying to instill the fun element in the work from home experience. From evening Chai & Charcha to Jam Sessions over zoom to Karaoke parties, organizations are encouraging their employees to have informal catch-ups. The idea is to keep lines of communication open and encourage social interaction. 
To keep them moving and fit, some companies have even introduced group yoga, Zumba, aerobics, mindfulness workshops on a weekly basis. 
The new, virtual work culture is truly embracing inclusion with kids and pets. Organizations are sensitizing their teams and managers to be more accepting of any sort of disturbance during work meetings. In fact, many companies have introduced family chat sessions over coffee or wine where employees are expected to have their spouse and kids join.  
India Inc is supporting its working parents who are the most stressed demographic 
Companies realize that managing children while working from home full time can be demanding and stressful. Our recent research with close to 500 corporate parent's reveals:
89% of parents are feeling stressed managing kids, house and work 
60% of parents want to know ways to engage their kids and handle isolation
40% of parents want resources and counsel/coach support for the family
Companies are gearing up to provide alternate childcare options to parents to take the pressure off them. For some of our clients we are running online, kids' engagement camps where experts take an age-appropriate session on art & craft, music, dance, storytelling, creative writing, fitness, etc. The intent is to help parents keep their children engaged, happy, and learning.
Some of our corporate clients told us that parents are finding it overwhelming to wade through endless ideas and resources available online. We have put a structured resource plan through a portal where parents can find age-appropriate activities to engage with their child, from infants, toddlers, preschoolers to pre-teens which parents can access on their laptop, mobile and leverage these resources to engage meaningfully with their child 
Another trend we have seen emerge is that despite the lockdown, leading companies are funding their crèche benefit even when there is no utilization to enable its crèche/ daycare partner to pay for the minimum wages for its staff in these untoward times. 
Mental health counseling and support is a huge focus area for corporates. We see companies doing webinars on parenting, stress management, coping skills. Some even have introduced coach on-call service and counselors to address concerns and ease the anxiety of their employees.
In all companies are trying to keep their employee's morale high, ease their anxiety and mental strain, and have a little fun during these unprecedented times.