Recruitment
Paytm to onboard 10,000 staff to deal cashless situation
Paytm, leading mobile payment and commerce platform, to hire over 10,000 staff to strengthen offline payment network
In order to strengthen offline payment system, Paytm decides to hire over 10,000 employees. The idea behind mass onboarding is to expand its offline merchant network to over 20 lakh touch-points by the end of the current fiscal year.
Commenting on the recent announcement of government to withdraw the legal tender status of 500 and 1,000 denominations, Amit Sinha, Senior Vice President of Paytm said, "As millions of consumers across India have taken to using their Paytm Wallets to transact offline, our biggest opportunity is to be available in every town and city in the country. We want to reach there faster, are looking to further strengthen our onboarding teams as we continue to build India's biggest payments network."
Payment through Paytm is widely acceptable across India owing to the ease, convenience and security offered. Therefore, to deal with the country's overwhelming response, Paytm is taking bolder steps to meet the demand.
Also, responding to the recent allegation made by Delhi CM; the paytm founder and CEO, Vijay Shekhar tweeted that the biggest beneficiary of the announcement is country and the company only aims to support financial inclusion in the country.
This response was made to the Kejriwal's comment on Twitter that Paytm is the biggest beneficiary of PM's demonetization announcement and then asked "what's the deal".
The controversy started when Paytm advertised in a leading newspaper congratulating PM for his bold decision and also used Modi's photo in the ad piece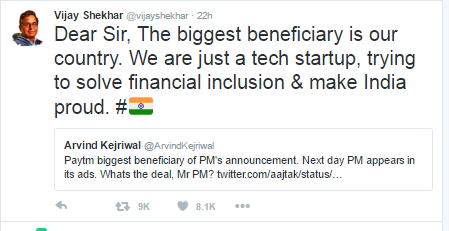 Paytm has become synonymous with payments in India as it is one of the popular online payment and recharge platforms in the country. Its current user base is more than 150 million and soon it is looking forward to launch payment banking services.