Employer Branding
How internship programs boost employer branding
Other than directly taking pressure off entry level recruitment efforts, interns also contribute by becoming your brand evangelists. They will talk about you among their friends if they had a great internship with you and help you build your HR brand.
The country is quickly adapting to the phenomenon of internships and not just in the high profile MNCs; even small businesses have started hiring interns for different roles, ranging from production to sales and marketing.
The question one must ask is what really triggered this development? Though there are a number of reasons behind this - government mandating the internships for different courses, or the millenials' quest for discovering their true passion by exploring different career options; one reason undoubtedly tops the list- the emergence of startups.
India has the fastest growing startup ecosystem in the world, and also the youngest startup nation. According to a recent NASSCOM report, with over $5 billion worth investment last year, and three to four startups emerging every day, India has secured the third position in the world in terms of the number of startups, 4200 and counting, a growth of 40%, at the end of 2015.
And who do these startup founders turn to when they need helping hands to quickly test/scale their idea? Yes, interns. The internship culture in India is undergoing a silent revolution (see chart).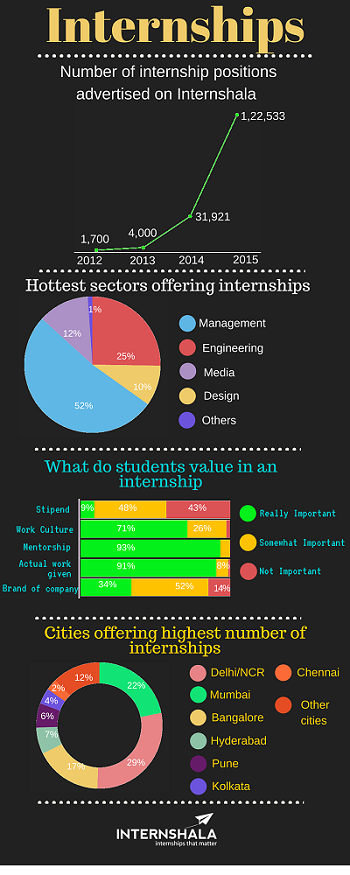 For startups, the case for hiring interns is rather straight forward. The budgets are low, the roles are not well defined, and there is limited clarity on future. Interns meet all these constraints plus bring lots of energy and new ideas with them – something that every startup values. No wonder, for many startups, interns are the first team before the first team. During first 2 years of operations, Internshala team had only interns and today also they constitute one third of our workforce. Even among the full time employees, ~70% had joined as an intern first.
While startups have their reasons, what about established brands? If you are an HR manager at a big corporate, what could be your reasons to run an internship program?
First and foremost would be to build a stronger and better talent pipeline for entry level roles. Historically companies like ITC, Shell, Google, Microsoft and others have had robust internship programs in place and meet 70-80% of their fresh graduate hiring requirements by extending PPO (Pre Placement Offer) to the interns who perform well. Further, since both the organization and the intern get an extended window to know each other beforehand, it results in lower attrition.
Other than directly taking pressure off entry level recruitment efforts, interns also contribute by becoming your brand evangelists. They will talk about you among their friends if they had a great internship with you and help you build your HR brand.
The second reason would be to groom your junior and mid-level managers' leadership skills. I acquired most of my people skills when I got an opportunity to mentor interns during my corporate jobs. For me, these experiences were internships in team management. Today, interns can also teach your employees a great deal about technology and social media as they are on it 24*7.
Finally, like Startups, Corporates often have projects (especially new initiatives) where the requirement is either short term or the budget is a constraint. Recruiting interns can be a great staffing solution in such situations. With many fresh graduates and young professionals going the internship route, internships are now round the year phenomenon and not restricted to summer period alone. Nearly half of the 500+ big brands that recruit interns through Internshala fall under this category.
However, there are challenges too that you need to be aware of. An internship, by definition, is a short duration (8-12 weeks) engagement making it difficult to justify RoI of efforts that go into training an intern. With many colleges allowing for 6 month internships, and a new trend of fresh graduates and young professionals (people with 1-2 years of work experience) opting for internships to discover their passion, this problem is beginning to get addressed. In parallel, we also need a new framework that evaluates an internship program not only on basis of work output of interns but also accounts for the benefits enumerated above. That way you will find it still worthwhile to run short duration (8-12 weeks) internships.
The other commonly cited challenge is that there is no 'guarantee' that an intern whom you train will join you upon completion of studies. This is true and something that HR leaders and CEOs need to take a call on for collective benefit of all. While we remain worried about the falling work readiness standards of our graduates, it is unfair to expect our colleges to deliver industry ready workforce without significant involvement of the industry itself. And running an internship program is one such significant and meaningful effort that we need to commit ourselves to.
Imagine if every graduate in the country had an opportunity to intern during her college days, wouldn't she be so much better prepared for the real job when she graduates. Every intern whom you train but who joins somewhere else, you are also likely to get a graduate who was trained by someone else. Everyone wins if everyone participates.
Finally, an internship program is not just a solution to our talent and manpower shortage problem. It's a medium through which you can directly affect a student's life, much like parenthood. With your mentoring, interns gain experience, develop skills, make connections, strengthen their resumes, and assess their interests and abilities. Thus, in terms of both today's workload and tomorrow's workforce, starting an internship program is an excellent decision.