Employee Engagement
From employee experience to human experience: Tech Mahindra case study
Read this case study to know how Tech Mahindra launched an initiative to elevate employee experience by focusing on the human experience.
Tech Mahindra offers innovative and customer-centric information technology experiences, enabling enterprises, associates and the society to Rise™. It is a $4.9 Bn company with 130,800+ professionals across 90 countries, helping 964 global customers including Fortune 500 companies. How did such a vast organization build on human experience to elevate the employee experience?
In an exclusive interaction with us, Harshvendra Soin, CPO, Tech Mahindra shares interesting initiatives undertaken by the company to elevate employee experience by focusing on the human experience.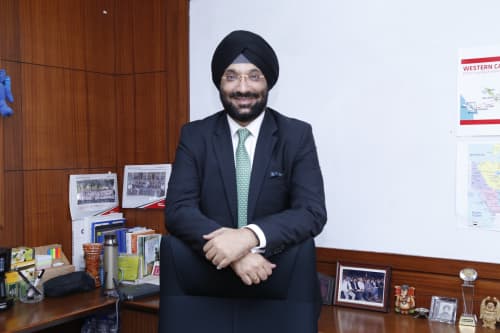 The Problem Statement 
About two years ago, the firm was facing the challenge of comparatively lower engagement, lower connect at the ground. "We wanted to address it and also get a differentiator in place. So we talked to people and decided that we won't talk about employee engagement but rather employee experience," reveals Harshvendra. 
Today, an employee is looking for a customer like experience. So the idea was how to keep things for them in the flow of life and not in the flow of work. The firm went back to employees to understand what bothered them and how their experience can be improved. They came up with three things. First, they wanted to understand the culture-something they could relate to. Secondly, the employees complained about the hassle of carrying ID cards. Thirdly, employees brought up that whenever there's a great opening, the firm tended to hire from outside. Hence the firm needed to address their needs of upskilling and grow within the organization.
The Implementation of the human experience 
Employee experience was nothing but how we impacted a person's life from the time an employee came into the office to the time he went back. We then shifted from employee experience to human experience because while EX is limited to the employee from 9-5, the human experience exists as we say, in the flow of life and includes his extended family members.
We defined an algorithm for the human experience- we defined it as a function of the user experience, customer experience, and employee experience. We started addressing their problem statements by first defining our culture. We defined it in one line-we drive positive change, celebrate each moment, and empower all to rise.
Secondly, in order to do away with ID cards, we came up with a facial recognition system where they can mark their attendance using swipe cards or they can simply look into the new facial-recognition terminal and sign in. In addition, the tool helps the organization measure the mood of employees when they use the system through a functionality called the "moodometer", helping us know their daily moods.
Thirdly, the firm came up with a marketplace for talent called Talex, an artificial intelligence (AI) based talent exchange marketplace, to address issues related to upskilling, reskilling and talent management within the organization. Talex uses AI technology to match candidate profiles with suitable job openings in the organization as it houses the profiles of all employees. As soon as a vacancy comes up, it is flashed to the 131,000 employees and it matches in terms of percentage. In addition, to make it a pull thing, the firm gave 100 crypto coins to employees to bid for a job of their choice and the highest bidder gets an interview.
The firm also launched an internal HR bot called UVO which can apply leaves on an employee's behalf or even adjust his/her calendar or even teach how to do yoga. In the same direction, the firm introduced its first humanoid K2 to take off the transactional workload from HR. It can answer 20,000 HR queries and is available 24/7, giving HR people a chance to do what they really wanted to do.
Challenges in Execution
The first challenge was the obvious one-how do you get people to believe in a new way of doing things. The challenges of communication, of replicability, of making people believe in the tools were some of the challenges the firm faced. Harshvendra adds, "It is about building credibility in all cases when it came to the IJT and replicate in a way that experience is consistent throughout. We used technology to bring in human experience."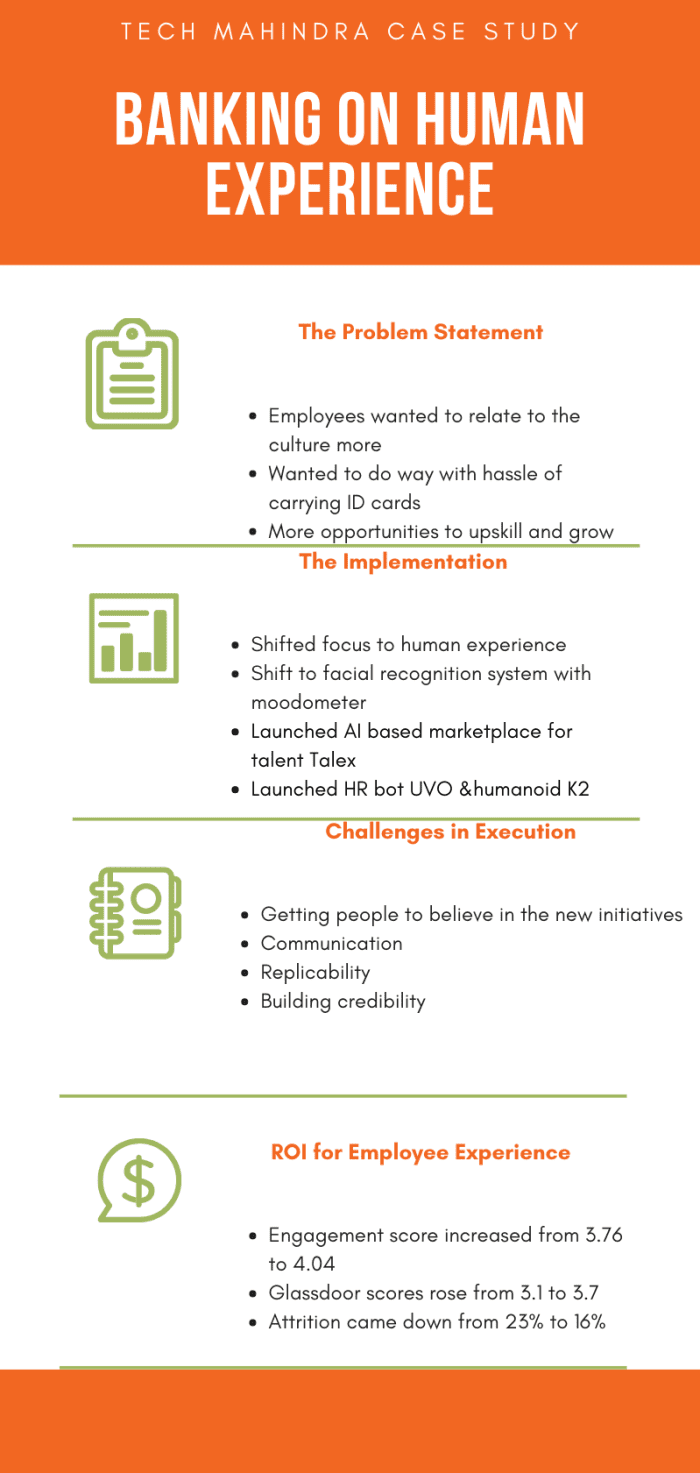 The ROI from 'Human Experience' for Employee Experience
All these measures greatly improved the company's internal engagement score. In the engagement survey done by its parent Mahindra Group, the firm posted the highest ever increase-rising from 3.76 to 4.04. Secondly, its Glassdoor scores increased massively from 3.1 to 3.7 and touched a high of 3.9. Thirdly attrition came down massively from 23% to about 16%.  And lastly, its happiness quotient increased significantly and generated a significant differentiator for the firm.  Adds Harshvendra,
"Our people story became a significant business differentiator.  And from an HR story, it became a business story. This could not have been possible without the shift we made to the human experience."
Future plans/ Learnings based on outcomes of the Case Study
We have learned that you have to involve everybody when you plan a new initiative. Secondly, you have to continuously communicate about the initiative in order to build the credibility of the initiative. Ultimately, you have to have a business impact or ROI of any initiative that you introduce. If it remains an HR initiative, it will never be successful. 
To learn what it takes to create a world of incredible experiences, join us for the People Matters EX: A Virtual Conference on 19th June
Click here to register.