Employee Relations
How co-existence of opposing forces can shape future of work trends
It is believed that the new cultural norms will evolve as most companies will engage deeply in re-articulating their culture.
Many companies have created a task force to identify which old practices they do not need anymore and ensure that the new norms, which are communicated to employees, remain explicit to them.
"The ambivalent mind can be a wise mind - emotional ambivalence increases judgment accuracy," says the Journal of Experimental Social Psychology, written by Laura Rees, Naomi B. Rothman, Reuven Lehavy and Jeffrey Sanchez-Burks. The work trends associated with remote working or hybrid workplace seems to be 'ambivalent in nature'.
By 'ambivalent', we mean having two opposing feelings or ideas at the same time. An in-depth discussion with several hybrid workers across industries reveals that they understand well the ambivalent nature of remote working and hybrid workplaces. 
The world of work…the world of opposing forces…as perceived: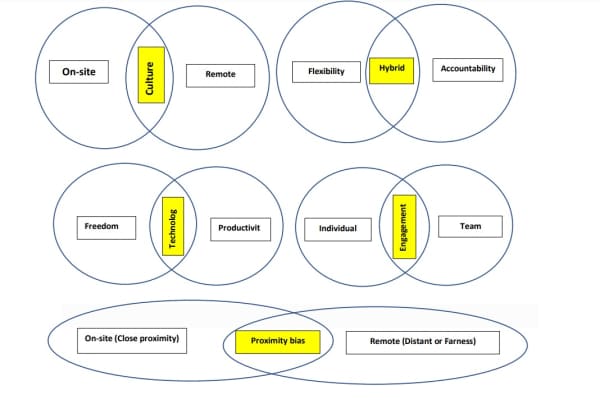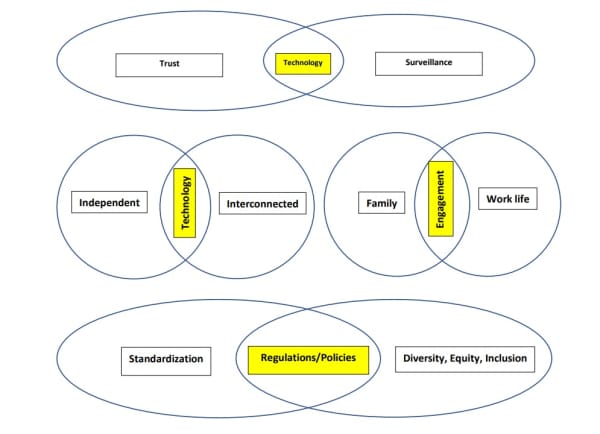 The above diagrams are showing two opposing ideas/feelings and in the intersection, we experience 'Culture', 'Hybrid workplace', 'Technology' 'Engagement', 'Biases', 'Regulations'…and these elements are heavily influencing the work trends and let us examine in this context the work trends projected for the next one year or so:
It is believed that the new cultural norms will evolve as most of companies will engage deeply in re-articulating their culture. It has been observed that old cultural norms have practically become outdated post Covid 19. Many companies have created task force to identify what old practices they do not need anymore and ensure that the new norms are communicated to employees and they are explicit to them.
Due to remote working, employees reported feelings of disengagement as the casual interactions (Water cooler discussion) they were used to having replaced by more formal interactions. Many new hires also reported the difficulty of onboarding remotely as do not get an opportunity meet other team members.
Company cultures thrive when employees feel valued, heard and engaged. Therefore, when individuals feel disengaged from their teams, the company culture will be adversely impacted leading to misalignment in mutual expectations and about how teams should work together…the relationship suffer.
If we look around, we find that flexibility has become the buzz word. In 2023, we are likely to see more and more companies adopting flexible working hours - allowing employees to fit their requirements like educational opportunities and parenting responsibilities as well around their jobs.
Another sweeping trend is changing the ratio of 'Work from home' and 'On-site working'. This trend is also instrumental in categorizing the companies as 'best place to work'. It appears that the trend of working three days on-site (Tuesday to Thursday) and work from home from 'Monday and Friday' gives the feeling of long weekend and this has emerged as a new force…new choice and it is rapidly gaining ground. 
Tsedal Neelay, Professor of Business Administration, Harvard Business School highlighted - 'Success from anywhere' using the right digital tool would be necessary. The investment on building digital competence, also called the vital 21st century skill, will become crucial for the companies who have adopted remote working. This skill would equip employees to use full range of digital technologies for information, communication, collaboration, digital content creation and basic problem-solving. In this context, let us look at what General Motors are doing and why it is necessary to build digital competence of their employees –
As mentioned by GM President Mark Reuss, the General Motors has developed an all-new vehicle intelligence platform necessary for its next-generation of vehicles, EVs, active safety, infotainment and connectivity features, and the evolution of the Super Cruise driver assistance feature. These and many other advancements are central to GM's vision for a world with zero crashes, zero emissions and zero congestion (ref – GM website). In absence of high-level digital competence, employees of GM will not be able to serve the company.
In addition, the need for surveillance will become a key challenge in remote working where the visibility of employee is low. The two opposing forces - 'freedom' and 'need for control for business results' – causing 'creative collision' in the organization. Therefore, companies are required to develop processes for balancing the need for 'monitoring employee output' and 'standards.'
It has been observed that the dependency of companies on algorithms has been increasing many folds and touched upon many areas such as hiring, promotions and, sometimes, even termination and lay off. It calls for building a high level of 'Trust' among employees by developing more transparent and robust system where managers more frequently apply 'System 2 Thinking' (System 2 is the analytical mode and where reason dominates-ref: Thinking, Fast and Slow by psychologist Daniel Kahneman).
The companies will also have to ensure that in remote working, the 'proximity bias' in company's performance appraisal system should not creep in. 'Confusing performance with presence will be a blunder' said Professor Tsedal Neeley, Harvard Business School.
The companies are noticing that there is a growing demand for stronger rules and regulations to protect workers in a changing workplace of 2023. The fear is that the indiscreet and increasing use of technology for monitoring output and employee behavior in the workplace, may go out of control, and could lead to discrimination and unfair treatment to employees. The trend will be to develop norms and regulations to avoid this pitfall.
We say collaboration is the life line of remote working…to strengthen the culture of working collaboratively and enabling employees to effectively engage with virtual interactions/meetings, the metaverse will grow. As reported in Forbes October 2022 edition – 
The consulting giant Accenture created a metaverse environment called 'The Nth Floor' that features replicas of real-world offices and lets employees and new hires conduct a number of HR-related functions within the virtual world.
The metaverse collaborative working environments such as BMW's 'augmented reality labs' that are used to design and prototype new products will also become more popular as teams investigate new methods of working remotely while remaining engaged with colleagues and their creative process.
The metaverse could fundamentally change not only how employees would interact with technology but also how they interact with each other and the world around them. 
Perhaps, everyone would agree that one of the finest things which has emerged is the concern for employee well-being. The companies will be paying a huge attention to the refinement of 'tracking software' which would be necessary for checking if employees are adopting and following healthy practices like taking breaks, regularly getting up to move around, having zoom free time etc. to avoid fatigue and depletion of energy. 
Further, the new cultural norms will make employees to invest in building 'Social capital' (social & relational competency). There is a great realization around the world that working in an isolation is a potential risk in a remote working environment. It appears that next one year or so, the companies will educate and encourage employees to build capabilities to manage and promote social relationships remotely. It has helps companies in retaining talent.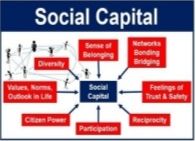 The areas of leadership and team are also not untouched and it appears that the 'collaborative team leadership' - a management practice that brings managers, executives and staff out of silos to work together – will prevail and will become a renewed force in the companies. It has been found that in collaborative workplaces everyone takes the responsibility for the whole and information is shared naturally. Here the company culture speaks to the technology.
The DEI (Diversity, Equity and Inclusion) cannot be ignored and and leaders have put this on top of their agenda. The leader's ability to bring together people from diverse cultures, disciplines, generations, backgrounds and optimally leverage all they have to offer to the company, has shifted to a must-have list.
France's Danone cares for all three practices – diversity, equality and inclusion. For example, when all the managers worldwide get together for company's annual strategic review, many choose to present in their native tongue. The company spend a fortune on interpreters so that being less articulate in English is not a barrier for any employee (ref- Herminia Ibaara and Morten Hansen).
The gendered career paths and gendered work practices will get diluted in progressive companies. We are aware that in many companies the organizational structures and work practices were primarily designed to fit into men's profile. This was largely true when women made up only a very small portion of the workforce or not preferred certain job like sales or supply chain. In remote working culture and the emerging technology will either erase the existing gender demarcation boundary or make it porous enough to remove gender discrimination practices at the workplace.
It looks like the co-existence of opposing forces, as shown in the above diagrams, will continue to influence and shape up the work trends for 2023 and beyond.