Entrepreneurship
How PiQube got its CTO and Product Head onboard
Jayadev Mahalingam, Founder & Chief Problem Creator, shares an anecdote about his approach to hiring two core team members while starting out with PiQube
This anecdote is a part of a series from the People Matters June cover: Travails of Team building. The story focuses on learning the first principles of attracting and enabling the core team from entrepreneurs. Read it in two parts Travails of team building: Learning from startups and Travails of team building: Enabling, not retaining.
We analyze people on parameters of Passion, Knowledge, Power, Money. My first hire was my CTO. We are an analytics company and I shortlisted 25 people with 15 plus years of experience. Most of them came back to India after spending a considerable amount of time in the United States. If I were to call them for an interview, they would have never come.So what I did was that I sent them an invite saying there is a big data conference in Chennai. I booked a big conference room in a large hotel in Chennai and of the 25 people who were sent invites, 17 of them turned up. I told them that there was no conference happening and that it was just me trying to startup a company. I introduced them to my problem and I asked them to help me solve it. I saw one of the healthiest of debates on big data from 17 really bright people in that conference room. And they offered a lot of solutions to that problem. I had shortlisted 3 people who could fit in the role of the CTO, and after the discussion, I had a chat with the guys for about 15 minutes because by then I had already gauged the level of interest these people have for the company – so this was how I landed my CTO.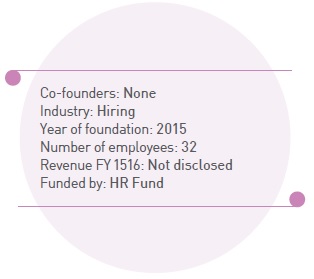 My product head is also very interesting. I knew that he had to come from a product company and had to have 3-4 years of experience, someone who had seen the concept till delivery. But then I also wanted an opinionated person because they need to know how to say 'NO' to a lot of people. Plus he needed to have time management skills. I looked for people who pursued hobbies vigorously. The product guy I hired from Amazonhad worked for 3-4 years and was a lead guitarist in one of the bands in Chennai. I had a 20-min discussion with him and figured this is the next move he is trying to make since he has been with the company for so long and he was ready to be onboard.