Leadership
Global BoardEx study reveals women are missing out on key roles on leadership teams
Conducted in conjunction with Odgers Berndtson, The Global Leadership Team Diversity Report looked at 14,850 individual leadership roles in companies from the top indices in 26 countries.
According to a new, worldwide study by global relationship mapping and executive intelligence service BoardEx, women are not only underrepresented in leadership team roles in major markets, but are also not being promoted to the roles that tend to forge an advancement pathway to C-suite roles. 
Conducted in conjunction with Odgers Berndtson, The Global Leadership Team Diversity Report looked at 14,850 individual leadership roles in companies from the top indices in 26 countries. On average, women currently only occupy 19% of these leadership team positions globally. In terms of the progress made for women reaching leadership roles, advancement is uneven across geographies and industry sectors. Looking at the percentage of women on leadership teams reveals the following: 
Australia and Norway were joint first place with 27% representation. 
Sweden and Malaysia were next with 22% representation. 
India was the second lowest, with 8% representation. 
Japan's top index firms came in last with just 4% representation in leadership roles. 
Clearly, there is an immense disparity in women's leadership representation depending on where they're located geographically. However, this only tells part of the story of gender diversity at a C-suite level. Looking into the representation across specific disciplines - and how these roles enable and engender advancement to the highest levels of leadership - the data begins to show a more complex pattern. 
The difference between Boards Membership and Leadership Teams
One of the most striking findings of the report emerges in comparison with an earlier BoardEx report revealing the progress made in recent years in women's participation in board member roles. As is clear on the graph below, the average percentage of women on the main index boards for 26 countries across the world is a lot higher than the percentage of women on leadership teams in the same 26 countries: 
In some countries like France, Sweden, and Norway female board representation is around 40% while, in contrast, their percentage of team leadership representation only ever gets to 27% at the highest point. What are the reasons for this disparity between board and teams representation, and what can be done to address it going forwards? 
Leadership & Representation Across Disciplines 
According to the report, women are far more commonly found in leadership roles in certain markets, but these participation levels have a significant impact on whether or not women are represented in the most powerful corporate roles overall. On average, women make up 60% of HR and 37% of legal roles worldwide, but those functions only account for 6% and 8% of leadership teams around the world. In other words, women are highly participatory in disciplines in which leadership roles are lowest.  
On the other hand, general management roles make up 44% of leadership teams globally but on average women only make up 11% of these roles. Looked at another way, if every woman in leadership teams across all 26 countries switched to a general manager position, they would still only make 43% of these roles in total.
Norway vs Japan 
To get deeper in the data, we can look at the country showing the most average female representation at a leadership team level (Norway) and compare them to the country with the least average female representation at the leadership team level (Japan).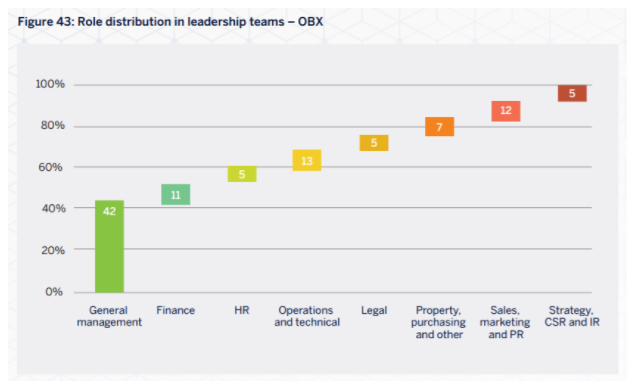 Starting with Norway and their OBX Index, we see that women make up 29% of leadership roles. We can also see the overall distribution of leadership roles in the following graph: 
Following the overall global trend, General Management makes up 42% of Norwegian OBX leadership roles. Operations and technical is the next largest category with 13%. Sales, marketing and PR are third with 12%, followed by finance with 11%.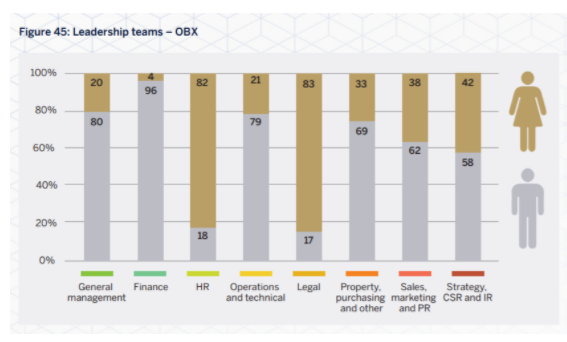 Figure shows the number of women in leadership roles across industry sectors in Norway. 
In Norway, as we can see, no sector besides finance (4%) is less than 20% female, which is an exceptionally high representation score. Even in the coveted general management discipline, women make up 20% of leadership which, while not outstanding, is very good when compared to Japan. Here, we can see that General Management in Japanese firms makes up 61% of leadership positions in companies listed on the Topix Core 30 Index. However, women in Japan account for only 3% of General Management roles. Elsewhere, women in Japan make up 10% of legal roles, 5% of sales and marketing and, once again, are most highly represented in HR (14%).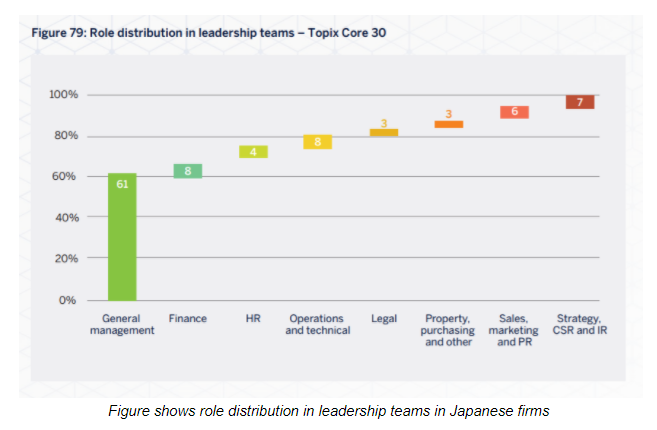 What can we extrapolate from this comparison between Norway and Japan's data? Namely, that progress needs to be made in recruiting women to General Management roles and boosting their share of leadership positions in this sector in particular, given the disproportionate role distribution in leadership teams globally. 
"A Certain Amount of Pigeonholing" 
Commenting on the findings, Dominick Sutton, the Chief Data Officer of BoardEx and the author of the report said: "Too many functions continue to be seen as men's natural domain so there is much scope to make meaningful change. Shifting habits and practice outside the boardroom also offers future scope to make further progress in boardrooms." 
Sutton added that the higher number of women in HR and legal positions suggests there could be an element of "pigeonholing" and that "moving away from this by broadening the range of functional roles, including general management, operations and technical as well as property and purchasing, offers the potential for leadership teams to be refashioned to look and think differently." 
What's the Solution? 
Overall, progress has been made in women representation in leadership roles globally but leaders must be mindful not to go backwards when it comes to furthering this change. As the results show, even in countries where diversity is swaying in the direction, such as Norway and Australia, there is still a lot of work to be done to achieve true parity. It's also significant that the issue is not limited to a single geographical region or continent: in Asia, Malaysia is the fourth highest in terms of leadership teams representation, while Japan is the last. In Europe, Norway and Sweden top the list while Italy hovers third from the bottom with just 9% female representation. Evidently, this is a truly global issue that will take a mobilized, cross-cutting response to address completely. 
"Building a pipeline of leadership talent that is gender diverse is both a moral obligation and good business sense," said Kester Scrope, CEO of Odgers Berndtson. Some of the strategies and steps outlined in the report include: 
Start with executive search and find headhunters who are invested in sourcing a diversity of talent for top roles - or roles that will offer a practical pathway for women candidates to one day reach those upper echelons. 
Identify diverse candidate pools and ensure their clients are exposed to "as broad a slate of people as possible." 
Home in on those roles that offer a pipeline to seats at the top table such as general management. 
Do more to attract women specifically to certain roles in certain sectors in which representation is low. 
"This is particularly important for the roles that most often lead to a seat at the top table and is essential for building high-performing leadership teams and cultures that have the skillset mix to stay ahead of competitors," Scrope said. 
Diversity has long been recognised as a key contributing factor to corporate success. With the pandemic, the world is now facing a reassessment of how, why and when work gets done. This situation presents both an opportunity to rebuild with a more inclusive business model and an urgent need to obtain and keep the best talent with a broad, diverse skill set to negotiate the upcoming months of uncertainty.