A Brand Reachout Initiative
Learning Technology
The growing importance of new hire onboarding
How can companies build an impactful new hire onboarding program to address their skills demand. A new whitepaper from People Matters and Simplilearn provides an helpful guide.
The current digital skills gap poses a challenge for companies looking to scale and remain competitive. In a recent People Matters and Simplilearn whitepaper on new hire onboarding,  The Digital Learning Divide: Leveraging New Hire Onboarding for Accelerated Digital Readiness, over 80% of companies said that they find it challenging to address their skill needs today.
For many, however, the proper new hire onboarding provides an opportunity to kick start learning journeys and ensure the candidates are job ready and productive in a shorter period. The report's findings also reflect that companies today prefer hiring candidates with the right learning aptitude to train them on the niche skills required. For example, when addressing the demand for niche skills, 63% of companies prefer hiring people with the right aptitude and general skills and then training them on niche technical skills.
In addition to providing a guide to creating an impactful new hire onboarding program, the ebook reflects strategies and opinions of top HR leaders who have transformed employee onboarding into a strategic component of the employee's learning journey. Explore deeper trends in the employee onboarding landscape and how learning is fast becoming a crucial component of such programs.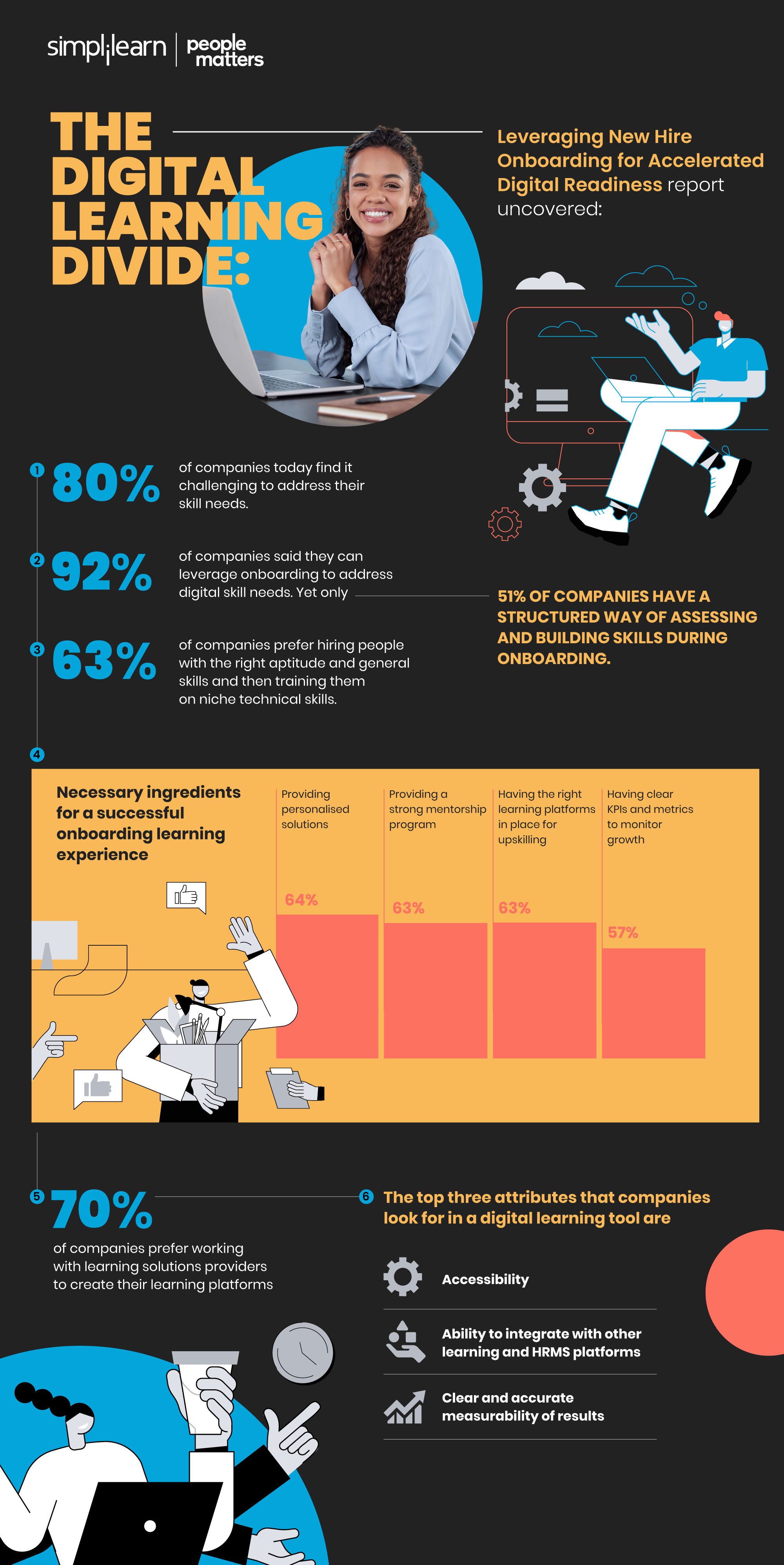 (Some key findings of the whitepaper)
Commenting on the survey insights, Saurabh Arya, Vice President, Enterprise Business, stated, "The People Matters and Simplilearn Whitepaper on Addressing the Digital Learning Divide helps unveil critical insights into the role of onboarding as a crucial skilling period. It is interesting to find that while 92% of companies in India agree that onboarding has a strategic role to play in skilling new hires, only 51% have the right programs in place. Learning professionals and HR leaders can only address this gap by creating the proper business buy-in and investments towards skilling from the preboarding stage. The whitepaper gives companies an easy guide on making their onboarding programs more impactful and echos the fact that around 70% of companies create their learning programs with the help of external partners, and these  learning platforms have a significant role in helping companies address their digital skills gap."
Grab your copy of the ebook today to learn how to leverage new hire onboarding and unpack the necessary ingredients to create an impactful onboarding strategy.