Strategic HR
How ADP identified a risk in employee separations through its HR Audit
ADP revamped the process of employee separation and asset collection after an audit revealed the issue of asset misplacement
HR Audits at ADP solve the purpose of assessing if the organization is compliant with prevalent rules and regulations. They also help in recognizing areas of both strengths and improvement in the existing processes, and establish a baseline for future improvement of the function. At ADP India, HR audits are undertaken both internally & externally. The annual external audits focus on statutory & payroll aspects; while in the internal audits, one or two HR functions are selected to be audited every quarter, and overtime we audit the entire gamut of HR function across the associate lifecycle from recruitment to retirement.
Employee Separation: The case of asset misplacement
ADP chose the separation process for the quarterly internal audit conducted in July 2015 by the ADP India HR team. The audit found that during the Full & Final settlement, there had been instances of asset (like identity card) misplacement, which could pose a financial risk and also have serious ramifications on account of data security.
The audit team studied the existing separation process through the FMEA technique (Failure Modes & Effects Analysis) and identified all possible scenarios where there could be potential failures. (Refer table 1). The root cause of the issue with the highest degree of risk was identified.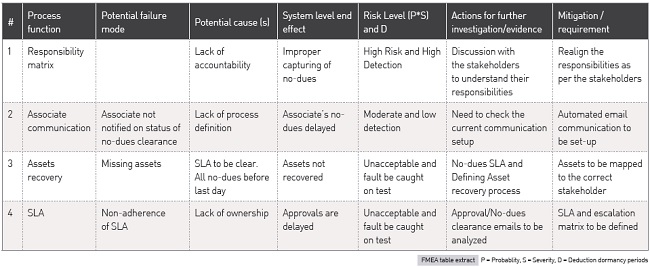 It was observed that there was an issue of asset misplacement due to lack of clarity on the asset collecting authority. Hence, in the absence of clear-cut roles, there were multiple stakeholders to whom the assets were returned including the 'Immediate reporting manager', 'Business HR Partner', 'Asset management team', 'HR Shared Services' and 'Facilities team'.
The misplaced identity card could have had severe ramifications. To put it in perspective, consider the example of the financial impact of asset misplacement – each access card costs approximately INR 500 to the organization. These cards could easily be reused and issued to new associates joining the organization. In FY15, it was observed that about 40 percent of the identity cards were not returned to the collecting authority (i.e. the asset management team) which resulted in a cumulative loss of about INR 1,50,000. Apart from the monetary risk, there could also be potential cases of security breach & misuse of access cards.
After identifying this risk & also the root cause of the problem, various possibilities were explored by stakeholders collectively and it was conferred that the solution was to establish a new process which entails returning all assets to a single point of contact (a part of the centralized asset management team) on the associate's last working day. Since then there has been no leakage or misplacement of assets. Also, the number of associates receiving their Full & Final settlement within SLA has increased from 65 percent to 95 percent.
ADP is also aiming to provide a great Associate experience by processing the Full & Final settlement on the last working day – a practice which is fairly unique in the industry.
With additional inputs by ShIlpa KankarIa, Lead – Strategic HR Initiatives, ADP India