Strategic HR
Rethinking work design for a sustainable reset to the world of work
In the medium term, work design needs to reflect the new ways of working that have evolved in response to the pandemic.
As organizations across Asia Pacific continue their journey to restore stability in the new normal, they face multiple challenges that impact work redesign strategies. Organizations have now experienced the future of work in action, with many having to accelerate their digital journey. In this period of rapid technological and social change, the world of work has been radically transformed.
By April this year, over one-third (37%) of organizations globally had already taken steps to redeploy (and potentially reskill) workers to support another function, and nearly a quarter (22%) had automated or started to automate certain aspects of work to streamline and/or increase productivity.
In the medium term, work design needs to reflect the new ways of working that have evolved in response to the pandemic. This is critical to ensure that the new normal is both effective and sustainable for organizations, while being purpose-driven and meaningful for employees.
Sustainable work redesign and workforce optimization 
As organizations consider changes to work design and workforce optimization, it is important to keep four key elements in mind.
Rewards and reskilling programs
The COVID-19 crisis has highlighted the need for innovative solutions to enable a rebalancing of talent between industries suffering declining demand and those experiencing a spike in demand.  While some organizations have addressed this demand by tapping into the gig economy or outsourcing work to freelance workers in other geographies, many organizations have emphasized the need to upskill and reskill their existing talent pool. They also need to think of how to reward  talent based on the new skills acquired.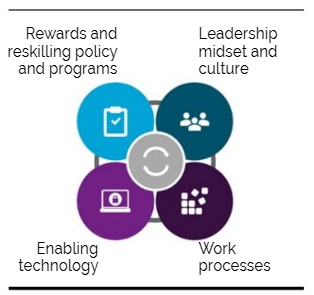 Organizations can consider the following when designing rewards and reskilling programs to support new ways of working:
Is there a comprehensive policy or a set of guiding principles for how work is done?
How is work changing and how does that change skills requirements? 
What are the implications of work redesign on our rewards programs? 
Will a skill-based approach to pay and rewards work for our organization?
Do we have programs available for continuous learning?
Technology enablement
Technology has proven to be a game changer amid the crisis. It has enabled various businesses to stay open and introduced new ways to get work done. For instance, some organizations have increased their use of online chat bots and leveraged centralized data centres for automated data collection tasks. A major regional bank moved all its financial advisory services from face-to-face meetings at branches to tele-advisory services being provided using a virtual communication platform. This platform allowed the advisor to provide consultation over a video-call, as well as product information through a file share feature of the tool. As organizations consider the likely extension or formalisation of remote working arrangements, they need to consider how technology can help support this strategy in a sustainable manner. To efficiently integrate technology into work and ensure it enables a dispersed workforce, organizations should consider:
How effective are our existing technologies at supporting flexible arrangements and keeping our remote workforce connected?
Do we have a technology roadmap to enable business strategy and operations in the "new normal"? 
What are the impacts of these changes on the workforce? 
How do we measure returns on our investment in technology?
Leadership mindset
This crisis has been a defining moment for leadership. It's more important than ever to stay true to the purpose, values and culture of your organization, and lead with integrity and empathy. Redesigning work can truly be successful when leaders display an agile and continuous learning mindset. This enables them to understand the shifting needs and concerns of their stakeholders; and to integrate these perspectives in the decision-making process. Clear and timely communications is likewise crucial to keep employees informed of decisions and planned changes; as well as to alleviate anxiety that employees feel in an uncertain economic environment.
As leaders steer the organization to new ways of doing work, they should consider: 
Have we engaged all relevant stakeholders in decision-making and considered all perspectives?
Are we prioritizing the intersection of employee and company well-being?
Are we supportive and capable of managing a diverse/ dispersed workforce?
Can we successfully integrate flexibility as part of our organizational culture?
Are we supportive and capable of integrating technology?
Work processes 
Organizations need to assess the complexity of business processes and layers of management that currently exist. A critical element to redesigning work is to analyze how managers are adding value and reviewing work processes. As communication flows become more open with the use of virtual platforms, the pandemic presents an opportunity for organizations to find more efficient ways to get work done. 
Here are some considerations as organizations rethink their existing processes and hierarchies:
Do our existing work processes and workflows allow for flexibility and agile working?
Which processes lend itself to flexible work schedules? 
How are managers adding value to work processes?
What activities in a work process or workflow could be automated?
We use the reinventing jobs framework as it provides organization a centrepiece to enable rethinking of work strategy.
To start, companies can deconstruct a job into its constituent activities and classify the tasks so all of the type of work in the job is broken down. Next, they can assess the best way to automate tasks and redeploy them by alternate means (technology and/or human-automation solutions). This is critical as jobs are rarely automated as a whole. Specific tasks, however, may be far more suited to automation. 
Third, look at the activities collectively and reconstruct into (new) jobs where it makes sense, taking into account the new means of accomplishing the work, and what the new work distribution between talent and technology requires. Finally, identify skills needed for the future version of the work and reskilling pathways for talent whose work is being transformed by automation. This ensures that the workforce is building the future skills that the business requires.
The pandemic has caused widespread macroeconomic, social and business disruptions, but has also provided a unique opportunity to reinvent how work is designed and rewarded to improve performance, optimize costs and reduce risk in the future. Organizations must leverage this opportunity to evaluate jobs at a task level, model alternatives to carry out tasks and reinvent jobs for targeted business outcomes. 
The future of work is here!