Talent Acquisition
Retention– The name of the game
HireRight's India Employment Screening Benchmark Report 2018 reveals that while the hiring forecast remains bullish in India, Indian organizations are doubling down on employee retention initiatives this year.
From becoming the fastest growing major economy that grew more than 7 percent on an annualized basis, to retaining its position as the third largest startup base in the world with over 4,750 technology startups1, India is on a path to becoming one of the top three economic powers of the world in the next 10-15 years. And these current growth trends on the economic front have had positive implications on the employment and jobs market in India.
As per the quarterly employment survey by the Indian Labor Bureau2, employment on net basis in the eight key sectors in India including manufacturing, IT, and transport increased by 136,000 in July-September quarter of 2017-18, and it is projected that the average salary hike of Indian employees is estimated to be 9.4 percent and that of key talents is estimated to be nearly 15.4 per cent in 2018, in wake of the increased focus on performance by companies, according to Aon Hewitt.
HireRight's India Employment Screening Benchmark Report 2018 asserts that all these developments signal towards a cogent and energetic hiring spree for the year ahead. The report reveals that while 85 percent of organizations in India are expecting their workforces to grow in the coming months, which is more than the APAC average of 77 percent, almost 50 percent of these companies in India expect the growth to be 6 percent or more this year wherein only 35 percent in the APAC region expect the growth to be 6 percent.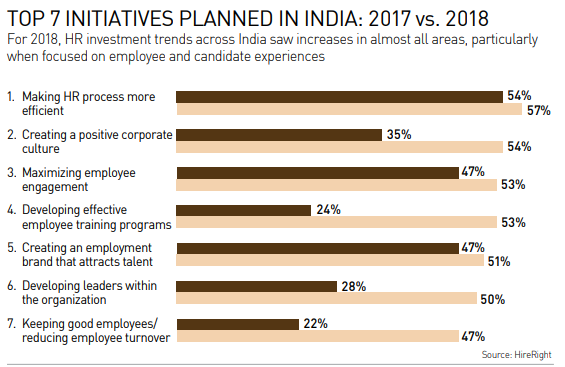 But while this accretion in hiring is gaining momentum, the report revealed that the focus of organizations through these hiring sprees will be on filling permanent positions as opposed to hiring contractual or contingent workforce. As per the report findings, almost 43 percent of companies had less than 10 percent of their workforce made up of non-employees in 2018 as compared to 2017, wherein almost 73 percent of companies had 10 percent to19 percent of their workforce made up of non-employees.
Tapping into the shifting employee expectations
Interestingly, organizations have ambitious hiring targets for the year, yet attracting talent appears to be a concern for less than half of these organizations. 46 percent of employers in India did not find attracting talent a concern as compared to the 51 percent average in APAC. Instead of attracting talent, the focus of organizations is on improving employee retention and reducing employee turnover. The report suggests that almost 47 percent of businesses surveyed are investing more in reevaluating and redesigning their retention. This number has almost more than double of last year's figure of 22 percent.
The reasons for this mindset shift in organizations can be attributed to the millennial workforce being more oriented towards job satisfaction and motivation, and finding a purpose and meaning in their jobs. In order to ensure that prospective talent remains engaged at the workplace, businesses are focusing more on engaging and retaining the young, mobile, and hungry workforce.
Projected HR investment trends
The overall investment trends for HR in 2018 are witnessing an increase in almost all areas of retention — be it creating a positive culture or investing in developing effective employee training programs or increasing the overall efficiency of HR processes. Making HR processes more efficient topped the list of most important initiatives for 2018 with almost 57 percent of companies planning to increase their investments/spend on this element as compared to 54 percent in 2017. Next in the priority list is creating a positive corporate culture with 54 percent organizations planning to focus on it compared to 35 percent in 2017.
Maximizing employee engagement was the third top-most priority along with developing effective employee training programs, with 53 percent of organizations focusing on these two initiatives. The figure of companies investing in developing employee training programs stood at a mere 24 percent in 2017, hinting that organizations are banking on upskilling employees as a chief retention tool in 2018.
Another initiative that gained increasing attention from employers is developing leaders from within the organization. Almost 50 percent organizations are focusing on this as a retention tool compared to 28 percent in 2017, which clearly points out to the trend of organizations choosing to build talent more as compared to buying talent. The focus on reducing employee turnover has also increased significantly this year with almost 47 percent of organizations doubling down on it. This is more than double the figure of 22 percent in 2017, which clearly points out that the coming months of 2018 will be about retention.
Addressing discrepancies due to aggressive growth
While the focus on hiring remains bullish this year, it also brings with it the increased risk of discrepancies in potential hires. With time being of essence when keeping pace with this aggressive growth, the focus on screening will see an increase. Almost 65 percent of employers in the report pointed out that the most significant employment screening challenge was reducing the time-to-hire. As per the report, 80 percent of Indian employers have uncovered discrepancies with employment history (80 percent), educational credentials (56 percent), criminal convictions (15 percent) and identity frauds (13 percent) in the profiles of job candidates through background screening that would have otherwise gone unnoticed by their organization. This is an increase of 3 percent points from last year. It is striking that 56 percent of Indian organizations feel that one of the biggest benefits of screening is consistent safety and security, second only to ensuring a better quality of new hires.
Revamped screening processes
While India continues to hold a small lead over the rest of APAC (56 percent) in terms of the number of businesses that perform post-hire rescreening, there is still room to secure businesses in India against risk. Stagnation in the screening processes was noticed in India with the number of businesses in India performing post-hire rescreening dipping from 64 percent in 2017 to 60 percent this year. The report also exposes gaps in screening standards. While 84 percent of businesses conduct some form of background screening on executive-level candidates, 40 percent of organizations admitted that their organization had different standards for screening each candidate.
Similarly, almost 33 percent of organizations revealed that senior-level candidates had to go through fewer tests and interviews as compared to entry-level hires – up from 26 percent in 2017. When it comes to international hires, the figures are lower. Only 29 percent of organizations in India conduct checks on international hires, down from 37 percent in 2017. This figure is considerably lower than the 41 percent APAC average.
The report points out that while the growing economy will act as a driver to boost hiring among Indian organizations, there is also a visible shift towards meaningful employment. The report suggests five tips for the organizations to consider for the year ahead which include investing to retain, standardizing screening frameworks, trendsetting, and working with external resources to cover international talent requirements. The impetus on investing in the overall employee experience points out the strong desire of organizations to enhance the quality of work and make enable an impressive and meaningful employee experience and engagement. The focus now is just not alone on giving employees a reason to join but also enough reasons to stay in order to stay ahead of the competition.
References
1 Nasscom
2 Press Information Bureau, Government of India, Ministry of Labor & Employment