A Brand Reachout Initiative
Talent Management
CGI's Reskilling Journey - Lessons on designing a future skills roadmap

Get Set Learn Read similar articles
Preparing for the future is a journey that's riddled with uncertainty. Here's how CGI defined a strategy and partnered with leading industry players to align skills and map careers by leveraging technology.

Before the COVID19 pandemic transformed business operations, CGI, an IT and business consulting major, embarked on a journey to re-align skilling priorities to the company's future business outlook. As part of this roadmap – the company migrated to an improved learning experience platform, CGI Academia, using Skillsoft.  Secondly, the company partnered with NASSCOM to further accelerate their reskilling– this initiative identified ten emerging technology skills and two methodologies that would be business-critical. 
"The Human Capital Strategy (HCS) Programme for reskilling was business-sponsored and supported by the Learning & Development function," said Anil Santhapuri - Director of Learning and Development, Asia Pacific Global Delivery Centers of Excellence - CGI 
"Growing consumer and citizen demands has increased pressure for organizations to launch innovative digital products and services. Investing in our professionals and allowing them to gain requisite skills in designing, building and implementing innovative solutions using digital technologies is part of CGI's commitment to drive value for its clients and professionals.", said Rakesh Aerath, Senior Vice President of CGI's Asia Pacific Global Delivery Centers of Excellence, who also leads this initiative.
At CGI, the L&D team primarily  focused on driving curated learning on a three-part mandate: 1) Reskilling and upskilling with the goal of meeting the need for emerging technology skills. Annually, the company engages over 1,000 business and IT executives to gather perspectives on trends affecting their enterprises and how technology needs are evolving. 2) Graduate transformation – which is aligned to meeting the skilling needs of fresh graduates joining the workforce. 3) Diversity and inclusion as a central pillar in administering and achieving the company's D&I goals.
As the upskilling and reskilling priority took shape, the company worked with partners to careers to new job families. With upskilling, the focus was on identifying adjacent skills in the skill family group, while reskilling was focused on new skills. The company classified the new skilling priorities into three categories:
1) Maturing skills – which referred to skills that are widely prevalent in the market,
2) Scaling skills – which tracked skills that were on the rise currently
3) New emerging skills 
Early challenge areas 
"The biggest challenge was that we weren't sure how many employees would adopt the online self-paced learning program." Anil said. But the COVID19 induced lockdown measures meant that the enrolment into the online learning courses skyrocketed. By then, the teams working on designing the program had piloted the course with a cohort and were able to scale up quickly.
Another critical imperative was to curate content appropriately. "We spent a lot of time with our internal experts to ensure the content that was curated aligned to our immediate business requirements," Anil said. A related challenge was also on deciding how much content was actually needed as part of the learning effort in this program. While the learning pilot had the course with a 72 hours duration, ultimately, the program was brought down to 40 hours when it was scaled for the rest of the organization.
Designing programs and building awareness
The L&D team worked with close to fifty subject matter experts to create a foundational program for employees. The 40-hour self-paced learning curriculum was designed so that it could be completed over a few months. In addition to this, the company also introduced conversations with leading external subject matter experts over webinars to ensure that employees were actively engaged in the learning process.
As the initiative met with success, there was an abridged version that was created for employees who were in corporate roles and support services. This program was 16-hours long and was well received. 
Bringing a business-led change in the reskilling program required the active participation of multiple stakeholders. There was active involvement from leadership through a well-planned communication campaign and leader connect sessions. 
Business leaders closely followed learning updates. Every month, each leader reviewed their team's learning metrics and reports. Employees received reminders of their learning progress.  "There was a cascading impact," Anil said.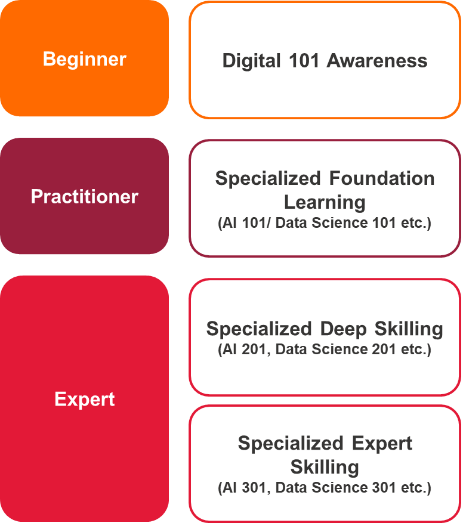 Digital badges in CGI Academia, powered by Skillsoft, were a key engagement feature. Most courses had a badge that could be earned after completing the assessment. It gave employees a sense of accomplishment. 
Automating the whole program management was the next step in the process of ensuring continuous improvement.  
Key lessons
When reflecting on the key lessons for companies embarking on a similar transformation journey, Anil said that it is important to know the strategic perspective. "We had an HCS strategy that set the direction for the organization."
"Just because you have a learning platform does not mean people will come to learn. One needs to make a compelling case, and that means focusing on creating customized and curated learning paths or journeys." Anil noted. "There's also a need to think beyond learning content. That means thinking through the whole strategy and execute thoroughly." 
Collaboration was one of the keys to CGI's success. A number of internal and external stakeholders participated in driving the initiative – this includes subject matter experts, learning partners, executive leadership, managers and employees.  The capacity to manage change is another key differentiator. "Finding the right leaders to drive the initiative, knowing who the early adopters are and building on successes are all important." 
"As HR, there's a need to be one step ahead of the organization to support them and that means taking risks – sometimes you succeed, and sometimes you don't, yet we should always learn."