A Brand Reachout Initiative
Learning & Development
Building a skills-first people strategy

One HR Read similar articles
As organisations prepare for an era of disruption and economic uncertainty, companies are building a resilient, adaptable and agile future with a skills-first approach to their hiring and learning strategies.
Organisations globally are still reeling from the aftermath of the pandemic, which has resulted in ongoing talent disruption, skills shortages and economic uncertainty. As we still come to terms with the turmoil caused by the pandemic, organisations seek to become more agile and future-ready. The last few years are a critical testament to the role hiring, and leaders will continue to play individually as well as collectively. To empower organisations and individuals to unlock innovation and steer growth even amidst the current challenges, we outline skills-first people practices to steer the ship ahead in 2023.
Skills-first Approach to Hiring & Learning
The current business climate in India is evolving rapidly due to disruptive tech and digital transformations. In India, it is predicted that the necessary skill sets for the same job will change by more than 48% by 2025. With a tight labor market and this fast rate of change, companies must adjust their talent strategies to remain competitive. One of these ways is a skills-first approach both for internal and external hiring. It is key to embracing agility and achieving success in the future of work as well as opening up talent pools. Research shows that Indian companies that hire for skills can increase their talent pipeline by 12.1X. Additionally, according to LinkedIn's 2023 Future of Recruiting Report, recruiters worldwide are now more inclined to search for candidates based on their skills. Compared to three years ago, recruiters are 25%+ more likely to search by skills on LinkedIn, and they are now 50%+ more likely to search for skills than they are to search for years of experience. And in India, 75% of recruiting professionals predict skills-first hiring will be a priority for their company in the next 18 months.
Similarly, for L&D leaders across India, upskilling employees remains the #1 priority, followed by aligning learning goals to business programs, creating a learning culture and improving employee engagement, according to LinkedIn's latest 2023 Workplace Learning Report in India. This is unsurprising given the invaluable role L&D programs will play in elevating people and skills for organisational success and business impact. Inevitably, there will be a greater focus on ensuring that people and business strategy remain the same. With 99% of organisations in India concerned about employee retention, the #1 way they are working towards improving retention is by "providing learning opportunities." 
Upskilling & Reskilling: An Important Factor of Recruiting 
With concerns over workforce turnovers and potential layoffs, retaining your critical and high-impact talent will be important to steer through the current unpredictable business climate. The number one way organizations are addressing this challenge is by providing learning opportunities. According to the Future of Recruiting Report, 91% of recruiters in India also believe that upskilling and reskilling employees will be an important factor in shaping the future of recruiting over the next five years and increasing collaboration between L&D and TA teams. While 31% of TA professionals in India are already working closely with L&D, an even larger portion believe they'll still need to grow closer in the future.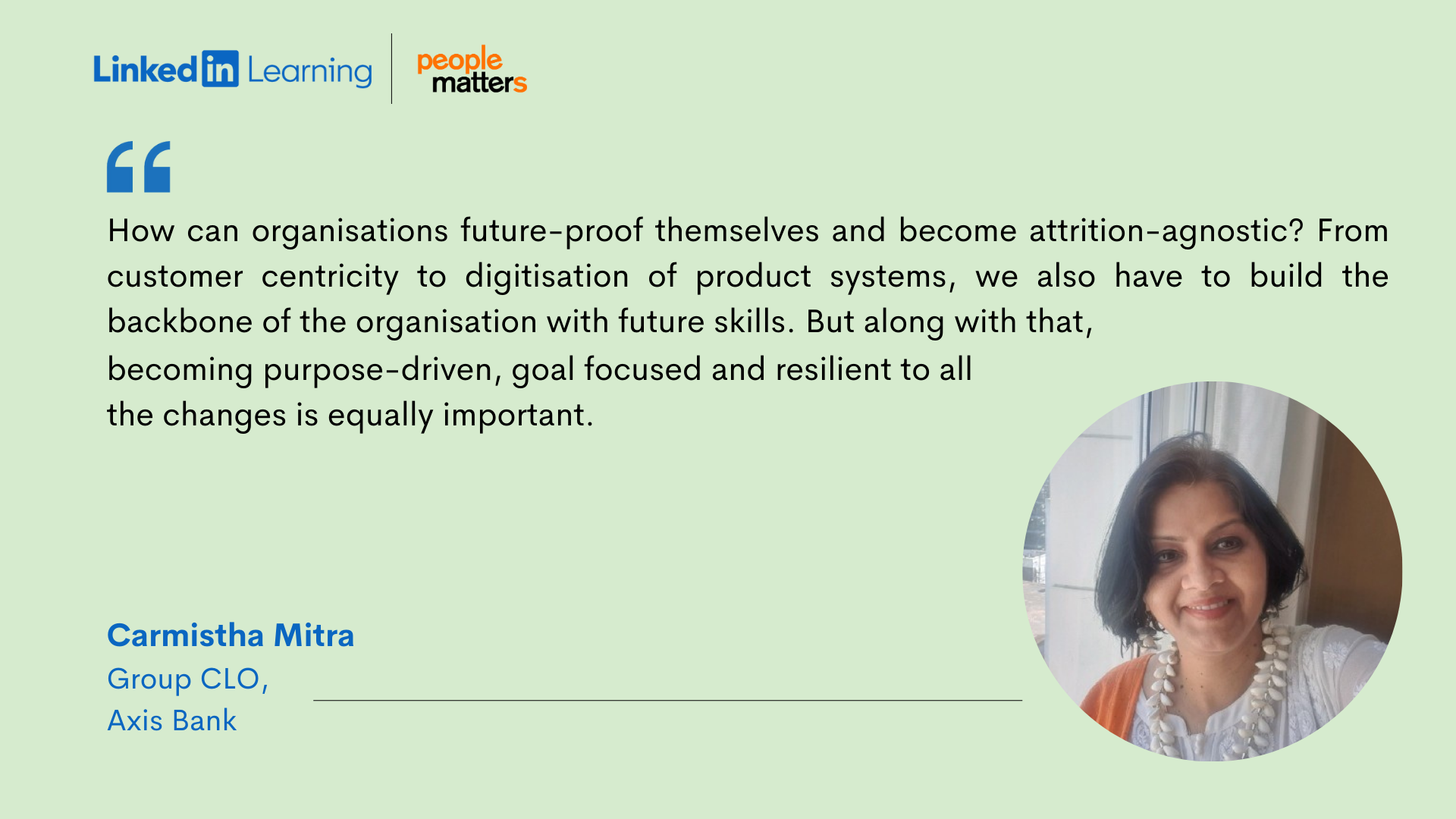 LinkedIn's study data reveals that 89% of organisations in India want to build a people-centric culture, and perhaps more importantly, the key takeaway is that 81% of L&D departments are helping them achieve this goal. A people-centric culture will prioritise people's success to achieve organisational success, and this boils down to one thing: strategic learning investments. Employees are eager to learn, grow, innovate and find new ways of collaborating with one another. The organisational culture will always be an important part of the employee lifecycle, and their tenure in the company will depend on that.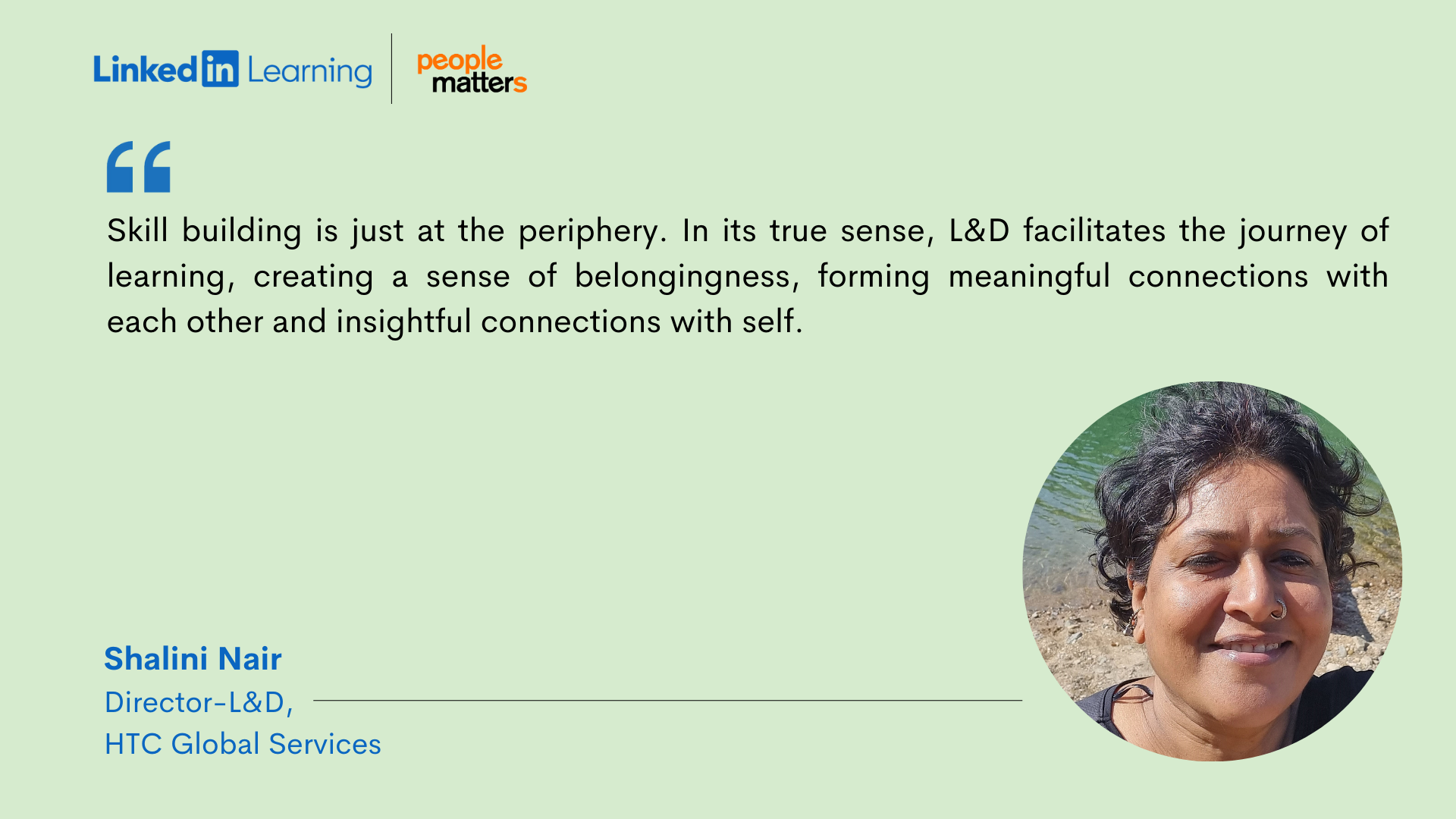 Strengthening the collaboration between Talent Acquisition and L&D
As organizations strive to become more agile, L&D programs will play a powerful role in fuelling the talent marketplace and will be at the forefront of engaging learners and expanding workforce skills. But to achieve this, L&D must be strategically mapped against growth, careers, new opportunities and roles. This is where the significance of heightened collaboration between TA and L&D teams comes in, which can drive success as they innovate together to develop and source internal talent.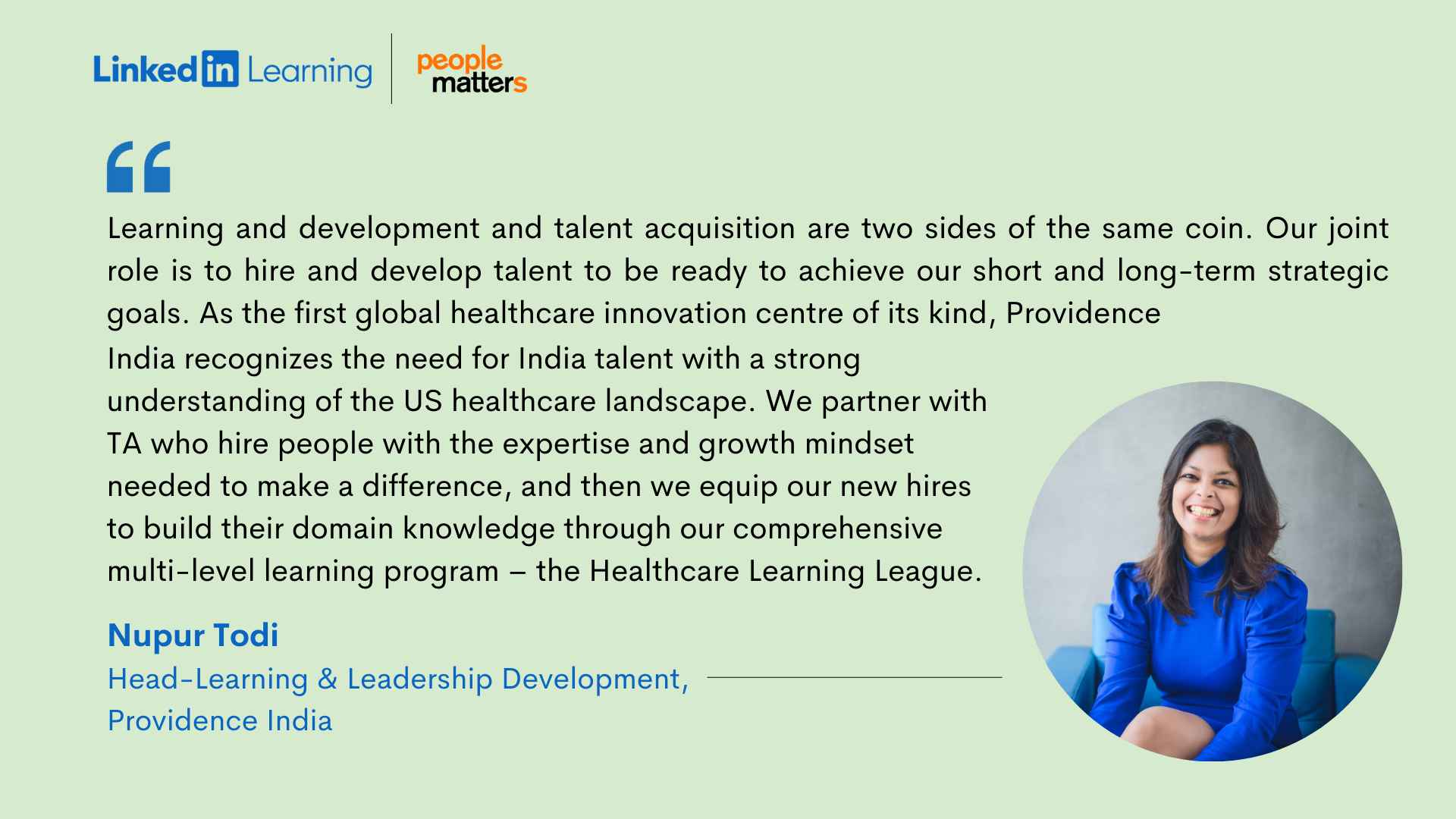 This will happen in two ways. First, the talent acquisition function will develop a culture and process for internal hiring while prioritising internal talent as a rich and promising hiring pool. Then, simultaneously, the L&D function will provide skill-building paths and resources aligned to business needs and employee career aspirations, creating an internal talent pipeline to match hiring opportunities. With learning becoming a business imperative, this collaboration will be fundamental, and 68% of in-house recruiting professionals in India also say that they need to work more closely with L&D in the future.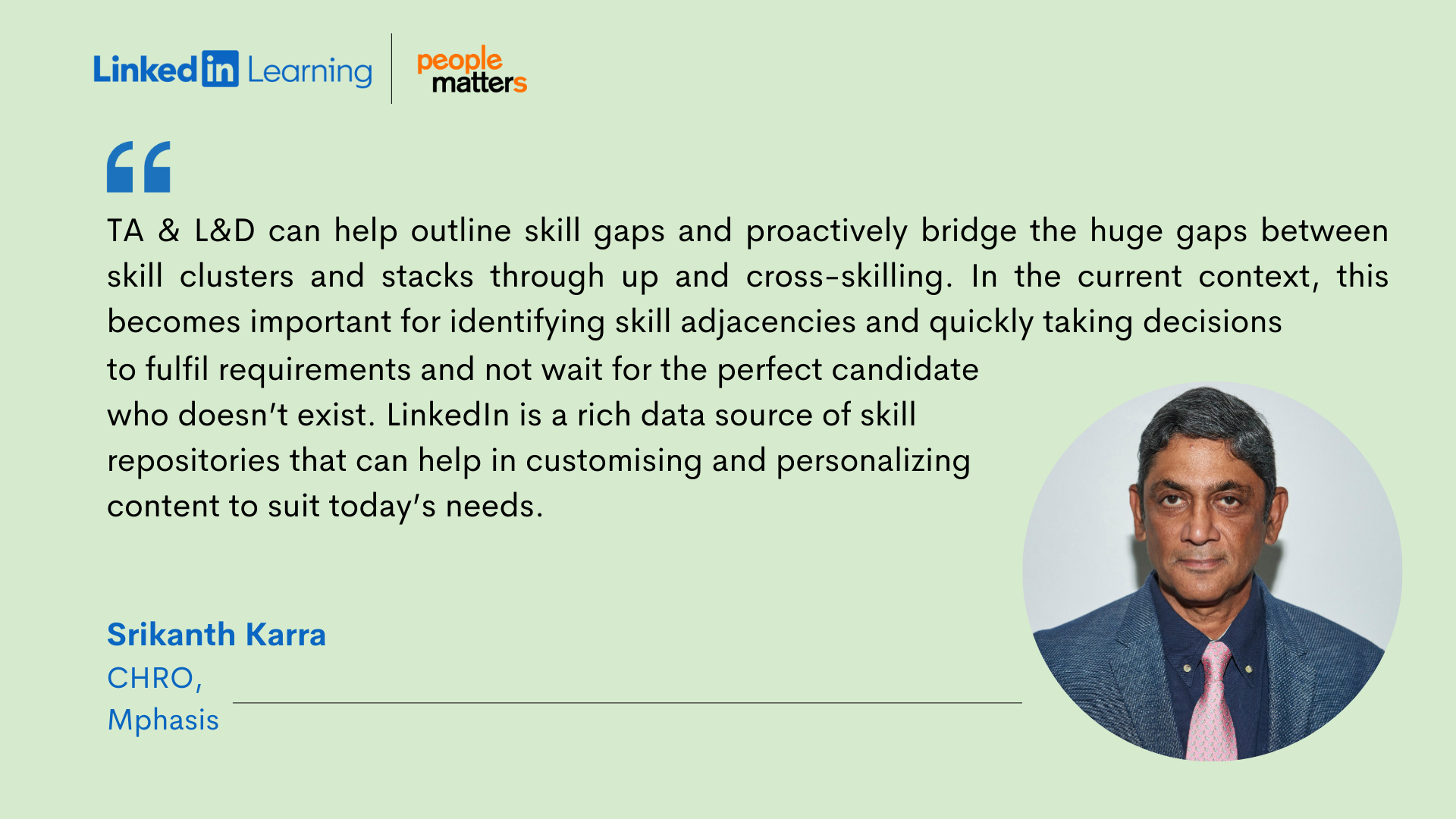 With 85% of organisations across India witnessing increased learner engagement over the past year, this is an opportune time for sourcing internal talent and accelerating internal talent mobility. This is key to becoming both people-centric and business-centric. Not only do employees stay 2x longer if the company is committed to internal hiring, but 84% of recruiters also believe that internal recruiting will be important in shaping the future of talent acquisition over the next five years. So there's never been a more important time for organisations to build their talent pipeline internally with a skills-first outlook when prioritising reskilling and upskilling while meeting their employees' expectations' of increasing career growth and advancement opportunities. 
The critical role of technology in a skills-first strategy
While we know that L&D is key to building people-centric, resilient and agile organisations, technology will play an important role, be it in skill analysis, development or measuring the impact of learning programs. It will equally support skills-first hiring, which is predicted to be a priority for organizations for the next 18 months, according to 75% of recruitment professionals in India.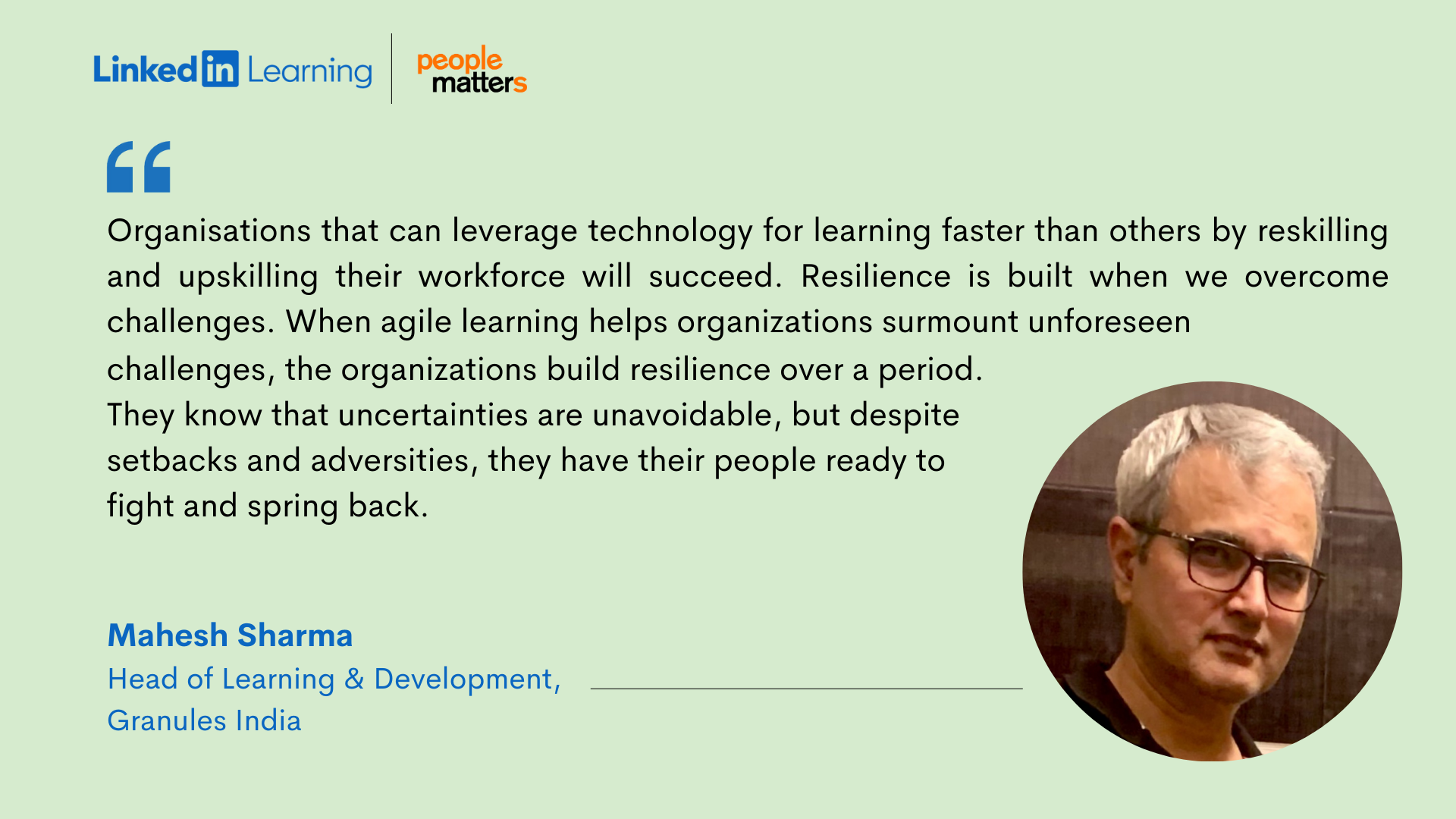 Here's how digital interventions will empower companies to shift in the direction that caters to your unique talent needs:
Plan your recruitment strategy with real-time data insights: 86% of recruiters believe that TA teams need to understand skills employees have or don't have to make informed decisions. This also involves keeping a pulse on organizational plans for scaling up, competitor analysis, exploring hidden talent pools and more to build a robust talent pipeline. 
Hire efficiently with a robust, data-driven internal and external hiring strategy: The above analysis will feed simultaneously into external and internal hiring plans and empower organizations to leverage learning to find the right people for the right roles. It's a positive sign that 86% of L&D professionals across India today have a keen sense of what workforce skills are needed for the present and the future. 
Look inwards and help develop your existing talent: Employees' #1 motivation to learn is to progress towards their goals. When leaders invest in agile learning solutions that make learning engaging, accessible and deliver the desired impact, it yields results by talent retention and achieving meaningful business outcomes. 
As a skills-first strategy becomes a powerful force in building an agile future, it is imperative that recruitment and L&D functions become more strategic and cross-functional than ever before. The close alignment will play an invaluable role in empowering organizations to reach new heights by unlocking new ways to grow and innovate in the workplace. To learn how LinkedIn solutions can help you plan, hire and keep the right talent, connect with a talent specialist here.