A Brand Reachout Initiative
Learning & Development
How to define success criteria for workplace learning?

Get Set Learn Read similar articles
An understanding of why learning programs fail, how to scale them up and knowing what to measure will be critical for success.
In an environment that demands a shift in mindset, skills, processes and systems, leadership and learning must evolve too. Poor leadership could be detrimental and cost companies up to 8% of revenue, according to research by Skillsoft.
Addressing a webcast on the topic, Anu Sirauthia and Nirmala Gopalakrishnan from Skillsoft discussed what leadership means today and the practical ways of making leadership learning available with a focus on leadership development and designing high impact programs. As leaders must change with today's changing business context, what should be the guidelines for a scalable leadership learning program in an environment where up to 50% new leaders fail on the job? 
Nirmala believes that, "No organization can function and flourish without clear leadership."
She goes on to state that while 35% of learning and development budgets go into leadership programs, only 15% HR professionals consider their future leadership bench strength to be satisfactory. There is thus a clear dichotomy between investment and outcome. Irrespective of that disparity, owing to increasing complexity, rapid innovation accelerating change and mounting competition, 43% of organizations still plan to spend more money and 59% plan on spending more time on L&D in 2018-19. 
Why are learning programs failing?
Anu classifies the reasons behind the failure of learning programs today from the perspective of the four major stakeholders.
Executives – They report an absence of commitment to learn, a scarcity of formal training processes and a lack of focus from top management.
Leaders/managers – As integral participants in the processes, it is unsettling that they feel that the programs suffer because of limited formal development opportunities, not enough warning or preparation in an environment where they are hired into the role and promoted for expertise without a map for growth.
L&D teams – As drivers of the programs they feel the pressure of time constraints, a lack of financial resources and of organizational readiness. Moreover, they also mention the inability to measure impact, which leads to a lack of buy-in and executive support.
Design – Form the design perspective, the lack of relevant modern competencies and of attention to contextual factors render the programs in-actionable and increases the hiatus between teaching, reflection and application.
Fit to scale
Anu explained that while a great program needs scalability, resource efficiency and effectiveness, which do not seem difficult to achieve from a macro level, it is not possible to achieve all three most often.
She explains that there are 5 factors to build a great scalable program: Context, Content design and modality, Continuity and consistency, Championship-based approaches and Experience. 
Measuring the impact
One of the key concerns of L&D practitioners is being able to measure the impact of a learning program, to prove its ROI and to show its tangible positive effects on business. Till the outcome of a learning exercise can be equated in terms of business, it cannot really be said to add value and it would always remain an ordeal to get senior executives on board. The following is a checklist that could aid in planning the measurement of a learning process.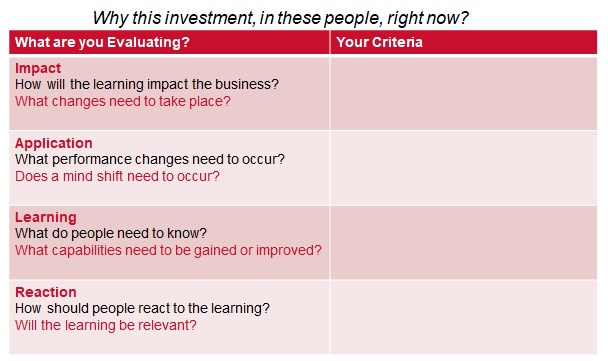 Furthermore, having pre-set goals and criteria also help in having pre-determined focus areas. That enables more efficient use of time and resources since it tethers the process to what needs to be focused on and prevents deviation.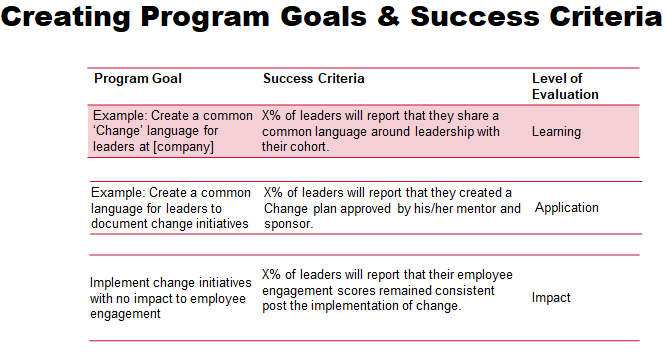 G. A. Yuki said, "Leadership is the process of influencing others to understand and agree about what needs to be done and how to do it and the process of facilitating individual and collective efforts to accomplish shared objectives." The time is now for organizations to employ learning programs that work through all the phases of learning and enable every aspect of the definition above and thus create catalysts that embody authority, responsibility and drive to lead the business forth.