Corporate Wellness Programs
Increasing importance of workplace immunization
Workplace immunization, a popular concept abroad, is almost unheard of in India. But it assumes added importance in wake of COVID-19, and might be a crucial cog in the wheel of employee wellness.
None of us were prepared to face the unprecedented and difficult phase brought by the COVID-19 outbreak. Yet, like always, we adapted to the new ways of working though many of us resisted it for many years. "Am I audible now?" and "Is my screen visible" became an indispensable part of our working vocabulary.
Now, as we move into the unlock phase, a part of the workforce also prepares to head back to the physical office space and that comes with its own challenges. Employee health and safety is on the top of the mind of business leaders, and rightly so, as per the results of our pan-India employee survey. Though not particularly unexpected, the results were still surprising: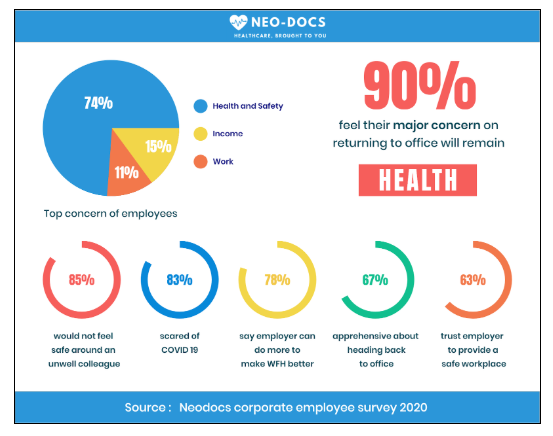 It is important to note that for many years the severely ignored aspect of health and safety in India is adult immunization. At present, there are 14 vaccines available for adults - for diseases like hepatitis A, pneumococcal disease, influenza, HPV (which causes cervical cancer), tetanus, measles, hepatitis B, mumps, typhoid, etc. The healthcare burden of these vaccine-preventable-diseases (VPDs) in India is huge: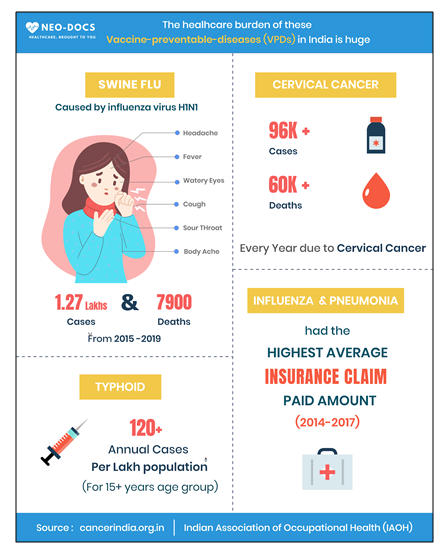 Adult immunization is recommended by leading healthcare bodies like WHO, CDC, GAVI, etc, and is a common concept in most developed and developing countries, much like child immunization. Major credit for this goes to their governments, which have worked relentlessly to create awareness and education. But in India, with an already stretched health infrastructure, the government's attention hasn't fully turned to adult immunization yet. However, its importance has dawned upon it too, "We need a comprehensive policy for adult immunisation. But there is no awareness about adult immunisation in India and people still think that immunisation is for children", says Pradeep Haldar, Deputy Commissioner, Immunisation Division, Health Ministry.
In such a scenario, the onus once again falls on corporates to lead the way. Workplace immunization is a fairly popular concept abroad, with companies undertaking annual vaccination drives. In India, it's almost unheard of, with the exception of a handful of manufacturing firms. 
A business is only as healthy as its employees are. Workplace immunization offers multiple benefits, both for employer and employees:
Increased productivity and decreased absenteeism due to employees being healthy and fit
Increased employee morale as they have an employer who genuinely cares about their health
Convenient process: Cumulative time required from each employee is less than 15mins, with the entire process taking place in office; no need to visit a clinic
Total cost is at least 20-30% lower than individual vaccine at clinic; high possibility of vaccines being covered under corporate health insurance
Superior protection through herd immunity; there is a lower chance of vulnerable people being exposed to a disease if others around are vaccinated
Indirect protection of family and friends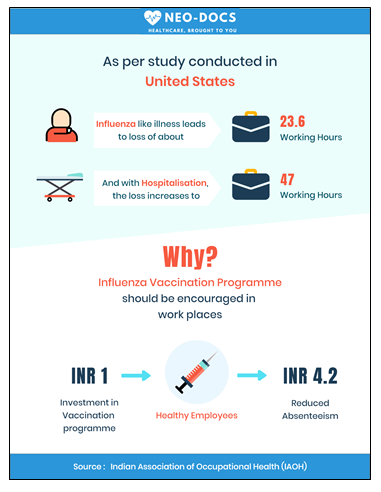 Immunization assumes even more importance now, while we grapple with COVID. Unless absolutely necessary, avoiding a visit to the doctor/ hospital should be top priority. Two reasons for this: 
Risk (actual and perceived) of Hospital Acquired Infections (HAI) and passing it onto family members
Many hospitals are already overcrowded, and most doctors engaged in COVID duty. 
It is time to take employee wellness a notch higher, and workplace immunization is the key. It gains even more importance to allay employee fear and lift morale as we head back to office.