Performance Management
Evolving organizational strategy through the years
From 1855 to 2017, leaders still face same issue: performance accountability
1855 was an interesting year. This was the year when for the first time someone thought seriously about how to bring execution closer to organizational priorities, measuring employee progress on those priorities and enhance overall employees effectiveness. If you talk to any of the CEO's or business leaders, they will be stating the same kind of challenges. The credit for seeding the initial idea of enhancing people effectiveness goes to Daniel McCallum, a railroad engineer at the New York & Erie Railroad Company.
Daniel Craig McCallum was a Scottish-born American engineer known as one of the early pioneers of management. He set down a set of general principles of management and is credited for having developed the first modern organizational chart. One of the major problems faced by then large railroad companies like "New York & Erie Railroad" was the rising cost of operations compare to smaller companies. He wrote a letter to highlight this issue to his higher-ups and CEOs. And he presumed that the root cause of this problem was people performance issues and inefficient internal organization.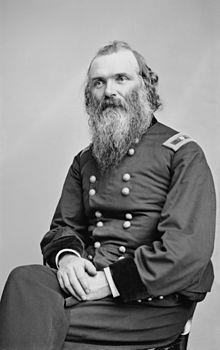 McCallum's letter outlined five key challenges posed as questions. Read them carefully, and you will realize that they still hold true even today.
How do you get a group of people to work together to common business priorities & goals?
How do you give people the right amount of responsibility?
How do you make sure the job gets done?
How do you know how things are going?
How do you do all this with respect for others?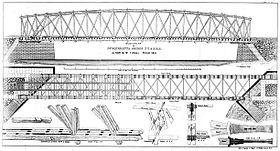 Because of his constant focus on enhancing executional excellence, McCallum retired as General Manager controlling over 5000 people.
Take a pause now and think about the questions McCallum has highlighted 161 years back. These questions were asked more than a century ago before Peter Ducker started helping organizations understand management science. The astonishing bit? Even after 161 years and three industrial revolutions later, McCallum's questions are still valid and relevant for today's corporate world. The need of the hour is to answer these questions for your organization and find up an appropriate solution to avoid losing the market share to small companies and start-up's, or the repercussions could be huge.
While you process the story of Mr. McCallum, here's another interesting story, this time about Andy Grove, known as the 'guy who taught Silicon Valley how to do Business'. Grove was Intel's former CEO and mentored business superstars, the likes of Steve Jobs and Larry Ellison. He was among the first business leaders to implement the MBO (Management By Objectives) model – a management model popularized by inimitable Peter Drucker. At Intel, Grove and team later gave birth to OKR (Objectives and Key Results), which according to Grove had two important components.
The Objective: What do I want to achieve?
A Set of Key Results: How will I pace myself to see if I am getting there to achieve that?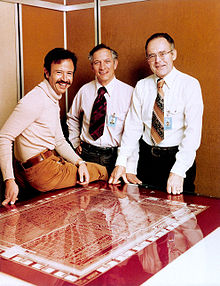 Andy Grove, with his team (1978). Image credit: Wikipedia
OKR which over the years has been adopted by leading organizations across the world such as Google, Uber, Sears Holdings, Vox Media, Zynga, etc, helps in creating a culture of high performance that is focused on results. The core concept in OKR is to align the organization with the CEO's priorities. OKR is very different from traditional goal setting frameworks which lately are showing signs of aging. Adopting OKRs enables organization, teams, and individuals to:
Work together for common business priorities & goals.
Helps in ensuring that the job gets done and done well
Enables you see in real time the progress people make while achieving their targets.
The bottom line is, every thoughtful business leader, be it McCallum or Ducker or Grove are able to re-invent the processes to enable better performance in their people. They were able to identify new ways to make people accountable for their own performance. Organizations that don't focus on building or re-inventing themselves to leverage people power will always lose the battle to their competitors.