Talent Acquisition
Snapshots of TA League Annual Conference: Till next year
The TA League Annual Conference 2016 saw the industry discuss about the strategy, framework, perspectives in the recruitment processes. Heres a roundup of our favourite highlights:
The TA League Annual Conference 2016 saw the industry discuss about the strategy, framework, perspectives in the recruitment processes. The Conference had 3 tracks - Strategy, Impact and Insight. Delegates had huge amount of recruitment ideas floating through the entire day on June 9. There were discussions, panel sessions, CHRO tracks, Huddle sessions, RoundTable discussions on Talent Acquisition. The response was tremendous and we are humbled with the enriching insights gained out of every session. People Matters in association with our Diamond Partners CareerBuilder India, Aon, Pearson TalentLens and our Gold Partners Mancer Consulting and Jaipuria Institute of Management organized the biggest conference on Talent Acquisition. Our Category Partners: Randstad - Talent Partner, MISB Bocconi - Academic Partner, MeritTrac - Talent Evaluation Partner, IKYA - Outsourcing Partner, and Wiley - Skill Partner.
Here's a roundup of our favourite highlights:
Hiring Trends 2016-17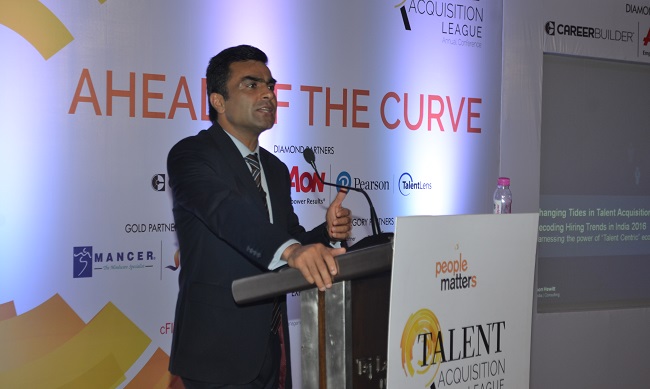 Sharing the key findings of the Aon & People Matters Research on Hiring Trends 2016-17, the day started with a great session by Sandeep Chaudhary, CEO, Aon Hewitt.
Marketeers can teach a thing or two to Recruiters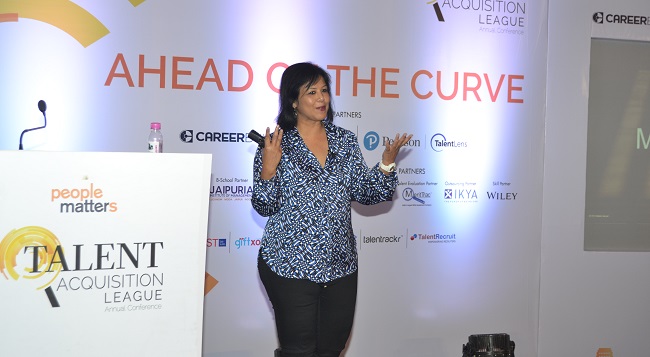 Babita Baruah, Senior Vice President, J Walter Thompson spoke at length about what TA leaders can learn from marketing and brand perspective in order to find the right talent, revamping brand can create newer avenues of finding the right talent and how effective recruitment marketing can have a positive impact on brand recognition, number and quality of applications.
Will you buy, build, or borrow talent?
In this engaging and dynamic session, our speakers – Unmesh Pawar, Global Managing Director, Talent Acquisition at Accenture, Adam Sunman, Global Employer Brand & Social Media Lead, Vodafone, Prabhakar Lingareddy, Vice President, HR at ITC, and Premlesh Machama, Managing Director, CareerBuilder India dissected the idea about the strategy in attracting the top talent in the digital age.
On the CXO Hiring Trends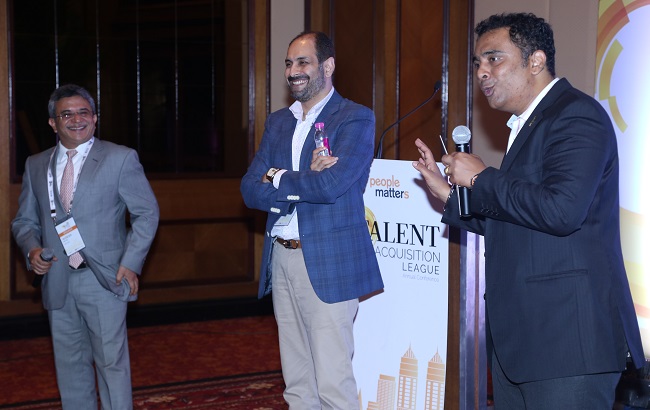 What do corporates do when they set to hire CXOs? In this session, leading consultants Avdesh Mittal, Managing Director, Digital Practice, APAC at Korn Ferry, and Atul Bhandari, APAC Leader – Technology, Media & Telecom Practice, Spencer Stuart spoke about the industry-wide trends on CXO hiring, compensation, leadership traits, induction and more!
What works and what doesn't: Recruitment models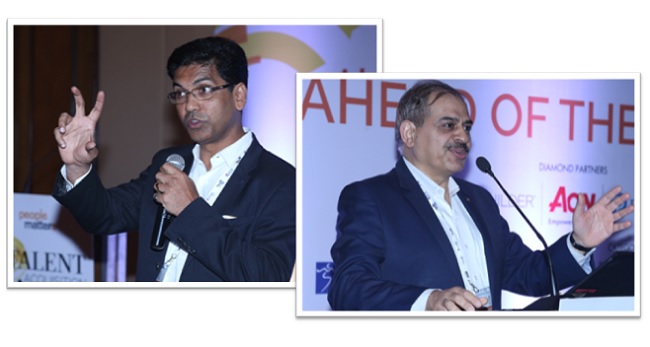 Our experts Gajendra Chandel, CHRO, Tata Motors (R), and Rajendra Ghag, Senior Executive Vice President & CHRO, HDFC Standard Life deep dive on how to crack the right recruitment operational model for your organization.
Google's Pivoting to the New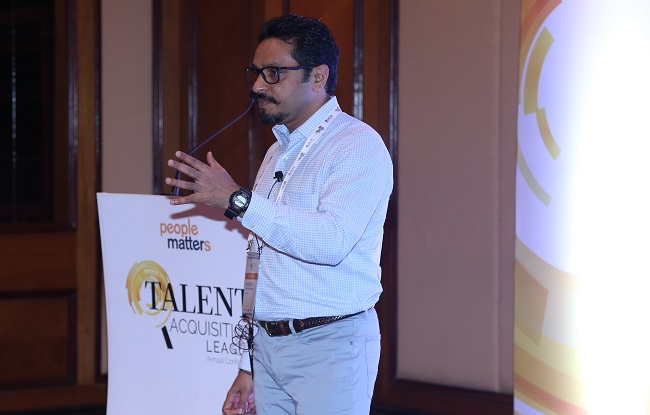 Sanjeev Somasundaram, Program Staffing Lead (APAC) at Google in his crisp 20-minute interactive session highlighted the skills for the recruitment function of tomorrow, how to build a roadmap to re-skill, up-skill the recruitment team by engaging the participants to co-create a skilling roadmap for their own organization.
Putting People First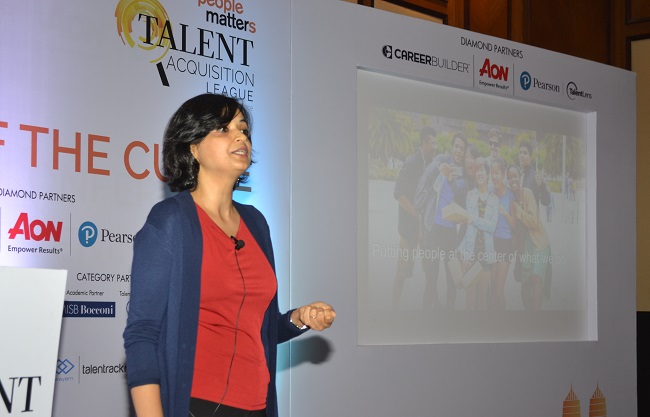 This session titled 'The Journey @ Facebook – Putting People at the center if what is done' focused on the importance of authentic leadership communication and Facebook Philosophy about putting people at the center of what FB does. The speaker for this session was Shweta Shukla, Head- HR, South East Asia and India, Facebook.
Business Partnership in Talent Acquisition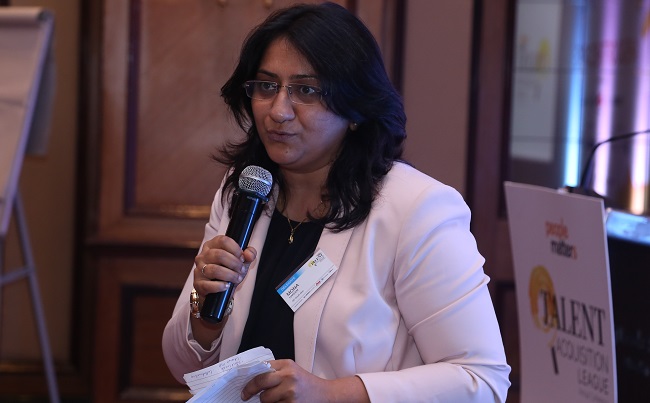 Relooking at the TA function since it has evolved over the years from being a service provider to business partner, Mona Hakeem, Talent Recruitment Leader, GE South Asia talks about the redefining the structure, competencies required from recruiters, measures of success and all the things which are relevant.
Networking with the best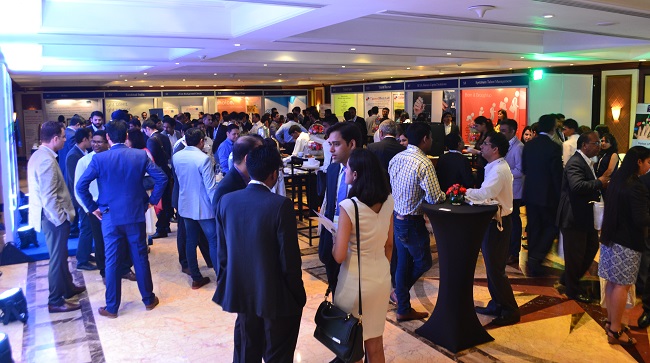 The TA League Annual Conference also saw industry leaders come together and engage in electrifying discussions with their peers on various recruitment ideas.
Ideating with the CHROs
The TA League Annual Conference saw huge number of CHROs ideating to create incremental disruptions in the recruitment space. Here delegates are seen in a Huddle session by Mona Hakeem, Talent Recruitment Leader, GE South Asia at the Pearson TalentLens Booth at the conference. Pearson TalentLens also launched Hire.Me app, a mobile recruitment solution for the high volume recruitment market in India at the TA League Annual Conference.
Awarding the Best Practices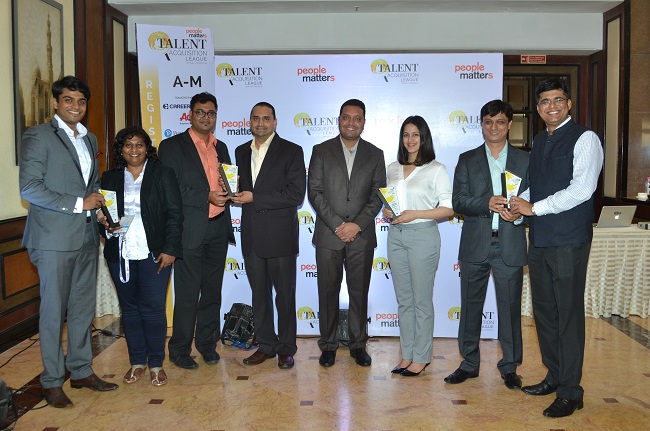 The TA League Annual Conference saw the battling of the best practices by more than 200 organization in five different categories. Winners: Best Practices in Candidate Experience: Zydus Cadila Healthcare; Best Practices in Diversity: Aegis; Best Practices in Employer Branding: Flipkart; Best Practices in Recruitment Reengineering: Indegene, and Best Practices in Social Hiring: Capgemini
And that was our 2016 TA League Annual Conference highlights! Gearing up for next year, already!