Learning & Development
Reinventing Learning in the New Normal
Organizations that are investing or will invest in digital learning interventions with innovative learning tools for upskilling, reskilling, cross-functional skilling, and continuous learning of its employees, are the ones who will be able to retain their top talent and create future-ready leaders.
The sudden storm of COVID-19 made organizations undergo unexpected transformations to survive in the business. It led them to catapult forward and adapt to automation, digitization and innovation to sustain their relationships with clients and employees. Now, the dust is quite settled, and basics for employees or clients are in place in form of remote working, technology and infrastructure. The business is now looking at learning interventions by L&D function to build capabilities of their employees to keep them personally and professionally relevant in the new normal. The COVID-19 outbreak has emphasized the potential of digital learning like never before due to constraints around social distancing, travel, events, or classroom training. Organizations that are investing or will invest in digital learning interventions with innovative learning tools for upskilling, reskilling, cross-functional skilling, and continuous learning of its employees, are the ones who will be able to retain their top talent and create future-ready leaders. This time is a kind of inflection point for learning and development function to take a seat on the strategy table and become a change agent with its initiatives to develop the full stack employees desired by employers, term coined for employees that are multifaceted and agile towards any uncertainty.
How Learning has transformed post COVID-19 
With the advent of remote working and digital transformation, the learning landscape is undergoing a drastic change in form of digital learning to keep employees relevant in the new business models. MD of Udemy - India, Mr. Irwin Anand quoted "Learning is a new currency that can help us succeed as a workforce. At a time of unprecedented change and heightened concern around recent events, the most important job skill would be the ability to learn". A shift in learning aspirations of employees has been observed which is more focussed on agility and self-development, a career-driven approach for the future ahead. L & D function has a large responsibility at its shoulder to align strategic business goals to individual goals of employees and design effective virtual trainings that are engaging and productive for learners. .Some of the new skills which are in focus to adapt to the new normal are –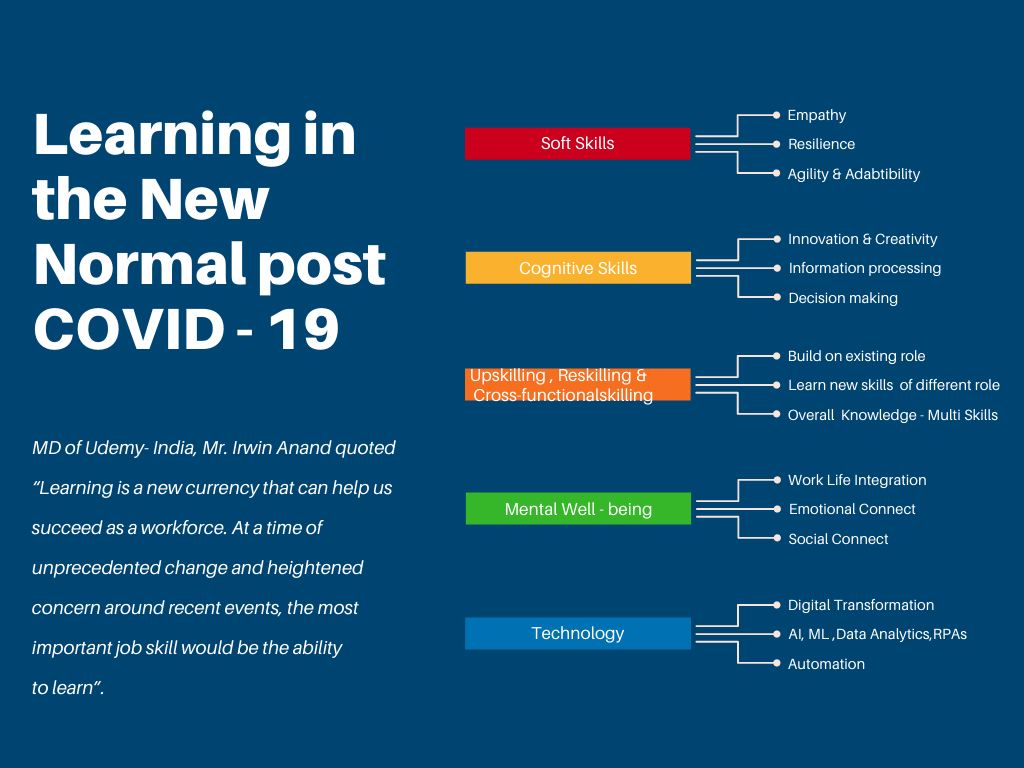 Soft Skills and Cognitive skills: The soft skills which are absolutely critical to survive in this new normal for all the employees would be resilience, adaptability, effective communication, empathy for teams and agility to adapt to sudden changes. Social and emotional intelligence connect is necessary to collaborate and sail through this phase. Advanced cognitive skills like creativity, growth mindset, innovation, decision making, and information processing will be high in demand to find unique solutions for this unprecedented time. Employees in leadership or managerial role should be trained to develop a culture where managers support and motivate the team by exhibiting trust, clarity, and empathy even when they are not in front of them physically and working distantly. Good and positive communication will result in more productivity and a more valuable contribution by employees.
Upskilling, Reskilling and Cross-functional skilling: In 2017, the McKinsey Global Institute estimated that as many as "375 million workers or 14 percent of the global workforce would have to switch occupations or acquire new skills by 2030 because of automation and artificial intelligence". In order to increase the employability of employees, educational learning opportunities in the form of upskilling, reskilling, and cross-functional skilling is imperative to cope up with this paradigm shift in the current demand of employers. Upskilling which is training to build on existing expertise, Reskilling which is to retrain for a new role or function  and cross-skilling which is to have overall basic knowledge of all areas in addition to core expertise, will help employers to utilize the full potential of their workforce with a valuable ROI in this budget-constrained economical situation. This will not only retain top talent but will also increase the level of employee engagement resulting in productive outcomes.
Technology: Digitization turned out to be a savior in this pandemic situation, therefore it makes sense to train employees on learning, adapting and implementing digital transformation across their processes to streamline their workflows. Curating content around skills related to Artificial Intelligence, Data Analytics, Machine Learning, RPAs is the demand of industry to enhance productivity. For e.g. Artificial Intelligence in Recruitment is highly effective to screen hundreds of applications and rank the most relevant candidates based on pre questionnaire or automated matching skills with a Job description or application score based on set criteria.
Mental wellbeing: With COVID-19 and remote working, work-life balance has become more of work-life integration for employees. In order to avoid burnout of employees due to excessive work in addition to physical and emotional insecurities for oneself and family, leaders have to be more prominent, executable, and at the forefront when it comes to the mental well-being of their employees. Wellness sessions by experts must be organized to handhold employees to develop the skills to cope with this crisis situation in a successful manner without breaking out.
How to ensure a high performing L&D function in the new normal
The focus of most of the organizations is on 3 Ps of learning in the new normal – Personalized, Precise and  Proactive .L&D need to facilitate a transcend from mindset to skill set to the culture of learning for any digital transformation to materialize. Investment in new technologies and new pedagogies is required to refine the virtual experience. Some of the key points to consider for becoming a high performing L&D function or calling oneself a learning organization are - 
Let the employee choose their own L&D track: Give the power of choice for self-value creation of employees. In addition to making current jobs better, training programs should be assigned based on career aspirations of employees whether they want upskilling, reskilling, or cross-functional skilling to increase their employability skill quotient in this dynamic environment. A good learning experience can be created by involving employees in identifying learning objectives instead of drowning them in hours of irrelevant online training content. Customizable L&D plans will facilitate engaged learners with increased employability and productivity. Instead of making robotic allocation through Learning Management systems (LMS), use LMS to design a customized learning path for employees with a personal touch by leveraging technology.
Interactive virtual learning/remote learning: L&D needs to meticulously customize   Instructional design keeping the remote audience in mind. It should be an engaging program to keep learners involved and not distracted or fatigued with hours of boring online content. Polls, chats, emoticons, breakout rooms, quiz, gamification, demo sessions, etc. should be inserted in regular intervals to boost participation of all learners in instructor led or e-learning virtual sessions. 
Type of digital learning: Choose the right type of training -  LMS,  Instructor-led virtual training, e-learning, micro-learning, simulations, social learning platforms for each course based on the target audience, content, and criticality of learning objective which may be related to induction, technical, behavioral or leadership training.
Appropriate digital platform for training delivery: It is important to identify the best web platform to deliver training to different sets of audiences based on tech friendliness and the strength of attendees. It should be able to allow learning activities like Videos, games, Q&A, quiz, etc. during the session. The correct choice of collaboration and communication tools like LMS, Zoom, Google meet, Microsoft teams, or any other digital source should be made for smooth delivery. Learning content should be accessible anytime, anywhere on any of the devices like mobile, laptop, and desktops.
In-house/complimentary learning: For some of the skills, instructors need not be specialized trainers; it can be Subject Matter Experts from within the company who can share their knowledge and experiences in form of blog posts, tips, videos, or virtual coaching sessions for desired learners. It may be like a community of practices where mutual sharing will motivate employees to learn from each other in a productive way as they know the applicability based on a similar understanding of the business.
Tie-ups with Edtech players, academic and skill training institutes: In addition to self-designed training programs, L & D function can also look at partnerships with specialized training institutes which can help to align skills with emerging technologies like Artificial Intelligence, Machine Learning, Big Data Analysis, Augmented reality, etc. Also, tie-ups with Life Coaches, Wellness Coaches, and Soft Skill Institutes will help to handhold employees emotionally, mentally, and physically in adapting to the new normal. Self-learning opportunities can be offered to employees by providing them free access to some skill courses on Udemy, Coursera, LinkedIn Learning, etc.
Flexible timing and repetition: Learning interventions should have a pull factor. It should be a self-motivated activity rather than a forced one for employees and flexibility should be given to take up courses with self-pace considering they are already juggling between work and home to stay productive. It should be a continuous learning path to recall skills learned before and new ones. Effort should be made to evaluate the transfer of training session's skills to real-time workflows.
Conclusion
This pandemic has given a golden opportunity to L&D functions to reinvent and harness the power of digital learning for the growth of employees and organizations as a whole in the new normal. The insights from data of digital programs will also help to improve learning by focussing on skills that are more in demand to equip teams with multiple skills required to stand strong irrespective of uncertainties around. It's high time that the organization invests in building a learning culture where employees are willing to proactively attend learning sessions without being coerced. This is only possible with relevant and engaging learning courses designed which are supported by effective learning tools/technology and evaluation for creating a good learning experience. It will ultimately lead to building capabilities of employees which will be beneficial for employers in the long run.