Employment Landscape
Travel and tourism hiring in India increased by 44%
The landscape of the Travel industry has witnessed a remarkable transformation in 2023, with a resounding surge in the demand for gig roles.
Since the beginning of the year, the Travel and Tourism sector has experienced a substantial 14% increase in the demand for various job positions and a 44% increase in hiring. Notably, sales associates, marketing communication professionals, and engineers have emerged as the leading contenders in this high-demand job market. 
Furthermore, the foundit report reveal Delhi, Jaipur, and Ahmedabad showcased the most remarkable annual demand growth, standing at 34%, 34%, and 33%, respectively. 
Thanks to optimistic growth, increased disposable incomes, and higher spending on leisure and business travel in the country, clubbed with the infusion of emerging technologies such as AI and AR/VR, has led to a 44% increase in talent demand annually for travel and tourism in August 2023.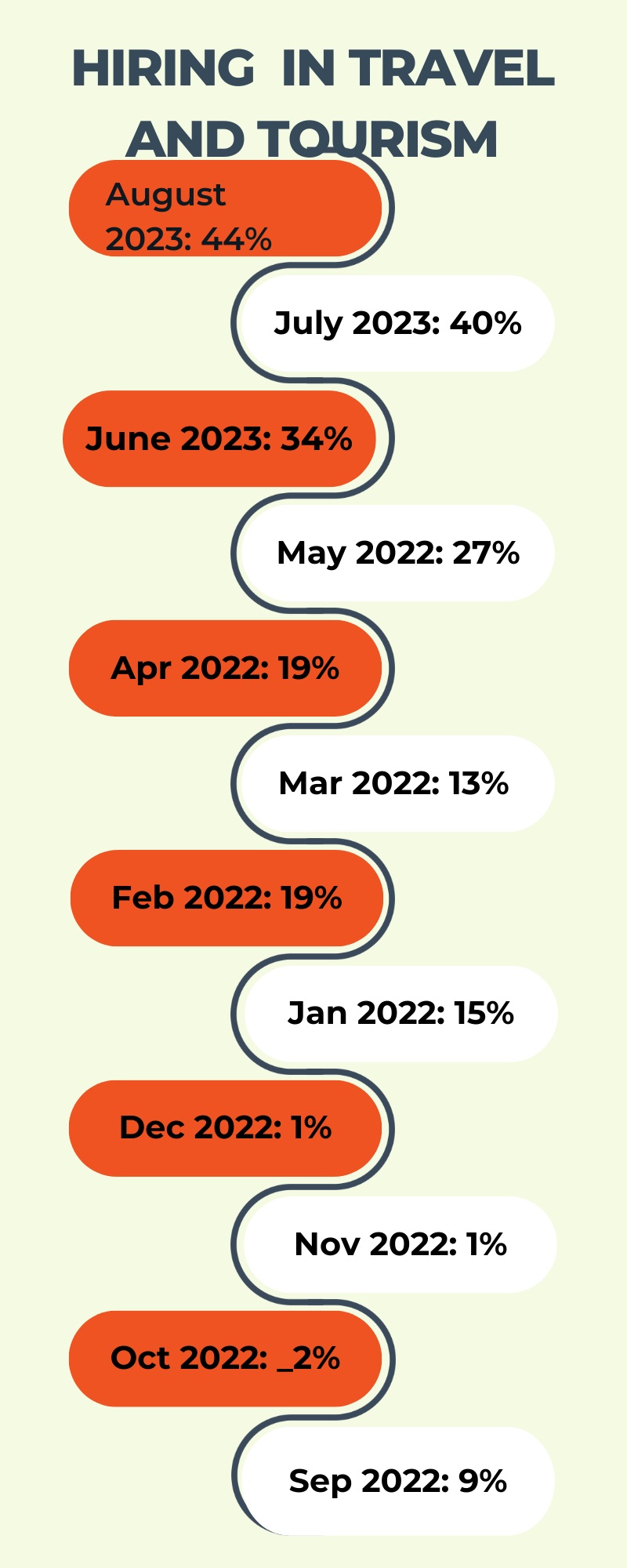 While the industry began to bounce back with a marginal 3% hiring upswing in 2022, it has dramatically recovered this year as people regain confidence in travel and several notable government initiatives. Moreover, India's affordable wellness industry has substantially boosted medical tourism.
Pre-pandemic trends indicate that the travel & tourism sector experienced a robust 16% growth in 2019. However, the pandemic presented significant obstacles for the industry, which saw a 47% fall in job postings in 2020 and a 27% dip in 2021 due to widespread travel restrictions and lockdowns. 
As per data from foundit, emerging technologies such as AI and AR/VR are also playing a crucial role in driving growth and enhancing visitor experiences in the industry, promising to continue shaping the future of Indian tourism. 
Roles in demand 
Sales & business development (23% share of total demand), engineers- software, electrical (12% share), and marketing & communication (8% share) are among the top job roles in demand across the Travel & Tourism. Job roles such as chefs (5% share) and medical representatives (5%) also accounted for a considerable share of overall demand.
Tier-2 cities led online hiring demand 
City-specific trends for the Travel & Tourism industry revealed that on a year-on-year basis, tier-2 cities such as Jaipur (34%), Ahmedabad (33%), and Chandigarh (33%) reported a maximum increase in job postings followed by Baroda (25%) and Coimbatore (25%) in August 2023 as compared to August 2022. This phenomenon can be credited to the rise of tier 2 cities as prominent talent hubs, thanks to their swift infrastructural expansion, huge talent pools with a wide range of skill sets, and the cost-efficient nature of operations.
Among metropolitan cities, Delhi (34%) showcased maximum incline with regards to job postings followed by Kolkata (21%), Chennai (19%), Hyderabad (8%) and Mumbai (5%).
Freshers accounted for the highest demand share in Travel & Tourism across experience levels.
As of August 2023, 49% of online hiring intent for jobs in the Travel & Tourism industry came from postings for freshers/entry level talent (0-3 years). Companies are opting to hire freshers for cost-efficiency, and adaptability as well as for their readiness to adapt to a constantly evolving travel industry. 
Cutting-edge technologies like artificial intelligence (AI) and augmented/virtual reality (AR/VR) have had a substantial impact on fostering industry growth and elevating visitor experiences prompting companies to hire freshers who are increasingly digitally savvy. Furthermore, demand for Intermediate level (4-6 years) and Top Management (15+ years) both accounted for a 14% share of the overall demand, respectively.
Average salary
The average minimum salary for freshers or entry-level professionals in the Travel and Tourism sector was Rs288696- Rs 580234, followed by Rs5,29,516 - Rs8,20,734 for intermediate professionals, Rs 8,70,833- Rs14,11,556 for mid-senior roles and Rs12,19,515 – Rs 18,55,291 for management professionals.
Increase in gig roles 
Data from foundit suggests there has been a 14% growth in gig roles since January 2023. The nature of tourism often involves seasonal fluctuations in demand, and the model of gig work is able to match these fluctuations, especially during peak seasons or for special events. 
Gig workers also help companies manage labour costs more efficiently during slower periods. Given the diverse and specialised needs of the travel & tourism industry, gig roles in the space include tour guides, translators, photographers, and event planners who are brought in on a per-project basis ensuring that the industry has access to the right expertise when it is needed.
"The Travel & Tourism industry has truly bounced back from the pandemic with a boom, driven significantly by Government initiatives focused on infrastructural development and heritage promotion. India has also opened its doors by allowing 100% FDI for tourism construction projects, and participation in the G20 summit has further bolstered sustainable tourism in the country," said Sekhar Garisa, CEO of foundit.
"Looking ahead, the industry must adapt to changing traveller demands by offering unique, sustainable, and well-promoted experiences. The key is to focus on niche segments with high growth potential, such as wellness, adventure, sustainability, and cultural tourism. By tailoring offerings to these specific markets, the industry can continue to thrive and prosper."