Technology
Elon Musk reveals new logo X for Twitter rebranding
In a tweet posted by Elon Musk, Twitter's new logo has been revealed as 'X,' bidding adieu to the blue bird 'Larry T Bird,' the most recognisable asset of the platform.
Elon Musk, in a series of tweets, revealed Twitter's new logo 'X' as part of a rebranding plan. The old Twitter bird logo will be replaced with the new logo soon. Moreover, the website twitter.com will be redirected to 'x.com,' as announced by him in another tweet.
Musk announced that "X.com now points to twitter.com," and "Interim X logo goes live later today." in the subsequent tweets.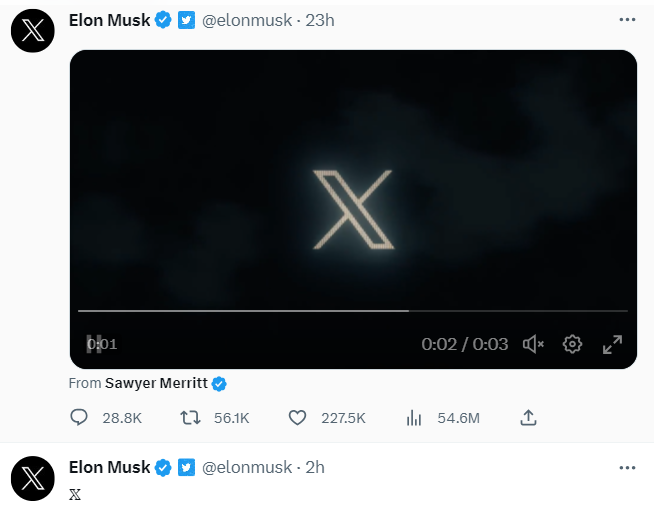 The new logo, a one-letter name, has been frequently used by Elon Musk ever since he acquired the website announcing, 'the bird is freed'. In April, he changed Twitter's official name to X Holdings Corp, to reflect his vision of creating "X, the everything app", which will be similar to the Chinese app- WeChat, an instant messaging, social media and payments mobile application. 
"If a good enough X logo is posted tonight, we'll make go live worldwide tomorrow, Musk tweeted on Sunday followed by another tweet, "And soon we shall bid adieu to the Twitter brand and, gradually, all the birds". 
He also started a poll asking, "Change default platform color to black" 

Linda Yaccarino, Chief Executive of Twitter acknowledged the rebranding in a tweet, "It's an exceptionally rare thing – in life or in business – that you get a second chance to make another big impression. Twitter made one massive impression and changed the way we communicate. Now, X will go further, transforming the global town square.
"X would be "centred in audio, video, messaging, payments/banking" and would be a "global marketplace for ideas, goods, services, and opportunities, "X will be the platform that can deliver, well … everything," she added in another tweet.