Benefits & Rewards
Aon Reward Survey projects 6% salary increase for senior executives in India; Equity to be incentivised
The COVID-19 pandemic has added an additional variable for the survey to compare with the 2008-2009 Global Financial Crisis to analyze the impact it had on the salary increase of CXOs.
Global professional services firm AON released its 10th Annual Executive Reward Survey 2021 in the Webex press conference today, the first time that they shared it on such a platform. The survey report was presented by Nitin Sethi, partner and CEO of Aon's performance and rewards, which covered and analyzed 504 organizations and 20 industries for calculating the figures.
So lets deep dive into what rewards and benefits that are in store for the chief executives of India to look forward to in the future.
Key Updates : 
Senior level executive pay is expected to witness increase in proportion of long-term incentives and Annual variable pay, a practice in line with more mature economies like US
Companies increasingly use different forms of Long-term incentive instruments like Restricted Stock Units, PerformanceShares etc. as opposed to traditional Employee Stock Options.
Increase in variable pay for new CXOs over the period of time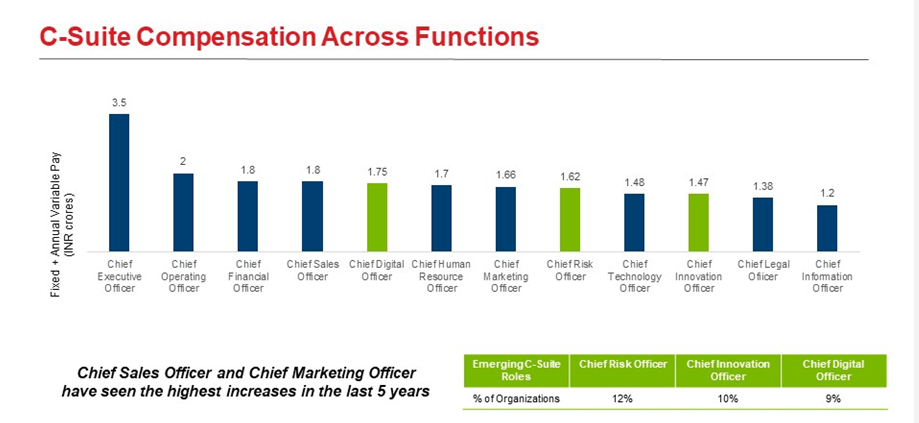 The highest-paid executives in 2020-2021 apart from CEOs, are the Chief Operating Officer and Chief Financial Officer, followed by the sales head and Chief Human Resources Officer. The Head of Legal and Head of IT are among the lowest-paid executives considering the fact that they are newly developed functions. 
Strategy and finance will continue to be the top remunerative functions for executives. The report concurs that at senior levels, allocations will be utilized for long term benefits. And would involve pays based on business performances. 
Interestingly, the survey emphasizes that the COVID-19 pandemic had less of an impact than the 2008-2009 Global Financial Crisis, when the projected salary increases for senior executives dropped by almost 5%.  
So at 6% for 2020-2021, the resilience shown by the companies is intriguing. Yet the survey also informs that in comparison to 2019-2020, the projected salary increase for senior executives is down by 1.4%. 
Incentivizing with Equity Rewards
Excluding long-term incentives (LTI), the median CEO compensation in India ranges from INR 15 Crores for Owner-Promoter CEOs to INR 3.63 Crores at Indian private companies. The sum of variable pay and LTI as a percentage of total compensation is 52% of CEOs in India compared to 87% for CEOs in the U.S. 
The report observes that to incentivize and increase business performances of the CXOs, more stock options have to be looked at other than ESOPs. Nitin Sethi talked about executing 'equity rewards' for the executive which would follow a pathway similar to the structure of the US where variable pay is more than the basic pay.
Further, the survey reported that variable pay for top executives is most impacted by the COVID-19 pandemic, with pay-outs for executives who had a "Meets Expectations" performance rating projected to drop from 95% in 2019-2020 to 85% in 2020-2021. 
According to the survey, Equity rewarding programs are correlated to a cycle of 2-3 years of execution yet can be a popular method amongst the companies to reward their executives.
Companies in 2021 are exponentially driven to new markets by their executives and big performance demands big rewards too. Keeping that in mind, the survey validates that variable pay based on business performance will be a good structure for the companies and executives to follow in future.