Leadership
Bayer: A culture of innovation, passion and pride
While Bayer is committed towards innovation, the company lays special emphasis on creating a great employee experience while they strive to design solutions to the challenges that people face
For a company that is a pioneer in world-class innovation with a more than 150-year history and core competencies in the fields of health care and agriculture, one of their biggest drivers of success and innovation has been the localization of its global experiences. While Bayer is committed towards innovation, the company's relentless focus on its customers inspires it to find solutions to the challenges that people face.  And this is what makes its employees to stick to the company — employees receive a great experience while they strive to design solutions to the challenges that people face. The four key promises of Bayer's Employer Brand proposition include — the freedom and the license to question the status quo and think ahead; engage in open and inspiring work with people who share your passion; empowerment to make an impact and ideas inspired by society's most fascinating challenges.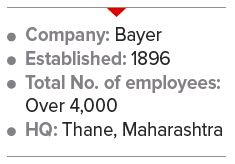 The strong attention that innovation enjoys in the company enables its employees to proactively generate solutions through internal platforms that allow for an exchange of questions and ideas, and communicate to solve problems. Employees at Bayer live the LIFE values (Leadership, Integrity, Flexibility and Efficiency) that also act as an important measure of how well employees are doing in the organization.  
Bayer effectively uses local talent, leadership and expertise, and integrates them with the global team. This objective is achieved by balancing the diversity of global and local talent in leadership, and ensuring that talent and leadership is exchanged and is not imposed. For diversity and inclusion, Bayer works directly with universities to create a strong future pipeline of women employees, and lays special emphasis on grooming women employees in middle and senior management levels.
The organization consciously focuses on helping employees imbibe a culture of innovation, and passion, and reaches out to the employees on all levels while collecting inspiring stories about connection, pride, empowerment and achievements that are shared back with all employees. 
Bayer works directly with universities to create a strong future pipeline of women employees, and lays special emphasis on grooming women employees in middle and senior management levels