C-Suite
For Tata AIA learning and development is central to business
In a highly complex and competitive industry, Tata AIA invests heavily in its human capital and provides world class learning & development opportunities
Operating in a highly complex and competitive industry, Tata AIA Life Insurance truly practices the belief that only deeply engaged and happy employees deliver. For creating a winning and high performing work culture, Tata AIA invests tremendously in their human capital and the engagement process involves exceptional on-boarding experience, innovative employee engagement initiatives, structured training and development programs and rewards and recognition initiatives.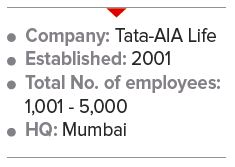 At Tata AIA, learning and development is central to business operations. Firstly, function-wise competencies are conceptualized for all departments and the identified capabilities are then built through in-house training teams and external partners. The company also leverages capability interventions from Tata as well as AIA groups to create high impact learning modules that include a combination of learning approaches including offline, online and blended learning. Through the company's 'Own your talent' mentorship program, the company's certified executive committee members and senior leaders groom and develop top talent. Assessment tools like MBTI, 360 degrees and Manager Scorecards are used to design and develop interventions and coaching plans for managers and employees also receive customized interventions that prepare them for potential future roles. 
The company's 'SPEED' (Superior Performance Execution Excellence and Delivery) program provides fast-track development and career progression opportunities for all its frontline employees, particularly from the support and operations functions. And in order to appreciate and reward employees, apart from financial rewards, the company has introduced 'Celebrate Success'— a recognition initiative that is aimed at making employees feel respected and valued for their contributions. 
We have strived to create a culture of two-way communication between the top team and the rest of the organization, ensuring extreme transparency and engagement. In a highly complex and competitive industry, it's only a deeply engaged and happy employee who will deliver. I am pleased that we have succeeded in creating an enabling environment that supports our people development as well as our growth momentum. 

— 

Naveen Tahilyani, MD and CEO - TATA AIA Life Insurance
One of the company's other unique initiatives is the 'Caring Manager' Program that is aimed at equipping managers to identify strengths and areas of improvement for becoming caring managers, learning from best practices and implementing them in their teams to make the best teams at Tata AIA Life. An award has also been instituted that evaluates managers on qualities like coaching, mentoring, recognizing and caring for the employee as a person, and developing a positive team atmosphere.