Compensation & Benefits
Shifts in the salary of HR professionals over the years
Here's how the average salary of HR professionals has changed in the last two years
It's the era of digital 4.0 and the salary of HR professionals is now catching up with the salary of Finance heads and even the CEOs. Particularly in large MNCs and some of the leading companies the compensation regarding packages and hikes has improved manifold. Recently, it was reported that Saurabh Govil, President, and CHRO, Wipro received a three digit percentage increase in salary. Post appraisal, his remuneration rose by 136 percent to Rs 6.6 crore. While Jatin Dalal, CFO, Wipro got a hike of only 2.42 percent, increasing his salary to Rs 4.65 crore. Even the compensation of the Chief Strategy Officer of Wipro, Rishad Premji, is Rs 5.9 crore, less than that of the CHRO of Wipro. Interestingly, in the executive leadership team of Wipro, it is the remuneration of the HR Head that is the second highest after the CEO.
However, at the initial levels of a career in HR and in some other subdomains of HR like recruitment, the compensation still falls short. Even for a company like Wipro the hike for executives was in single digits as compared to top officials who received a three-digit hike.
In this light, let's take a look at how the salaries of HR professionals in the two major cities, Delhi and Mumbai have changed across various domains (Based on Michael Page's India Salary Benchmark 17-18 & 16-17):
Commerce and Industry: Average salary of Head HR increased from Rs 120 lakh to Rs 150 lakh
As per the India salary survey by Michael Page India, the average salary of the Head HR in large firms in Delhi increased by Rs 30 lakh and in Mumbai by Rs 25 lakh. As the role of the HRBP gains importance, the average compensation for this function rose by R. 13 lakh from Rs 55 lakh to Rs 68 lakh, in Delhi. While in Mumbai it increased by Rs 15 lakh to be Rs 75 lakh in the year 17-18.
As the demand and significance of Talent Management Heads have increased to address issues like diversity and inclusion, so has their salary range. In 2016-17, the average salary of Talent Management Heads with 15+ experiences was Rs 60 lakh. Now it is Rs 75 lakh and Rs 80 lakh in Delhi and Mumbai, respectively.
However, the salary of professionals with fewer years of experience in same roles like Compensation and Benefits, Talent Management and Talent Acquisition has barely changed.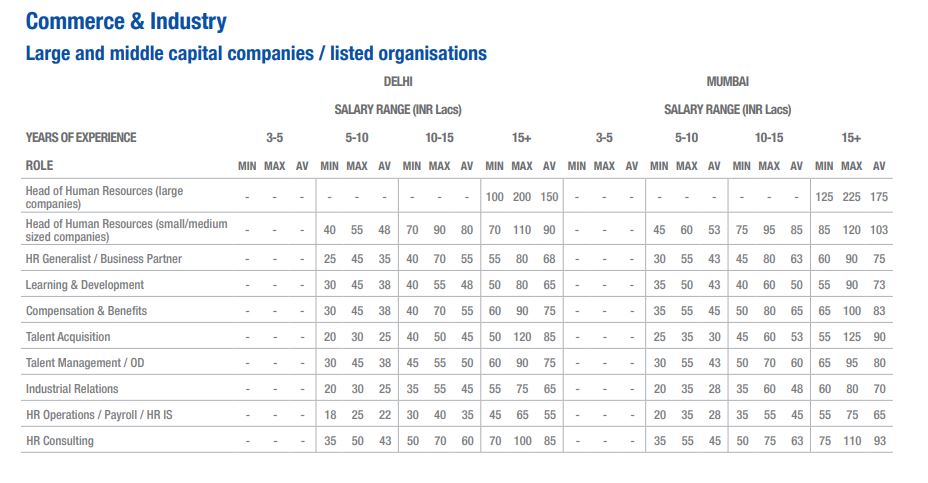 2017-18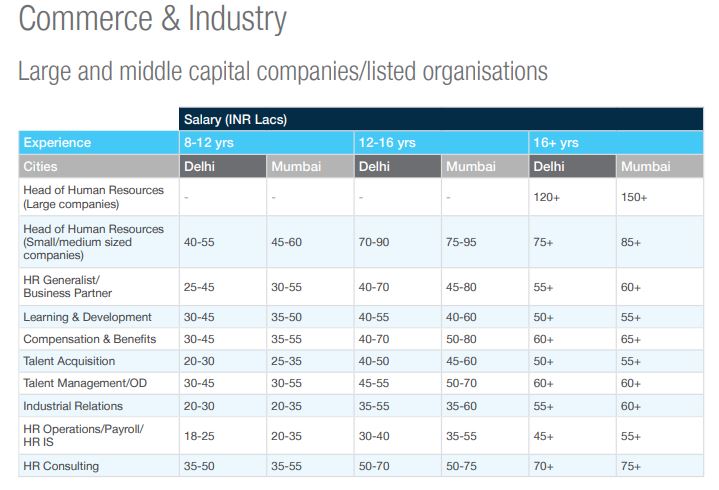 2016-17
Banking and Finance: Average salary of Head HR increased by Rs 55 lakh
The salary report 16-17 predicted that in-house HR professionals would be sought after in 2017. Last year, the local organizations were looking to institutionalize their HR function and were investing more in it by creating new roles. With this outlook of changing roles for HR in 2017, the average salary stated for Head HR in the banking sector was about Rs. 110 lakhs in Delhi and about Rs. 130 lakh in Mumbai. But with the rapidly changing way of work the predictions for 2018 include a high demand for HR professionals who are analytical and execution-focused, along with those experienced in performance management, leadership and high-volume hiring.
As demand for experienced professionals increased, the average salary of HR professionals in banking and finance sector also rose quite dramatically and went as high as Rs 165 lakh in Delhi and Rs 185 lakh in Mumbai. However, just like the commerce industry this increase in salary was observed only for professionals with 15+ years of experience. For professionals with 5 to 10 years of experience, the average salary has not changed much.
However, we may witness development in the compensation of young professionals also, as the latest report suggests that in 2018, organizations will become more open to hiring younger talent for senior roles.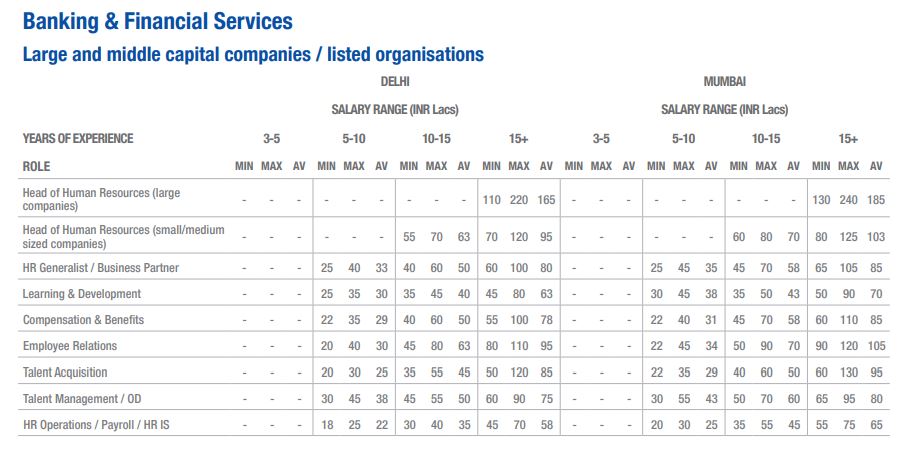 2017-18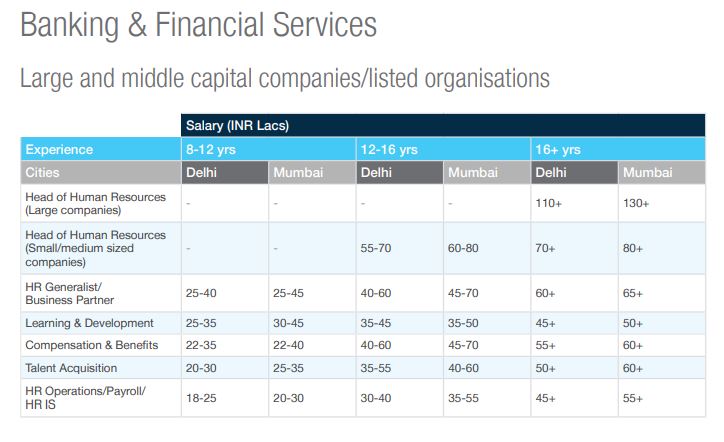 2016-17
Considering the pace of change in the overall business scenario, the speed of development in HR space will also be rapid. However, how and in which direction will it change will become evident with time alone. For now, all we know is that Compensation & Benefits, HR Business Partners in Sales, Talent Acquisition with Social Branding/Analytics experience and Talent Management & Diversity Inclusion will be some of the crucial areas in HR in 2018. And the salary of HR professionals may increase by 16 to 20 percent, and that too if they change job.
What do you predict for the HR professionals in the coming year? Share your thoughts with us in the comments section below.