Diversity
Enabling workplace diversity through blind recruitment
Organizations across the world are increasingly embracing a global mindset and trying to achieve cross-cultural competence to stay relevant and do more than just survive.
"Diversity is the inclusion and support of individuals from all groups in the community. It is the exploration of differences in a safe, welcoming, and nurturing environment."
Organizations across the world are increasingly embracing a global mindset and trying to achieve cross-cultural competence to stay relevant and do more than just survive. Most of them now have structured diversity practices and initiatives if not a couple of ad hoc strategies in place.
Ensuring a truly inclusive workplace is not about avoiding litigation
Employing a diverse workforce is now a business imperative (can't discount ethics and moral perspectives either). According to a study by PwC, when deciding which company to work for, "86% of female and 74% of male millennials consider employer's policies on diversity."
According to several research studies, diverse hiring brings better stock returns and sales. The obvious advantages also include fairness in hiring, multiple perspectives shaping decision making, and not missing out on good talent because of prejudice.
Diverse hiring isn't easy. It is a process that demands a fundamental change in the way we think, speak, and act. It is going to challenge conventions and make a lot of us quite uncomfortable, but it is surely worth it.
Numbers don't lie.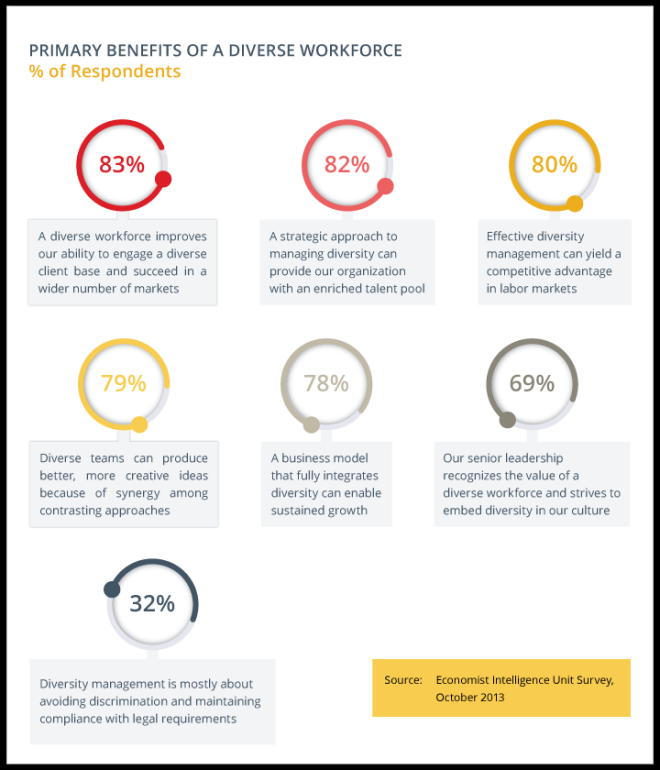 Create an environment of inclusion and diversity
Take gender diversity, for instance.
In her book, What Works: Gender Equality by Design, Iris Bohnet, a behavioral economist at Harvard University says, "We are biased. But we have the research and tools to cheaply redesign how we work, learn, and live." According to Bohnet, while identifying biases and becoming self-aware will take some time and effort, we can find simpler and standardized ways to level the playing field—like companies blinding themselves to the demographic characteristics of job applicants. She further adds that it's better for companies to tailor the recruitment processes to mitigate the possibility of bias than trying to change people. She also proposes a smart behavioral design to deal with bias reflecting in our actions.
The well-researched book talks about Blind Recruitment and how it can be an effective tool to mitigate biases without trying to change people. Bohnet uses real-world examples like how symphony orchestras use "blind auditions" to combat gender inequality. Blind auditions can mitigate other kinds of diversity biases as well.
Anonymity could well deliver the outcomes companies seek.
What's Blind Recruitment?
Organizations have integrated "blind elements" in various stages of their hiring process. They blot out any details that could hint at a candidate's age, ethnicity, gender, academic institution, and years of experience.
Blind hiring removes "criteria that could unintentionally bias managers, and give underrepresented groups confidence that their application will be fairly considered." With this approach, you can no longer tell where talent comes from or what talent looks like.
Blind hiring techniques include blind screening, blind pre-employment testing, and blind interviewing.
In blind screening, information that reveals the candidate's race, gender, age, names of schools, links to social media, hobbies, etc. is removed to minimize discriminatory recruiting barriers.


In blind pre-employment testing, recruiters use pre-hiring screens such as cognitive aptitude tests, personality assessments, sample job tasks, language proficiency tests, physical ability, or skill tests to evaluate applicants depending on the job role. This is a good first filter when hiring on merit.


In blind interviewing, recruiters use chats or written Q&A tests to hire. Although, using technology to disguise voice or interviewing via chats may not prove to be meaningful for either the candidate or the employer to gauge each other. But maybe delaying the face to face interview (a structured one) until after an applicant has been assessed on objective metrics will help.
Some hiring managers or talent acquisition personnel argue that blind hiring doesn't allow checking for cultural fit or let a candidate's unique skills or personality shine through; they believe that it could increase the time spent screening and reduce efficiency, or it might lead to diversity results quite opposite to what the company was aiming for.
To hire blindly or not
Blind hiring is not foolproof, but it is a start.
Unconscious bias is real and deeply ingrained in most of us. In fact, it's hard to identify the bias because it takes place subtly and can be masked with other plausible reasons for rejection. It might not be viable to conduct the entire hiring process "blindly," but it can minimize implicit bias in the initial stages of screening. Without letting hiring decisions be affected by a potential jobseeker's personal information, blind recruitment, along with diversity training, automated skill assessment software, and other approaches can certainly ensure a more equitable process.
For example, companies across the globe are embracing technology to solve the issue of bias in the context of technical recruitment. They are now happy getting candidates based on actual programming skills and not just on the basis of a CV; they have become forward thinking and are mainly interested in whether the candidates have the requisite skills. It doesn't seem to matter whether the person is a man or a woman, Asian or African, 25 or 45. With automated tech evaluation platforms, employers can only win—no bias, possible diversity, and assured competence; for candidates—it means a good fighting chance with no limitations except proficiency.
Why blind recruiting can help is because the whole concept of blind recruiting can be distilled down to the act of evaluating someone purely on the basis of their skills and the capability of doing the job, without knowing who the person is. We believe blind recruitment may not be the whole solution, but it's a very potent step in the right direction. For any company, a good starting point is to include "blind screening" as part of the hiring plan.