Diversity
Future of work: empowering aspirational women
SHEROES Summit 2017 delved upon women and future of work. It aimed to facilitate women in maximizing their potential for determining work opportunities for the future.
To honor one's calling is the prime duty of every being. One needs to take concrete steps in the right direction to make it happen and those who do- they truly make difference in their lives and in the lives of others. Honoring such women who stand apart from the maddening crowd, SHEROES, a Growth Network for Women, organized, 'Mia SHEROES Summit 2017' based on the theme 'Future Of Work'. The summit aimed to facilitate women in maximizing their potential for determining work opportunities for the future.
Sairee Chahal, Founder & CEO, SHEROES, says, "Every year we reinvent SHEROES and issues that are closer to women at the workplace. This year Summit unveiled the gateway to the finest opportunities, resources, and conversations for women. It was dedicated to women from every walk of life and it is a matter of pride for us to celebrate their potential of balancing work and home with ease and equal enthusiasm. The emphasis was on connecting them with modular opportunities, recognizing their aspirations and helping them to meet their individual needs."
She further adds, "It is a good time for women incorporates. The legal framework is causing companies to think more. Companies are realizing that good talent is hard to find – it is important not ignore career prospects of women. I feel that young founders, CEOs and young leaders bring in a new thought process and are making the environment more conducive for women"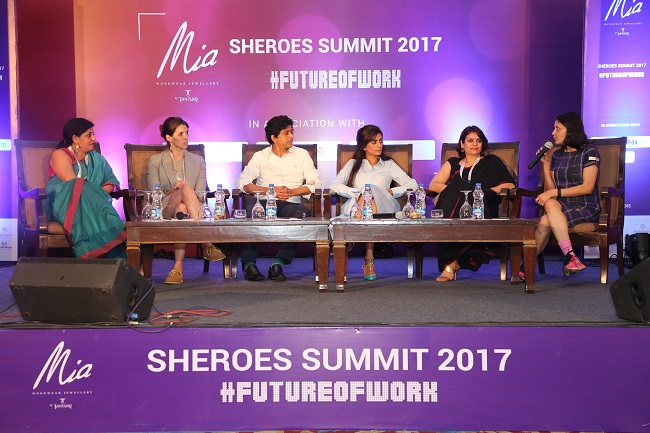 Technology today has changed professional opportunities in an extraordinary way. It is enabling women to 'step-up' and is empowering them to explore varied career prospects. In fact, it is ensuring a sustainable work-life balance for those who are unable to be a part of a full-time organization as well as for those relying on self-employment.
"The priority is to facilitate so that more and more women could join the mainstream workforce. I feel technology industry has a lot to offer to women and we do need more and more women in the sector. Without a doubt, technology can be a great enabler for them to make decisions about their work," averred Faisal I. Farooqui , Founder and CEO of Mouthshut.com. Adding to it, Vinati Kastia, Partner at AZB and Partners, says, " I certainly think future is technology but without losing emotional connect with it .I think women bring a lot of EQ to work whereas men focus more on IQ and productivity. EQ is an equally significant factor. Therefore, the focus should be on embracing pink."
The summit started with an appeasing prayer recital by Sukriti Sen, a classical vocalist. Followed by, panel discussion on women who are #BestatWork, which included front runners from the legal precinct Vinati Kastia, partner at AZB & Partners and Mishi Choudhary, Founder of Software Freedom Law Center, Priya Krishnan (Founder, Founding Years Learning Solutions), Emilie Moulard (Managing Director - India, Medela) along with Faisal I. Farooqui, CEO-MouthShut.com
Priya Krishnan, CEO Founding Years Learning Solutions, talks about how it is challenging for young mothers to balance between motherhood and careers and what solutions they can resort to in order to pursue their dreams. She says, "Women today aspire to leave a mark in the world around them and be powerhouses – they want to head the operations of an organization or a career in a dream job, simultaneously also be a mom, wife, daughter. While women have eased themselves into their roles and have proved to be strong managers, it's important to acknowledge that women often have to choose between motherhood and careers. Having onsite day care centres at workplaces can solve this major hurdle that holds women back."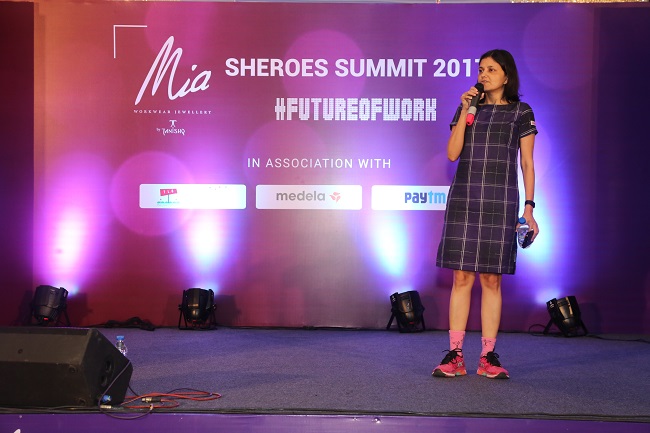 Another high point of the event was a refreshing poetry session by renowned poet, storyteller, 'Queer ,Inquialabi' Sabika Abbas Naqvi who underlined the increasingly suffocating times of gender disparity with her powerful words, fierce voice and inspirational soul. The session was trailed by a TED Style talk session on 'Designing the Future' by Cindy Gallop, the Founder of MakeLoveNotPorn followed by a rejuvenating drumming session by Fakhroddin Ghaffari. Furthering the event, Ritu Kapur (Director, Quintillion Media Pvt. Ltd.) delivered an eloquent session on'I Believe in Me', highlighting the ways of owning successes in various industries.
The summit also saw a soulful musical track Bolo ek awaaz hai hum (inspired by renowned poet, Faiz Ahmed Faiz) by Sonam Kalra and the Sufi Gospel Project. The Summit concluded with open house and networking session hosting an opportunity for the audience to mingle and share their experiences.
Similar sessions would be organized travel at Mumbai , Bengaluru Kolkata and Chennai with the aim to empower women. The event truly was successful in influencing more and more women to join either the workforce, micro-entrepreneurship, remote work or leadership roles and enabling them to tap into the future of work.