Employee Engagement
How to define your engagement strategy for millennials?
What does a manager, a CEO or an HR head keep in mind while answering the question of how to engage millennials? The trick is to follow certain fundamental guidelines/questions while dealing with this topic.
With every passing decade, organizations are taking stock of generational realities impacting the workplace and hence, evaluate organizational strategy. While a lot has been said about dealing with millennials, it is important to recognize that each generation brings with itself a certain set of behavioral traits and expectations according to their experiences. These need to be considered while designing the people strategy of organizations. So, thinking about millennials and how to engage them in organizations is a natural and logical question, because millennials are set to make up approximately 50 percent of the global workforce by 2020. So what does a manager, a CEO or an HR head keep in mind while answering the question of how to engage millennials? This topic, which is in vogue, overwhelms us. So the trick is to follow certain fundamental guidelines or questions while dealing with this topic.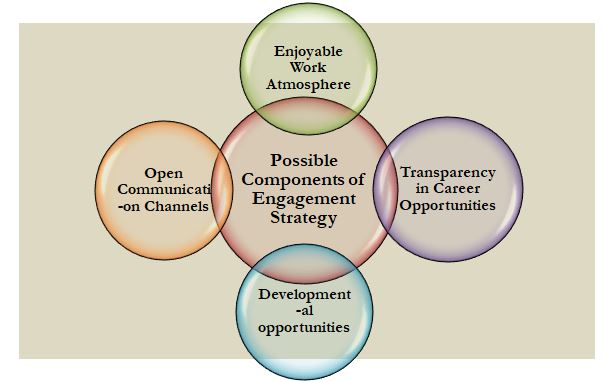 Define the engaging strategy
Important questions –
How do you define engagement for your organization?
This question could generate a varied set of answers from different CHROs. For some it could simply be an ongoing channel of communication, for some it could be enjoyable work environment and for some a combination of enjoyable work, communication, transparency in terms of career progression, developmental opportunities etc. It is first important to define the scope of what engagement means in an organization.
What are the top 3 millennial motivators/expectations you want to cater to?
Realistically speaking, business organizational models, realities and cultural norms sometimes prevent us from going all out on customizing an entire people strategy to suit a certain generational expectation; and that is fair. While organizations adapt, the employee population also over time, understands realities behind processes and strategies. Prioritizing the top three things will help an organization to take a pragmatic call on which areas/processes they want to customize to cater to the engagement need of the millennials.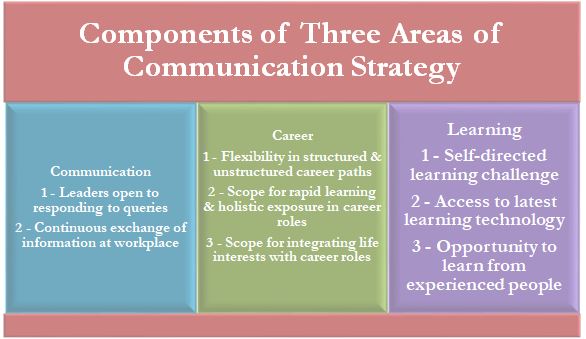 Top three areas for engagement strategy
1 – Communication
2 – Career
3 – Learning
Since we have covered basic ground by defining what an engagement strategy is and listed down our priorities, let's pick the top three areas which any engagement strategy would consider and look at them in the context of millennials, the areas being 1) Communication, 2) Career and 3) Learning.
Communicating with the Millennial workforce:
Let's try to cater to the most common observation about the millennial workforce: "asking questions." The people strategy of any organization intending to engage with millennials has to answer the following questions:
Are all your leaders open to being questioned on their approach?


Do you have a process/system to engage in the continuous exchange of information with your workforce?

Multi-level communication forms the backbone of the engagement strategy of a millennial organization; in the form of continuous feedback from managers, ongoing communication from the CEO, internal social media platforms buzzing with activity etc.
Contemporary career structures:
While this aspect covers communication, what's the mantra for an organization on "Career" when it comes to engaging with the millennial workforce? In the last decade, there are some major changes to a perspective on the career paths:
While some want structured career paths, some do not and organizations have to take that into account.


Rapid learning and horizontal/holistic exposure interest millennials, so organizations need to build career paths around this thinking.


Careers as a subset of life experiences: This is one area where millennials differentiate themselves from all other generations that have walked into the office. There are multiple examples of employees taking extended time off for pursuing hobbies, areas of interest or just drifting for a while. No judgments on if this is good or bad; the reality is that organizations need to be ready to accommodate such decisions.


All of these wrapped up together, pose quite a challenging task for today's organizations to create structures to cater to career aspirations
The millennial learner:
Millennials are digital natives, so learning needs to be kept flexible and on demand, not to forget smartphone compatible. Keep the coaching component accessible. Most millennials appreciate the opportunity to work with professionals they can learn from, people who challenge them. Imposing concepts is not a choice available to facilitators/trainers, lead them to find their solutions and they will enjoy the experience. A good example of a learning solution that appeals to the millennials is that of "microlearning"- a small and informal self-directed learning experience. It could be a ted talk or a lesson from a platform like the Khan Academy.
Engaging with the millennial workforce is all about candor, communication, and continuous exchange. The process calls for an agile mindset, acceptance of ambiguity and the willingness to question status quo. Strategies and tools aside, an adaptable mindset is the key, a fundamental openness to questions regarding what exists or what has been going on is non- negotiable.