Employee Engagement
The rising importance of employee experience
Human experience is a key differentiator for how employees interact with an organization, and it should therefore play a key role – both strategically and operationally to drive engagement, empowerment and fulfillment.
In an increasingly shrinking world, as the businesses get global, employees get better networked and employee delight emanating from employee experience becomes the key differentiator for companies.
Increasingly, employees look for jobs that fit their lifestyle, give them opportunities to grow, and connect them to greater meaning and purpose in work life. With the rapid integration of technology and social media at the workplace, Interactions between employees can quickly go viral. Any misworded review by ex-employees on social media can have disastrous implications for employer brands can be severe.
For these reasons, employers have begun focusing on improving their employee experience. Employee experience constitutes the entire journey that an employee takes within an organization. This includes everything from pre-hire to post-exit interactions and everything in between. 
But for now, I will focus on the physical space aspect of the employee experience which I believe is highly ignored by the HR professional since we continue to focus on the softer engagement aspects of the employee experience.
Think of a great app. You can perform your desired task quickly and efficiently, and you feel good about the brand behind the app. A bad app has the opposite effect – the task is hard to do, takes too much time and energy, and the experience is not rewarding in any way.
The workplace is no different. It creates experiences that both affect our ability to get things done and shape our impressions and memories of an organization. It is no longer enough for leaders to focus solely on improving visual appeal in the quest for greater productivity and profit. Real estate is a strategic device and, used wisely, it can help businesses of all sizes to attract, nurture and retain talent. In recent years, this increased focus on talent and productivity has contributed to a growing emphasis on employee experience. It starts with employees finding and applying for a job at the organization and ceases when they eventually leave and share a memorable moment
Organizations must provide the very best human experience in order to: 
Embody an organization's culture, values, and missions 
Influence employees' attitude towards their work and their employer 
Shape brand perceptions internally and externally
JLL conducted research in this space and we set out to demonstrate how transformational experiences could impact employee engagement, empowerment, and fulfillment in the workplace and cement the link to professional happiness and satisfaction and Impact productivity and quality of life
Through this survey, we have identified key workplace features that directly affect the experience, including: 
• New types of spaces 
• Alternative work philosophies 
• Different managerial approaches. 
All these features can positively impact the impression that an organization leaves on its employees. It also helps provide a better quality of life for employees and improve the efficiency of collaborators. Regardless of whether these experiences involve enhanced technology, innovative products, or collaboration with people, these experiences must make a good impression and could deliver engaging, empowering and fulfilling experiences.
Based on this I would like to share our Human Experience Model, which we have developed from the outcomes of our extensive research project. The model can help you shape optimal user experiences to create value for your employees, customers, colleagues, visitors, stakeholders, and your brand.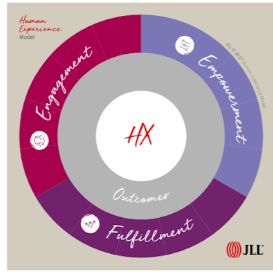 Engagement must come first:
• Introducing innovative workspaces will drive engagement 
• Use workspace to foster an entrepreneurial spirit to attract and retain employees 
• Consider adjusting workplace density to improve employee effectiveness 
• Formalize human experience in the organizational structure
Empowerment will drive change:
• Trust, kindness and taking initiatives — the top three work philosophies — will empower employees 
• Agility — choice to work elsewhere will improve performance and quality of life 
• Employees appreciate space for concentration, regeneration, and movement
Fulfillment is the new happiness:
• Happiness is the number one priority for a positive workplace experience 
• Companies must consider spaces dedicated to health and well-being 
• Managerial approaches linked to recognition and personal learning and development also impact employee fulfillment
Here are a few key takeaways: 
Although the recommendations will vary from business to business and real estate portfolio to portfolio, broadly speaking, there are three areas to focus on:
Space: The space provided by a company can directly impact employee experience levels. New types of spaces can facilitate new ways of working and contribute to an overall more positive experience and fulfillment within their workplace.
Product: The companies best equipped to offer a positive employee experience will stitch their spaces and services together with a solid digital platform to drive performance
Services: Offering employees a choice over how and where they work gives them a sense of control and contributes to their professional empowerment and, ultimately, how engaged and fulfilled they are.
Engagement must come first: Engagement is an essential ingredient for facilitating organizational change. Engaged employees are committed, and commitment, ultimately, drives the performance and effectiveness of both individuals and businesses. Their engagement relies on these individual levers: Knowledge-sharing and transmission, Excellence at the service of the company, Career growth within the company, Pride to work for the company
Employee commitment is driven by trust and kindness: Overall expectations for better engagement at work relate to trust, kindness, taking initiatives and autonomy. Trust tops the list as having the biggest positive impact on work engagement, but other work philosophies stand out
Activity-based working should lead the way: The survey highlights a desire among employees for workplaces to provide space suitable for a wide range of work activities including: Concentration (47%), then for regeneration (40%) and for getting employees to move (39%). 
Agility improves performance: Working from home and other premises has become increasingly common, and organizations need to ensure that their workspace is agile enough to accommodate fluctuating demand. Providing different work settings as well as allowing employees to work from elsewhere entirely, through co-working arrangements, for example, can signal trust, which empowers employees. Moreover, access to external co-working spaces can significantly improve employees' work-life blend. 
Fulfillment is the new happiness and requires a challenge-cantered work organization: All countries agree the key asset for a unique experience of work is happiness at work, followed by recognition, personal learning, and creativity. In addition to collective and collaborative space, space for individual care, well-being, and happiness at work is core to a truly unique experience. Introducing spaces dedicated to well-being and health, daycare facilities for children and food and beverage points, for example, can improve an organization's competitive position. • Companies should consider spaces dedicated to health and well-being. Taking pride in a work environment is particularly important for attracting and retaining the younger generation.
Human Experience is a key differentiator for how employees interact with an organization, and it should, therefore, play a key role – both strategically and operationally to drive engagement, empowerment, and fulfillment.
Join us for the People Matters EX: A Virtual Conference on 19th June to learn what it takes to create a world of incredible experiences.
Click here to register.