HR Technology
How to buy HR Tech - Payroll, Leave & Attendance System - Part 1
We have devised a working model for Payroll, Leave & Attendance system to help in decision making from SMBs perspective
The Background
In the previous article, we saw how varied and complex the HR Technology space is. As an HR leader, you are supposed to navigate this space with aplomb. In our efforts to help HR leaders in general and Indian SMB HR leaders in particular, we are looking to do a detailed evaluation of most HR Tech products available in the Indian market. We are aware that with the advent of SaaS-based solutions products created in the US or Europe is easily accessible for Indian companies, however, we are not focusing on those solutions. We may mention some of such innovative products which are created in the US or European market and believe these "white-spaces" are covered by Indian companies sooner than later.
HR Tech – Local or Global
If you are a global organization, HR Tech – the core solution- will essentially be global however there will be other solutions – for example – Time & Attendance – that will have to be local & hence the global solution to have the need to integrate various other plug-ins. Hence ability to integrate easily with a variety of tools is a key component for any global HR Tech solution.
However, if you are an Indian company & an SMB player then HR tech is very much local for you as the compliance is very much local. You would also prefer a local vendor over a global vendor not only for cost considerations but also for support capabilities.
Why are we doing this?
As a business owner or HR Leader, if you are evaluating HR Tech solution/s either for a global or local organization need what would you look at? In my experience and observation, the process involved is typically fraught with a lot of risks where you are dependent on the advice of people around you or most times even the service providers. Besides understanding the functional features, one also has to understand the underlying technology used and its limitations with reference to organizational requirements. There is no forum at this stage which gives us an unbiased opinion or an expert view on various solutions available in the market & compares them on various parameters we know or don't know. I wondered why in today's day and age making a technology decision so ambiguous? Why is there no platform/forum where all tech users come together as a community with a view to helping each other? I make decisions to eat out based on what I see on Zomato today so why not make a critical decision like tech implementation via some community support?
While some platforms like – SoftwareSuggest & Strat-Board have come up to address the above-mentioned need – they are yet to mature & offer criteria based independent evaluation. Some global platforms like G2 Crowd & Trust Radius are notable examples but they do not cover Indian tech companies operating only in India
Payroll, Time & Attendance system
We decided to start with this technology as tracking employee attendance, keeping a record of how many days he/she was on leave & then finally processing the salary while navigating the complex and intricate tax and compliance structure, is a fundamental activity in any enterprise of any size. While this is a fundamental activity, I routinely see HR & business owners struggling with issues such as accuracy of data, timeliness of information, cycle time of payroll etc. And so I was wondering isn't there a simpler, quicker and easier way to do this? Shouldn't this problem be solved long ago? And hence I started my web research to identify various companies, products, & solutions that are available in the market at this stage.
The Process – Selection of Companies
The process followed was to first look at some commonly used search strings when people would search for such solutions and then identify companies who have Paid Ads or show up on the search by default. We did not go beyond the 2nd page of Google search results, as its common for many users to not go beyond the 2nd page of search results.
The search strings that we used to look for companies were –
" Top 10 payroll software India"
" Payroll software India"
"Payroll leave attendance software India"
" Leave attendance software India"


For each subsequent search string, only additional or newer company was added to the consideration set thus ensuring that we get a comprehensive list of players
We also took data about companies from other sources like conferences and media advertisement, Other web sources like G2 Crowd, Trust Radius, SoftwareSuggest & Strat-board to ensure that we cover a fairly comprehensive list & not just restrict to Google Search. The point was to make this list as comprehensive as possible basis on the different sources that buyers have today to select their partner.
We were able to identify close to few dozen different companies who operate in this space & offer various types of services & products. The companies operating in this space can broadly be classified as:
Only product companies – These companies offer a product which is either SaaS-based or On-Premise implementation – They do not provide outsourced / managed service/s – example – CareerBuilder, PeopleWorks, HRPlug, CornerStone, Eilisys, SAP, Grey Tip, Zing HR, Zoho, Pocket HCM, Oracle, SumTotal etc


Product + Service Companies – These companies not only offer the product but also take up managed services – example – Ramco, PeopleStrong, MyAdrenalin, Kronos, ADP, Opportune etc.


Only Service companies – These are companies which only offer managed payroll services and may use a 3rd party product or may use their own product – example- Excelity Global, Paysquare, TopSource etc.


For the purpose of this comparison we have only considered companies in the first 2 categories as assessing capabilities of a pure play service company basis a web research is a difficult task. Also since we are interested in HR Tech and its capabilities with reference to a particular functional area within HR, pure play service providers do not fit into our current scope of an evaluation.
While considering companies who operate in both product & service areas, we have only looked at their product feature and capabilities for the purpose of this comparison. We have also not considered companies which only provide the leave & attendance hardware solution typically bundled with software for the same.
Note: This is not just an exhaustive list, in case we have missed any player or you think our classification need any correction – please write to us at editorial@peoplematters.in
The Process – Evaluation Parameters
Considering that we are largely looking at either product or product+service companies we identified certain parameters which we thought are critical for an initial evaluation especially given the vast data set distributed across the length & breadth of the country. Hence we came up with a simple criterion which can be generically used for evaluation of HR Tech solutions & most HR leaders should consider these parameters / questions while evaluating the solution provider/s. While these are generic parameters when applied to a specific HR Tech space – they will help you arrive at a filtered list which can then be further evaluated for your specific business need. Since our purpose here is to present generic criteria we are not considering a feature based comparison for the scope of this analysis. We recommend that you do a complete feature evaluation once you have decided your exact need considering your business context.
Some questions we asked ourselves before we arrived at these parameters are:
What are the typical questions one should ask oneself while filtering from various options available in the market?


What parameters should help an HR leader separate the players based on generic criteria even before we do a feature comparison?


What should come first – the credibility, stability, domain expertise of the vendor or the product features? We have taken a stand in favour of the former here.


The table below gives you the criteria used for evaluation and the scale used to score these companies on these parameters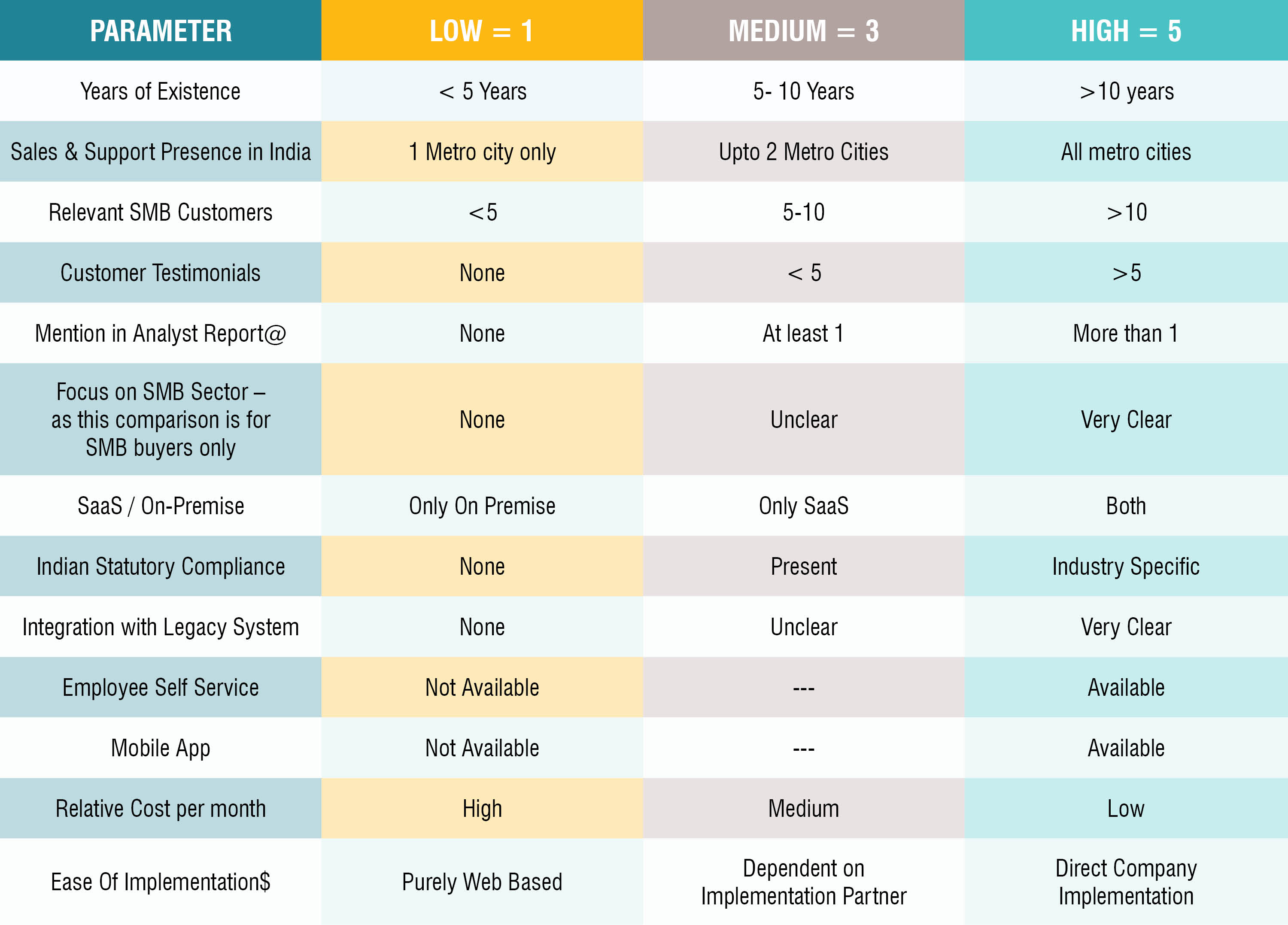 @ - Analyst reports considered are Nelson Hall, Gartner, Bersin by Deloitte, G2Crowd, TrustRadius and CB Insights.

$ - Given the context of SMB – complete self-service module is considered difficult because the implied subject matter expertise may not be available in the company.

Note: This is a working model we have devised to help in decision making from SMB's perspective, if any parameter is missing, we will love to hear your views. Please email us at editorial@peoplematters.in
Next Steps
In the next article, we will present a detailed review of companies considered on these parameters to come up with a list of companies for the Payroll & Time & Attendance needs of organizations in general and SMB in particular.
Also read:
How to buy HR Tech - Payroll, Leave & Attendance System - Part 2
How to buy HR Tech - Payroll, Leave & Attendance System - Part 3