HR Technology
RPG Group's HR transformation journey
The RPG Group began a mammoth exercise of digitizing their HR processes across the Group's spectrum of companies. After facing some hiccups, the company rebooted its implementation journey, reorganized the teams, and drove the digital agenda.
The Beginning
Rama Prasad Goenka established RPG Enterprises in 1979 with Phillips Carbon Black, Asian Cables, Agarpara Jute, and Murphy India as its constituents. The 1980s saw further acquisitions by the RPG group, the first being CEAT Tyres of India in 1981. The group then went on to acquire KEC (1982), Searle India, now RPG Life Sciences (1983), Dunlop (1984), Gramophone Company of India Ltd, now Saregama India (1986) and finally CESC, Harrisons Malayalam, Spencer & Co. and ICIM (1989). Today, Harsh Goenka, the current chairman of RPG Group conglomerate leads the Mumbai head-quartered RPG Enterprises, which consists of over fifteen companies across core sectors of the economy and has a turnover of more than US $3 billion.
RPG Group has a rich history of enabling people practices, for which, it has stood out amongst its peers over the years. HR digitization was one such initiative that was taken up in the year 2013-14 to drive both, employee experience and HR efficiencies. 
HR Digitization: A tale of two journeys
Over the last few years, RPG group went through significant transformation as it attempted to digitize its HR processes across its Group companies. In September 2013, RPG signed a contract with SucccessFactors for the talent solutions, and in the year 2014, successfully launched the Goal module and SAP Jam. In December 2014, KEC International, an RPG Group Company and the manufacturer of electric power transmission towers and one of the largest Power Transmission Engineering, Procurement & Construction (EPC) companies took the decision to implement Employee Central (Core HRIS). However, in mid-April 2015, the launch of the Performance Module (PMS) ran into trouble and had to be scuttled while the overall implementation of SuccessFactors (SF) came to a halt.  The implementation team took this as a challenge to fix.  and they wanted to migrate to a more evolved mechanism for appraisals management than the traditional paper and pen exercise. In a week's time, the team found a fix for a majority of the issues in the PMS module working with SuccessFactors and the implementation partner whom they had engaged for Employee Central implementation and delivered a seamless digital experience.
The first attempt 
A key reason for the failure of the initiative was attributed to 
The incapability of the implementation partner in terms of gauging and catering to RPG's requirements and implementation of new modules. 
All modules were launched simultaneously, they reached an impasse at different stages. Hence, it was challenging to identify and rectify the loopholes that led to each of the modules being stuck. Eventually, the team could launch only the Goal Module. 
Lessons learned from such a failure proved to be a guiding force for creating change that can be today termed as one of the most successful digital transformations at such a large scale. 
The pain points stemmed from: 
Weak change management 
Low engagement with the HR teams of the Group companies, resulting in low adoption by group companies
Ownership for implementation was more with Group office rather than individual companies
Replication of existing processes without re-engineering
High levels of customization limited the ability to scale 
Capability of the Implementation partners 
The RPG Group went from a red carpet opening to failure in less than 2 years!
The best practices from RPG companies were propagated to the global configuration so that other companies could benefit from the same, which really helped the overall value proposition
The Strategy: Change as an Organizational Development Intervention
Harsh Goenka, the Chairman of RPG group asked for a review of SF Implementation and the way forward with all CEOs, CFOs, and CHROs of Group Companies. A new strategy was presented by Vasudevan Narasimha (Vasu), former Executive Director Human Resources, KEC International Ltd. and S Venkatesh (Venky), President - Group Human Resources, RPG Group. it was decided to launch one module every 45 days.
This decision was a critical turning point in the sponsorship for the HR digitization initiative.  A team was tasked with driving Employee Central and manage the implementation of the Talent Management modules 
The team commenced the re-Implementation of the Talent Management suite christened RPG TalentOne in August 2015. Their credibility hinged on delivering the PMS Module as mid-year appraisal exercise was due in October 2015. The team completed the configuration in 24 days and it was launched in mid-September because of which the mid-year appraisals went without a hitch.
The team was implementing Employee Central in KEC with a go live date of February 2016 globally in English, Portuguese and Mexican Spanish. In parallel, between October 2015 and March 2016, the team launched 5 Modules consisting of PMS, LMS, RCM, 360, Succession. Further, the compensation module followed suit in June 2016. The team succeeded in launching one module every 40 days.
The reasons for the success this time were:
Sponsorship from the Chairman and Company CEOs. 
The implementation of accountability with Company HR Heads. 
Strengthened Project Leadership for execution 
Defined roles, responsibilities & accountabilities for Project team and Company SPOCs
Enhanced engagement of nominated SPOC and Product owners from each company – Co creation
Putting in place the right implementation partner 
Module-wise implementation with workshops to build knowledge, understanding of platform, finalizing scope & configuration – to execute swiftly.
For a better future, the next goal is to make ÔdigitalÕ a natural process for employees where analytics will play a major role in listening to the voice of employees and giving them a personalized HR experience in their journey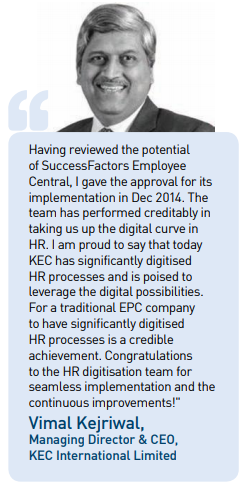 Consolidation, Stabilization, and Adoption: 2016-17
Post the implementation, the team embarked upon consolidation and adoption of these modules across RPG Group. This involved the adoption of modules and special functionalities which were not used during the implementation earlier. The team ensured that new features and releases of SuccessFactors were communicated and implemented so that there was better adoption and utilization of the system. The team worked with the group companies to co-create better versions of the modules to enhance overall functionality and experience. The best practices from RPG companies (e.g. LMS module UI for Zensar) were propagated to the global configuration so that other companies could benefit from the same, which really helped the overall value proposition. 
The Central team now had a bigger scope with increasing adoption amongst companies, hence it was decided to onboard Nikhil Shembekar as Head, HR Digitization who brought with him extensive experience in Digital Transformation. Soon the team set about devising an HR Digitization roadmap for the next three years which would make RPG one of the best in the industry in terms of the deployment of HR digitization. Various initiatives were planned to create awareness amongst HR fraternity and senior leadership as change champions. 
Enhanced Partner Ecosystem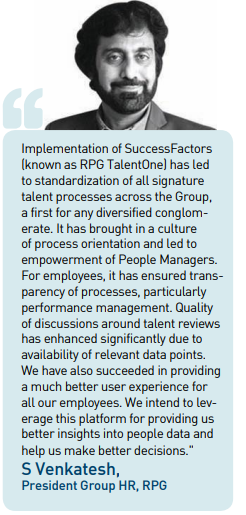 With a significant set of modules being adopted by the 7 group companies, the overall maintenance and implementation of newer requirements, the team set about evaluating the capabilities of the support infrastructure. Support for various modules of SF was given to different SF vendors based on an assessment of their expertise and capabilities. SF support services were also used extensively to help and debug issues. This multi-fold support ecosystem helped in finding a quick resolution to many issues and helped in increasing customer delight.
Training
Training programs were organized monthly to improve awareness amongst module administrators and best practices were shared in these sessions. The administrators were trained and certified internally on various modules which helped them gain confidence about the system and become independent. All these initiatives helped in driving adoption across the respective companies
Beyond SF: Driving Employee Experience, Analytics, and Employee In-sighting
With the nuts and bolts now in place, the team now wanted to move from the mere automation of existing process to going "Digital". Going Digital essentially required the Group to re-imagine the HR processes and leverage digital capabilities to enhance employee experience. With this understanding, it was decided to initiate HR Digital Labs. The objective of this lab was to look at various cutting-edge solutions which would help enhance employee experience and HR productivity. 
The team conducted various POCs, demos and trials for new technologies. Some of them are adopted and are now an integral part of the overall HR Digitization architecture within RPG. These solutions have complemented the overall offerings of RPGTalentOne, which in turn, have enabled a superior employee experience. In early 2018, a broad strategy was drafted for the HR digital agenda and is now pivoted on three broad areas i.e. HR Analytics, Improving Employee experience using digital technologies and Employee Insighting.
The team has launched a company-wide analytics program which will enable HR to glean insights from employee data. In addition, Bots have been deployed to streamline HR service delivery.  In 2018, with a move to gain deeper employee insights, just like customer insights, an employee in-sighting program was launched which was dedicated to developing insights into the programs and products in human resources, provide a data-based view of what's working well and what is not while laying out the intervention options for leading and creating lasting change.
Persistence is the key to bringing about a significant transformation, and that has been a key ingredient in RPG's journey towards digitization and success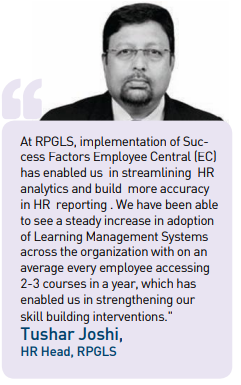 Impact
Today the RPG Group has a single instance implementation across all 7 companies, 15 legal entities, 40 countries, and 3 different languages. HR digitization across all group companies has given a complete view of the organization to the leadership team.  The HR Business Partners' administrative burden has been reduced by 15 percent and the Group has achieved 100 percent governance of signature HR processes while the best practices are being exchanged on the collaborative platform called RPG Hub (SAP JAM) by COEs across RPG Companies.
Managers and HR functionaries have access to employee data through one-click which ensures transparency in both data and processes which has led to a significant improvement in data integrity. Globally, employees and managers across 40 countries have access to data in their respective languages and People Managers have access to all the data related to the teams they work with and support which has improved transparency and facilitated better decision-making.
E-learning courses have improved learning man-hours by 50 percent. All compliance related courses are now accessible on mobile and have resulted in improved learnability and compliance. 80 percent of the courses are mobile-enabled thereby helping to capture feedback for instructor-led courses. Assignment of courses based on competency rating and job roles of the employee have also led to a more personalized approach to learning. Internal job postings have improved the visibility of vacancies across RPG group and there is a significant increase in the number of vacancies filled internally, as high as 65 percent in some of our companies.
Key positions within the organization are identified and future leaders are equipped for such roles. Having a completely digitized line of sight for succession plans across RPG companies has ensured business continuity where around 10 percent of the employee population is equipped and has the potential to move to the next grade 
Transparency of performance appraisals, improved employee self-service, better collaboration across teams and pay for performance culture has significantly helped in increasing employee morale, reducing attrition and higher levels of engagement. 
The mantra for success at RPG Group was in managing change through inclusion, collaboration, communication, creating ownership and trusting people. HR business partners knew the pain points in and out and had an exceptional zeal to make things better by simplifying the processes and adding value to employees.
Destination is a journey
From the first failure to deploying digital systems across major group companies, RPG has come a long way in this journey.  RPG successfully implemented and got employees to adopt the digital way. For a better future, the next goal is to make 'digital' a natural process for employees where analytics will play a major role in listening to the voice of employees and giving them a personalized HR experience in their journey. 
While transformation at scale is a story worth sharing, embarking on a journey across multiple companies within a group cannot be taken for granted. Persistence is the key to bringing about a significant transformation, and that has been a key ingredient in RPG's journey towards digitization and success.