A Brand Reachout Initiative
HR Technology
Talent market networks and their role in revolutionising talent management
Technological advancements are creating newer ways to connect, collaborate, and address critical challenges that stem from the loss of physical space in the new hybrid world of work. We explore the role of talent market networks in the same.
Web 3.0 and its principles of free and secure data sharing and direct transactions between different participants through open networks have become a mainstream option for different entities to collaborate and connect. Among recent examples is the UPI payment network that connects banks, sellers, and buyers and makes transactions instant and secure.
Market Networks have applications across industries and domains, but one sector that is significantly benefitting from it is the talent management landscape. With the advent of the Talent Market Network, companies have access to a decentralised, agile, and trustworthy way to connect with other companies, employees, HRMS platforms, freelancers, contract-based workers, and a host of service providers like fintech, rental, insurance, EWA, Banking, L&D solutions etc.
To explore the nuances of Talent Market networks and how tectonic shifts in employee preference and market forces have made such networks more relevant than ever, People Matters and Repute conducted a webinar titled, 'How Talent Market Networks are Redefining Talent Management'. Joined by Deepak Dhar, CEO of Repute and Vinay Agrawal, 
Global Head - Business HR at Tech Mahindra, the discussion spanned both the technological and human management sides of leveraging talent market networks for a better, more productive future. 
What is a talent market network?
Deepak began the webinar by explaining how 'Talent Market Networks like Repute' today are the result of a series of evolution where once closed-off systems can now talk and interact with each other.'  Addressing the nuances of a talent market network, he elaborated on how such networks use the principles of Web 3.0 and blockchain to allow different participants i.e, companies, HRMS, candidates and service providers to freely and securely interact with each other. He explained that the cornerstone of these networks and their success is the trust that is inherently built in. Market Networks succeed in establishing trust by establishing three things- the identity of the transacting parties, the capability of the parties to fulfil the transactions, and the intent to deliver on their part of the transaction.
This is a huge leap forward from closed systems organisations were struggling with earlier. 'All from candidates to L&D, performance management, financial service providers etc are easily available to employers on the network,' noted Deepak, emphasising the value that they are adding to organisations and their HR functions. 
source: Repute
Talent Market Networks are simple and user-friendly and come with immense potential to reimagine the talent management cycle. From establishing intra-system connectivity and interoperability between all the stakeholders to providing employers with a robust infrastructure that helps them access an array of talent management services, Talent Market Networks like that of Repute help employers prepare for a world of the future, today. Employing trustworthy talent with the right skills, performing instant background checks, creating the right onboarding experience, and providing rewards and services that help engage and retain talent remain a few of the endless possibilities Talent Market Networks offer.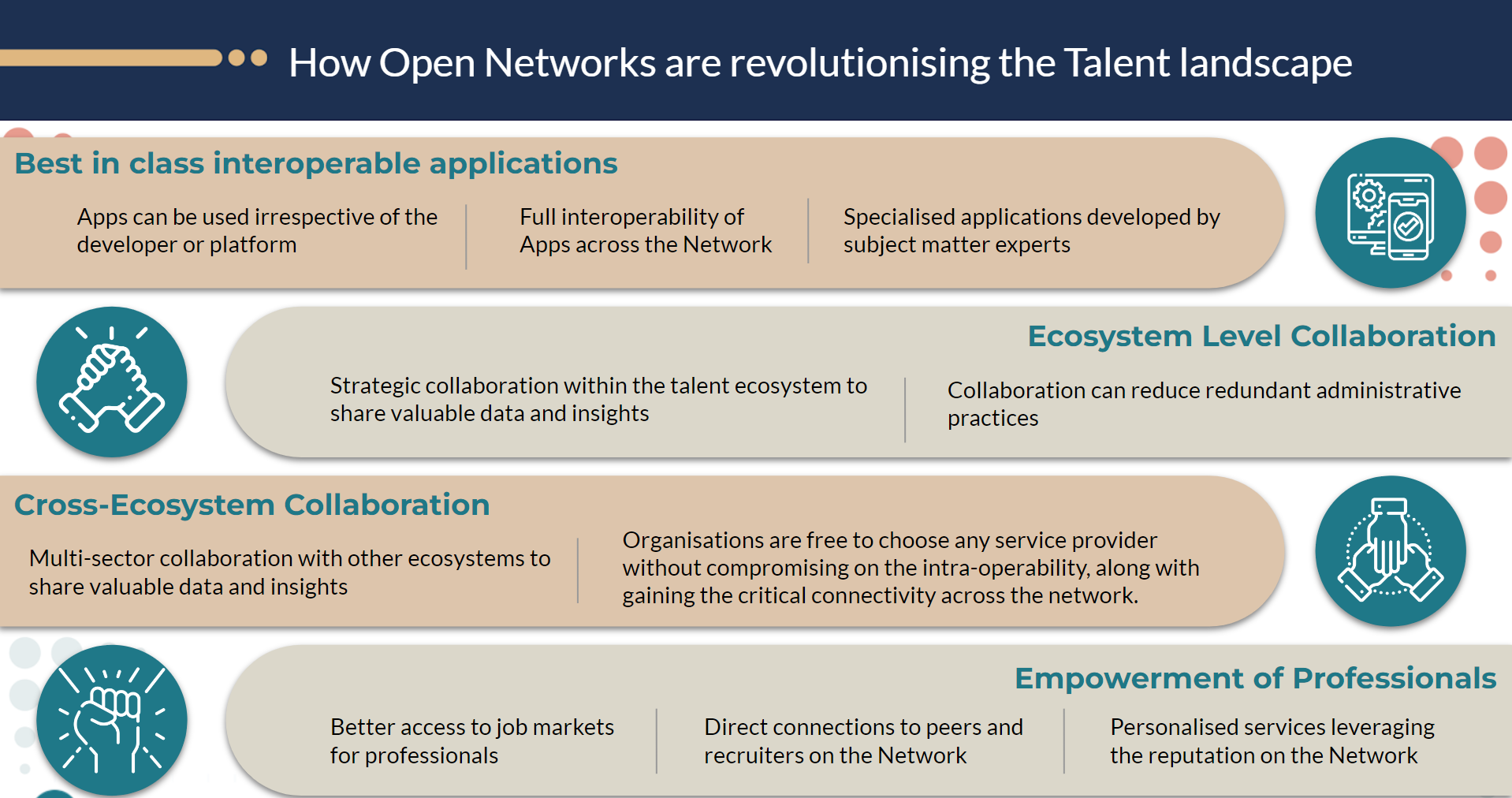 source: Repute
Deepak highlighted how these capabilities make talent market networks the next big step in creating robust talent management practices, allowing employers to directly create business impact.
Trust as the cornerstone of effective talent management
While easy collaboration and interoperability help recreate more impactful talent practices through Talent Market Networks, trust remains a crucial component of managing people in the post-pandemic world. 
Vinay expressed that one of the biggest challenges that HR leaders are facing in the post-pandemic world is the challenge of trust. 'The pandemic has brought a very significant shift,' noted Vinay, 'when people were working in a physical workspace, trust and reliability were automatically taken care of by the human connections.' But, the lack of human dynamics in a hybrid work environment means, according to him, that trust today can 'no longer be taken for granted.' Instead, it has to be constantly built and nurtured and requires intentional effort. 'Both human effort and tech are needed to achieve this,' noted Vinay. For him, this includes leaders and managers all playing a pivotal role in creating an inclusive and transparent culture that nurtures trust. 
Deepak agreed, explaining how the shift to a digital-first model of interaction today created a more significant need for trust. 'Earlier, physical interactions would create certain guarantees around the identity and intent of those interacting. This is not the case with digital platforms shaping interactions,' noted Deepak. On how talent market networks address this concern, Deepak put the spotlight on the inherent capability of the network to drive trust amongst the participants based on authentic data that is verified against dependable sources on the network. He added how the 'verified reputation of different participants within the network plays a key role in establishing trust.' 
Market Networks like Repute help address the problem by establishing a verified reputation for all participating members on the network. This means all parties can trust each other "by default", due to the established reputation, and do not need to take any additional measures to develop the trust. This leads to what is now referred to as "trust-free collaboration" powered by the Network itself.
The reputation of candidates, employees, and freelancers shared through the network helps assure different aspects like their credentials, past performance records, etc., which prove critical to building and sustaining trust between employers and their talent in today's digital world. 'By using reputation to create individual brands, Repute's talent market network creates trust between the different collaborators,' he added. It is also important to note that since the network is built using blockchain technology, the data shared remains decentralised, and is owned only by the data owner. It cannot be modified by anyone, and can be accessed only by the party it is shared with. This brings in an added layer of trust in the network. 
Focusing on employee experience
'Individuals today have become empowered,' noted Vinay, 'and that means people need to be treated with much more autonomy.' For Vinay, this includes creating the right experience, offering flexibility, and allowing employees to make choices for themselves. 'This is a philosophical change, not a tactical change. One where individual choices have to respected.,' he added. Making leaders more empathetic towards building the right experience and creating inclusivity are all critical considerations in ensuring employees continue working with the organisation. 
For Deepak, helping employers empower their employees and create a good employee experience that reflects changing employee preferences is a core aspect of how Repute's talent market network operates. He added that with talent market networks, employees have the powerful tool to reflect and share their professional journeys within the companies and with other service providers. 'Employees can share the kind of projects they have worked on with learning tools to help create a customised growth journey for them,' noted Deepak.  
With an emphasis on building reputation and trust, talent market networks help employers open newer opportunities for growth and engagement within the company. Deepak explained how by providing access to services like insurance, renting, L&D, Earned Wage Access (EWA), Health tech etc., without the lag that comes with formal verification and assessment tools, the instant and trustworthy nature of the talent market network is a valuable tool in front of companies to enhance employee experience.
Conclusion
While technology evolves rapidly, finding the right talent management solutions remains a cumbersome task for HR leaders. Talent market networks help streamline the process by allowing employers, HRMS, Professionals, and service providers a secure and safe network to connect and perform transactions & share resources. For companies, such a talent network stands to improve the entire talent lifecycle management as hiring, engaging, and retaining talent can all be done through one talent market network.