HR Technology
Where does the industrial world stand vis-à-vis AI
As Aritifical intelligence(AI) is fast becoming more popular in the industrial world, what are the important points to consider in this domain? Can HR become heavily AI dependent in the near future? Read on to find out.
Artificial Intelligence (AI) is one of the key components of the fourth industrial revolution. We are on a brink of a technological revolution that will fundamentally alter the way we live, work and relate to each other. Because of this advent of automated tech, the workplaces are likely to be transformed at a scale not experienced before. In this tech revolution, we learn to fuse the physical, digital and biological spheres.
In this context, we find the CB Insights webinar on 15th February 2018, as one of the major sources of information on what is happening in the field of Artificial Intelligence. We have seen in the past that as technologies get introduced or evolve; the initial reaction of surprise and shock is soon converted into adoption and, later on, these technologies become a very fundamental part of our everyday lives, like electricity and internet today. We believe that AI has the same potential.
The CB Insights report starts with indicating an increase in manufacturing jobs in the US over the last 5 years. This increase in manufacturing jobs comes after a steep drop in the same from 2008 and earlier. While the manufacturing jobs are increasing, they are not the same type of jobs that existed in the past. Companies are hiring humans, while also heavily investing in automation powered by robotics and AI, in which the routine and heavy lifting are done by the machine while the humans interact with the machines to make informed decisions.
In a very interesting example, the report talks about a Chinese T-shirt manufacturer who is moving to the US with its manufacturing capacity as it partners with a start-up which has created "Sew-bots". The chairman states that the system will make 1T-shirt every 22 seconds, thus making the labor cost arbitrage a thing of the past, by driving efficiencies much beyond human capacities.
Furthering its argument about how the nature of jobs is changing; CB Insights brings to fore another Data from their earlier market map named as Expert Automation and Augmentation Software (EAAS) platforms. In this market map, they have mapped about 4 dozen different AI-powered companies that are reshaping the way work is done for lawyers, HR professionals, marketers, teachers, software developers and even lawyers. We would briefly talk about the 4 companies mentioned in this market map for HR managers, as that is of interest to us and our target audience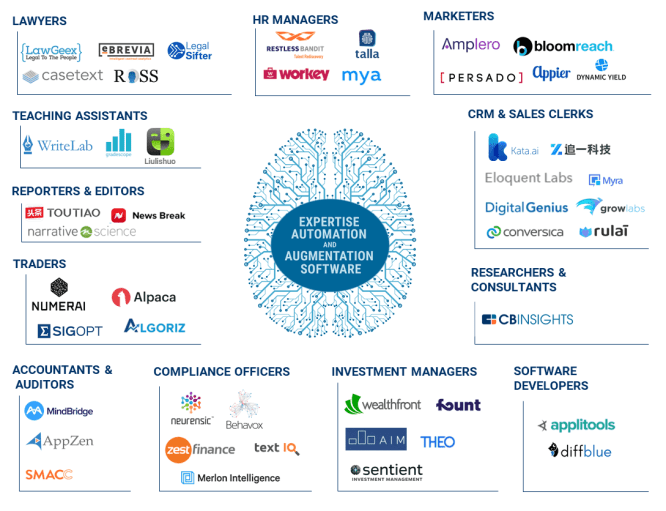 Restless Bandits is an AI-powered recruitment platform that lets you post a job, define a daily budget and then put its AI to work to ensure relevant candidates show up in front of you. This takes the most laborious part of sourcing relevant profiles from multiple sources from recruiters and gives to this AI-powered bot. With more than 100 job boards and multiple social media platforms, sourcing the right talent for your job profiles has increasingly become tedious and this AI-powered platform helps you automate that process.


Talla is created as a platform to provide teams with relevant and up-to-date information, especially for in-house knowledge sources. Within HR, this has applications where this AI-powered platform can answer employee queries on policies, help them identify benefits they are eligible for and, also help in the overall onboarding process.


Mya is an AI recruiter support that helps automate the tasks of screening, scheduling, and even shortlisting. It also ensures that candidates are kept updated about the status of their applications thus improving their engagement and helps improve efficiency and effectiveness of the recruiters.


Gloat (Previously named Workey) is a sourcing platform that is converting passive candidates into active ones. The platform uses Data Science and crowds wisdom to recommend next moves to candidates on the platform. Its AI matches such candidates with open positions thus reducing the time spent by recruiters sourcing through multiple data sources and then validating if the candidate is interested in the said position.
"Most of the software we write today at Google, these are mostly hand-coded systems. Over time, these could be lone systems, which will automatically write themselves." Sundar Pichai, Google CEO
Based on the above and similar other examples across multiple industries, the CB Insights report claims that AI-powered solutions can fundamentally alter the way professional services firms are paid in future, as most of the mundane and routine are automated. The report highlights that this trend is also likely to impact the IT industry with AI-based software doing testing, debugging and basic front-end development.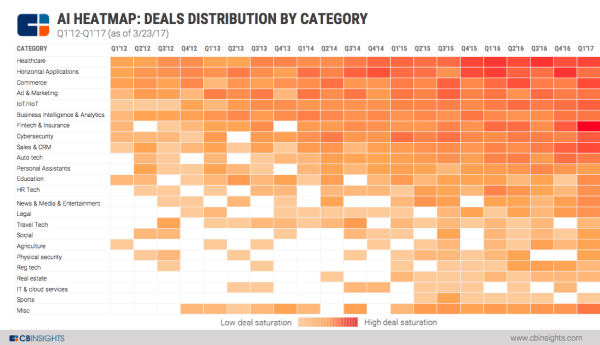 Click here to enlarge this image
While there is a lot of promise in AI and it has the potential to replace some of these routine tasks across multiple job profiles, the report highlights that human talent with AI skills is a challenge. Currently, the demand for qualified AI talent far outstrips the supply. The report claims that most AI talent is reportedly earning top dollars in companies and even top companies are struggling to retain talent as it leaves for exciting AI start-ups.
In what seems like countries taking long range positions of competitive advantage anchored to technologies, the Indian Prime Minister has come out in support of Blockchain technology while his China counterpart has supported AI. As per the report, China wants to be a global AI leader by 2020 and it seems well on its way by capturing close to 50 percent of the global AI funding. The report gives some more Data about China's investments in AI to indicate how China is strategically working to build its AI competence.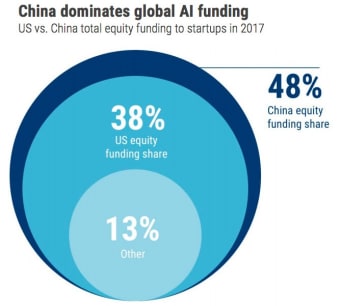 The report further talks about the use of AI in some unconventional applications including weed, fish, and horse. Based on deal activities in AI across industries, the report postulates that AI is soon becoming the new normal. A look at the heat map tells us that this is far from happening in HR tech as the AI frenzy is just about starting in HR tech but we tend to agree with the report's conclusion that soon AI alone won't remain a differentiator.
The big 3 technology giants are not far behind. The report argues that while investors have poured in USD 1.8 billion in AI start-up enterprises in the last 5 years, Amazon, Google, and Microsoft can make many smaller companies obsolete.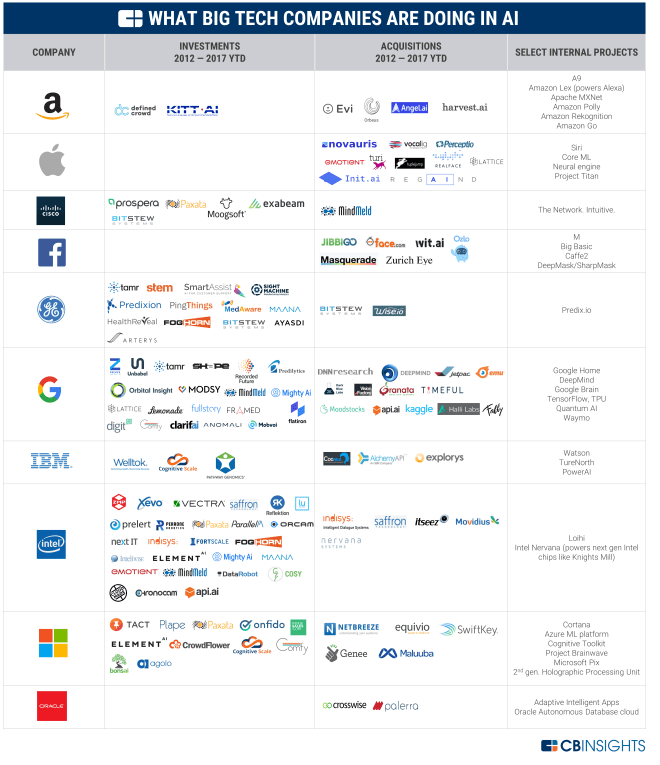 This report is a good starting point for anyone trying to understand various uses and case studies of AI in multiple industries. As indicated by the report, we believe that AI has a long way to go as far as HR Tech is concerned. Some of its early examples in the recruitment domain will be watched closely before it becomes a de-facto feature in most HR tech solutions. We are excited at the possibilities of AI in business in general and HR tech in particular and would look forward to bringing more exciting news on this to you in future.