Recruitment
From job-hopping to career-building: How workers' priorities have changed
Contrary to the popular "great resignation" trend, 47% of Indian jobseekers have no plans to switch jobs in 2023.
Nearly half (47 per cent) of jobseekers in India do not intend to switch jobs in 2023, going against the prevailing trend of the "great resignation." Instead, a significant proportion (over 37 per cent) are focusing on advancing their career within their current organisation, reveal findings from the quarterly hiring tracker by global job site Indeed.
There has been a notable decline in hiring activity. The data indicates that only 53 per cent of the surveyed employers had made new hires in the current quarter, marking a decrease from 64 per cent in the preceding quarter (October to December 2022).
"Amidst the ongoing uncertainties, the overall sentiment of jobseekers and employers seems to be cautious. However, some sectors like BFSI and healthcare are witnessing significant hiring, showcasing a strong future for these areas. Additionally, in 2023, the acceptance of the gig economy at large is also expected to strengthen the job market. Employers now need to focus on devising ways in which they can retain and continue to attract this talent pool," said Sashi Kumar, Head of Sales, Indeed India.
The BFSI sector witnessed the most significant hiring with 71 per cent of the sector's employers hiring during the quarter. Healthcare (64 per cent) and construction and real estate (57 per cent) were the other two sectors that hired substantially. In contrast, media and entertainment (49 per cent), IT/ITeS (29 per cent), and manufacturing (39 per cent) sectors saw the least hiring during the quarter.
The survey results also indicate a significant rise in the proportion of employers hiring for mid-level (27 per cent, up from 23 per cent last quarter) and senior-level roles (12 per cent, up from 9 per cent last quarter). Additionally, the data reveals that there has been an increase in the proportion of jobseekers who are entering the job market for the first time, which has gone up from 16 per cent in the previous quarter to 23 per cent in the current one.
Workplace trends in 2023
One interesting finding from the survey is that a majority of current jobseekers prefer working from the office, with 57 per cent expressing this preference. Similarly, most employees are undertaking upskilling programmes, professional developmental tools, and mentorship programmes. About 47 per cent of all employers are providing upskilling programmes to their employees.
Certifications and learning platformmes to boost skill sets (67 per cent of jobseekers) is the prime strategy for jobseekers to remain competitive in the year 2023. This is followed by sharpening existing skill sets and performing better in their role (41 per cent of jobseekers). 
Top job roles, skills, and employee preferences
The most in-demand job role for the current quarter was for retail sales associate (41 per cent of all employers) followed by project engineer (23 per cent) and marketing analyst (20 per cent). 
In terms of the most hired skills in the current quarter, tech skills such as SQL, NoSQL & MongoDB, APIs, CCNA, CCNP, Zigbee, WiSUN, and Z-Wave are the top skills being sought after by employers. 
Communication, critical thinking, problem-solving, and decision making are the top three soft skills that employers are looking for. 
Most hiring during the quarter was in functional areas of production/manufacturing (31 per cent, up from 29 per cent last quarter) followed by sales (29 per cent, up from 17 per cent last quarter) and marketing (27 per cent, up from 21 per cent last quarter).
From an employee perspective, following are the functions jobseekers prefer in the quarter of January 2023 – March 2023.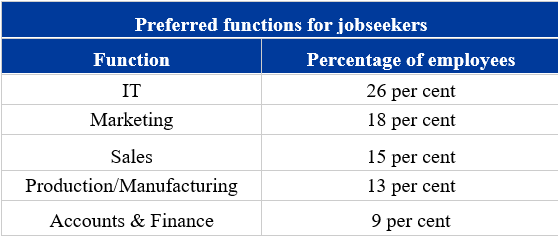 This survey was conducted by Valuvox on behalf of Indeed during January and February 2023. The survey involved 1,157 employers and 1,583 jobseekers and employees, who were categorised by city, organisation size, and sector. The respondents were classified into large, medium, and small organisations within their respective cities, and then grouped into different sectors.