Sports, Books & Movies
Jason Averbook on reimagining the workplace of tomorrow
HR as we have known it is dead. Yet, very few understand what will replace it. Jason Averbook in his book, HR from now to next: Reimagining the workplace of tomorrow offers insights and action items to unlock the future of the workplace.
HR, a function that has been built on the words and phrases like, "Human Capital Management," "People are our most important assets," has over the years gained the reputation of being the function that pushes the paper and keeps the light on. Even though its name suggests otherwise, the Human Resources department isn't always something to which employees, managers, and executives love to turn.
In this book, Jason shares the eight domains of opportunity that exits in HR space and how we can take advantage of these opportunities to lead the change.
Averbook shares, "HR departments can embrace change only if they reach out of their silos and across the aisles to better understand what their competitors are upto."
Here are the eight things you can do to transform the workplace:
1. Technology:
Averbook stressed that HR needs to move forward efficiently and take advantage of the HR technology and tools made available by the changing times. He believes part of becoming fluent in these tools mean reimagining the scope of what it means to be an HR professional.
2. Creating agility:
The first major area where companies need to focus and to initiate change is with people. Also, if the places are changing, people are changing, the processes we employ in the workplace should also change.
By focusing on the things you want to be great at, you'll understand where your time and energy needs to flow. What's left after this are the things at which you can afford to be good simply.
3. Finding the right people:
If LinkedIn knows more about your most excellent assets (your people) than you do, then you are in trouble. Work to identify talent within your organization and learn how to play the strengths of the talent, retaining, developing, and incenting them.
4. Focusing and continually increasing engagement:
Understand that increasing engagement should be a constant process and not an intermittent one; engagement should be promoted and measured in real-time using real-time tools.
5. Foster collaboration:
With more and more offices becoming decentralized hubs where major meetings take place rather than the center of a 9-5 universe, HR department needs to facilitate collaborating with each team and employees.
6. Measuring the value of people:
The Holy Grail of HR is to shift from counting heads to making heads count.
Averbook says to ensure success for the entire organization; HR needs to organize a strategic shift away from the philosophy that measures people by the numbers rather than making those individuals count for something. This means focusing on different data and using that data to understand outcomes and strategy.
7. Operating in an anytime/anyplace world:
To truly push on and get the results that today's customers and companies demand, HR needs to learn how to operate in an anytime/anyplace world. Employees need to be able to use the tools, technology, and applications that they use in their jobs.
8. HR department to take ownership of these technologies:
Both IT and HR department should work together to equip the organization with processes and technology that will help secure success. He also established that HR has to take ownership of the processes and technology it wants to use.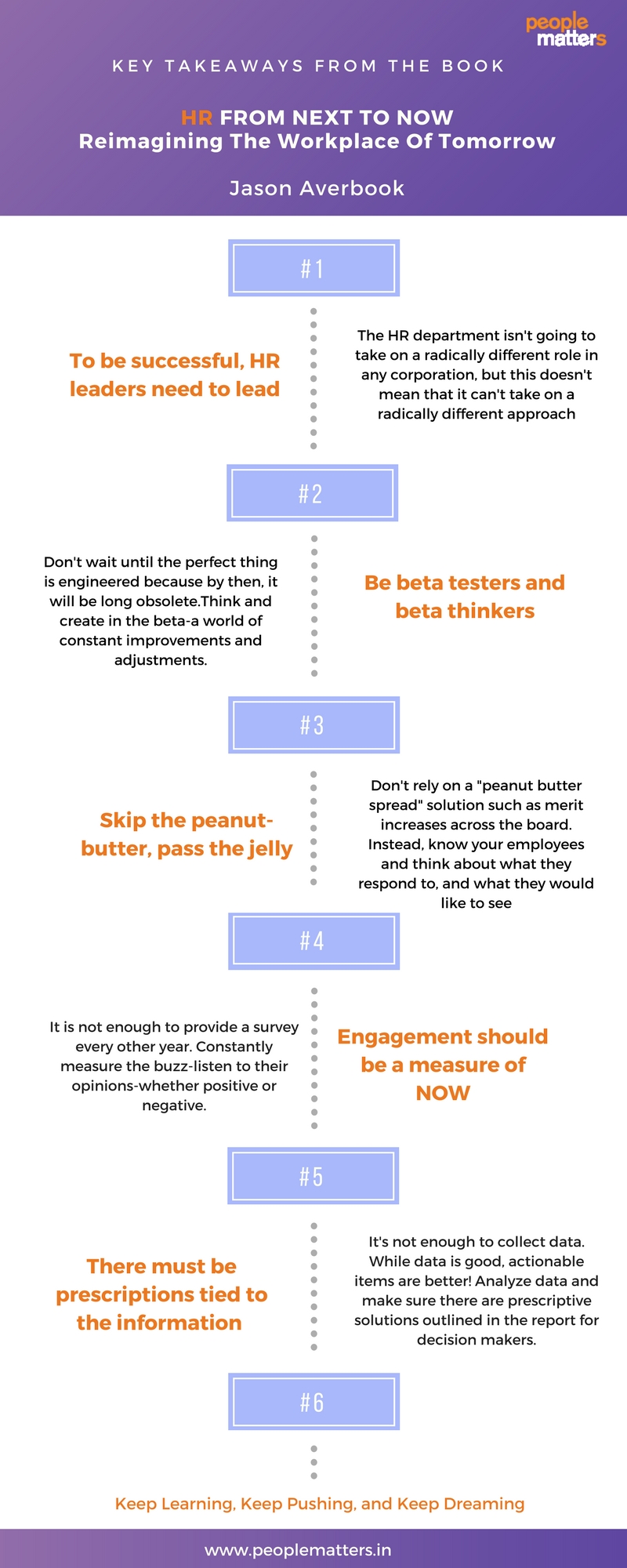 What we like about the book:
Averbook has put forward a clear guide to understanding and preparing for the future of HR. He challenges to constantly look at the processes and technology, not through the lens of HR but the lens of end users.
Something that caught our attention was the QR codes throughout the book. The QR codes showcased some of the technologies available to us in the workplace today. Additionally, these codes also gave access to relevant content and videos to supplement the learning.
Suitable for
Averbook provides tips, takeaways, and action items that can be applied at any level- whether you're a manager or a C-Suite executive.
About the Author:
Jason Averbook is currently a leading analyst, thought leader, consultant and keynote speaker in the area of human resources, the future of work and the impact technology has on that future. Jason will be the speaker at People Matters Tech HR 2018. To know about the event, click here.
Image Source: Google +