Strategic HR
Enterprise Acceleration: The need for speed and what HR needs to do about it
Embrace the nine drivers of HR for enhancing the velocity of growth in your people, process and organization as a whole.
The Deep Dive session conducted by Holger Mueller, Vice President and Principal Analyst, of Constellation Research reflected upon what HR needs to focus on when it comes to accelerating growth for organizations and people. Organizations in this era have to be cognizant of the fact that there is a need for speed when it comes to being flexible in adopting innovation not only in its business but also in managing its internal human asset. Cultivating an overall growth strategy requires acceleration in every aspect. There are primarily nine drivers when it comes to HR acceleration and can be categorized into the following segments:
Business User Centricity
In a highly competitive talent environment, leaders realize that creating a business user centric approach and culture is pivotal. Employees seek for those organizations that empower and value them and there is a need of shift on focus from administrators/reporting needs to productivity /efficiency needs. Hence, an environment is required to be created by leaders that help employees to fully utilize their skills for an improved business result.
Big Data Enablement
With the augment of big data in the field of HR, the workforce management gets efficient and agile. HR leaders are thus seen enabling themselves and their teams to make smarter and more accurate decisions. From the fast-changing potentially unstructured way of managing resources to a much better HR function that can forecast measures leading to higher efficiencies for accelerating the pace of organizational growth is quite evident. 
Machine Learning adoption
Machine Learning has been extremely important in accelerating the growth of every industry. In the realm of HR, the tech assistants are seen replacing ESS and AI is all set to augment the whole function. Progressive HR leaders have begun their journey to take advantage of artificial intelligence tools and reap the rewards ahead of the competition.
Lean Recruiting strategy
Lean recruiting concept has originated from 'lean manufacturing'which refers to an inventory strategy aimed to reduce costs and waste during a production cycle. Following the same ideology, lean recruiting aims to reduce the wastage within an organization during the process of hiring an employee. The waste can be thought of as excess time spent during the various stages of sourcing, screening or interviewing candidates. Such strategies have a direct effect on the productivity index and can be looked in by HR for further use in their organizations. 
Talent Depth Chart creation
It's time that HR makes the Talent depth chart real in their organization for accelerate the growth of talent management. Creating talent depth chart has many direct advantages. At any given point of time, a manager can easily find how well the current holder of  the given position is performing or who else in the organization can do that job other than the current incumbent. It also can help to identify someone who can have the potential to do it better than the incumbent. Talent charts easily can become the feeder for lean recruiting and may help in taking decisions quicker.
Transboarding process
HR function uses their prime time in finding the right talent for their respective organizations. Employee onboarding too is a critical part of the process. However, when it comes to transferring employees, there is less importance given to support the process. Especially, automation for allocating people faster without haggling with managers and without the fear of upsetting the current manager during such transfers are not frequently observed in majority of organizations. Hence, there is a need for speed when it comes to the concept of transboarding. Being able to transboard people efficiently will be key for enterprises going forward. 
Fixed Performance Management conundrum
Performance Management needs to get de-mystified when it comes to accelerating the growth of an organization. It is imperative for the HR leaders to fix the current state of performance management systems with a blended approach of data driven measurement with proven human dynamics.  
21st century learning changes
Learning is being revolutionized in this era and professional development strategies are becoming a game-changer when it comes to retaining talent. HR Leaders need to modernize their learning systems through various tools based on gamified learning, micro-learning and MOOC learning concepts. Help create a momentum of acquiring and retaining self-based curated learning strategies for your employees.
Non monolithic approach
HR Leaders and other CXOs must learn to embrace a non-monolithic approach to enterprise software adoption model for their organization. It's time to allow each area of the enterprise to run their own set of automation as against the traditional approach of providing one way of doing things for all. Today, a more modern approach to enterprise architecture is needed for reaping the benefits in this fast-changing world.
Wrap Up
To summarize, Leaders need to learn to embracethese conceptsfor driving business growth and attain enterprise acceleration in all respect. And Holger very finely summates the entire foundation of enterprise acceleration by devising a mathematical formula that has crucial elements of people, technology, skill and learning interwoven in it.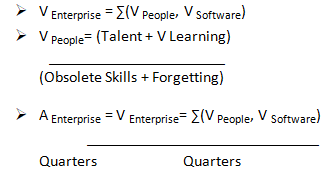 Do use it in your organization and enable your organization to move ahead in the curve! 
(This article is based on a session by Holger Mueller, Vice President and Principal Analyst, of Constellation Research on Deep Dive-Enterprise Acceleration: The need for speed of HR- and what HR needs to do about it at People Matters TechHR2019.)