Talent Acquisition
InterGlobe aligning talent practices with employee aspirations
InterGlobe focuses on devising unique people practices by anchoring innovation in business processes, mentoring, accelerating leadership growth, upskilling employees and embracing technology
InterGlobe Enterprises Ltd. (IGE) has emerged as one of the world's leading travel service providers, with its umbrella of businesses spanning across civil aviation, airline management, travel distribution, travel technology, hospitality, and education. Its culture is an amalgamation of many ingredients — from hiring people who are aligned to the organization's values, to equipping them with the right skills and competencies to manage conflicting situations, to recognizing their great work and achievements.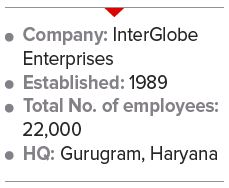 However, as this conglomerate has continued to cement its position as one of the world's leading travel service provider, it has not moved away from its core of "keeping it simple, keeping to the basics and every time 'on-time'". In a group which operates across different aspects of your travel experience (from flights to hotels), where employees work 24x7x365 days and are mostly comprised of millennials always looking for newer experiences and challenges; it's imperative to keep employee experience at the center and then work tirelessly to create that experience. 
Group's IJP (Internal Job Postings) process provide employees with the opportunities to apply for role changes across group companies, enables participatory hiring and lays special emphasis on lateral exposure and job enlargement. It's talent induction program- iPAD (InterGlobe Program for Accelerated Development) in collaboration with leading campuses like IIM, IIFT, MDI, XLRI etc. helps ensure that the incoming talent is setup for success appropriately. InterGlobe's Professional Certification Policy gives the flexibility to pick a course of choice from a list of 500 courses funded by the organization and a fast track growth path offered to consistently performing employees.
Much like the industry they operate in, this conglomerate is continuously working to align its talent practices with the aspirations of its workforce and create a truly 'on-time', 'every-time' experience.
Providing on-time, courteous & hassle free service to employees: IndiGo Airlines
A shining and well known example of group's ability to create an 'on-time', 'courteous and hassle free' experience is IndiGo.  Everything that one experiences at IndiGo externally is a reflection of its internal culture. Every policy and process in the IndiGo system goes through the filters of 'On-time, low fares and courteous & hassle free' service. 
InterGlobe inducts talent through its iPAD (InterGlobe Program for Accelerated Development) program in collaboration with premier institutes like IIM, MDI & XLRI
From engagement activities, rewards & recognition programs to health and wellness initiatives everything has to meet these criteria. IndiGo gives the opportunity to its employees to stay virtually connected at all times through the company's social networking site called My 6E World. Its 6E Helpdesk helps an employee centrally raise and track any process related issues. 6E Claps, recognition tool for peer to peer appreciation, helps cement the culture of appreciation. 6E Voice, helps fuel openness and transparency in the system, where employees can directly share their ideas, inputs or concerns with the leadership team. And it's unique, Flexi-flying program allows pilots and cabin crew to opt for work-patterns that are suited to their needs, which in turn drives performance and offers convenience.