Talent Management
Demand for gigification of digital work skyrockets by 148% in FY22
There is an influx of talent who prefers to work on a task/project-based model, ensuring enterprises enjoy effective utilisation of human capital for work fulfilment, while job seekers find meaningful and accessible work opportunities, reveals a report by Awign.
In the past three years, there has been a significant increase in the adoption of the on-demand gig model, attributed to changes in how enterprises assign work and how job seekers approach employment opportunities.
The gig economy in India has recorded a 13-fold increase in demand for gigification - or the process of breaking down critical work into smaller tasks, thus eliminating the challenge of talent utilisation - compared to pre-pandemic levels, reveals a report by work-as-a-service platform Awign.
The report, titled 'The Power of Gig: Shaping the Future of Work', suggests that companies in e-commerce, fintech, healthtech, edtech, and quick commerce sectors have been leading demand for gigification in recent years.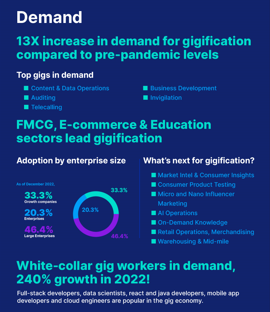 Enterprises are delegating the fulfillment of critical hyperlocal and digital work such as business development, auditing, and invigilation, along with tele-calling, content, and data operations, which have emerged as the top areas of work fulfillment since the pandemic.
The company also reported a 148 per cent increase in demand for gigification of digital work in FY22 compared to FY21, highlighting the trend of digitalisation and accelerating growth of the digital economy.
Annanya Sarthak, Co-Founder and CEO, Awign said that while the on-demand model was assumed to be limited to consumer-facing blue-collar work prior to the pandemic, today, rapid adoption of the enterprise-gig model is revolutionising the execution of grey-collar and white-collar work as well. "Enterprises enjoy effective utilisation of human capital for work fulfillment, while job seekers find meaningful and accessible work opportunities without any barriers."
Interestingly, there is an increasing influx of talent that prefers to work on a task-based or project-based model, wherein access to work, flexibility, and financial independence are steering India's workforce dynamics.
Awign's data in the report shows that 55.6 per cent of its gig workforce are aged between 18-25, as they are more agile and prefer flexibility in work.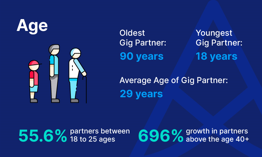 The company has also witnessed rising participation of gig workers from Tier 3 cities, showcasing the geographical penetration of enterprises and work opportunities in India. As of December 2022, 41.3 per cent of Awign's gig workforce came from Tier 3 cities, while 35.6 per cent and 22.9 per cent came from Tier 1 and Tier 2 cities, respectively.
Awign has observed almost three-fold growth in registrations from women gig partners in FY22 compared to FY21, emphasising the accessibility for women to enter or re-enter the workforce, and gain financial independence based on their own flexibility and convenience.
Examining the expansion of skill levels in the gig economy, the report also suggests an almost 240 per cent increase in participation of high-skill or white-collared workers in the gig economy last year, with demand for tech roles such as full-stack developers, data scientists, react and java developers, mobile app developers, and cloud engineers.
"While gigification is still at a nascent stage, it truly holds value and potential to rise multifold and bolster India's economic growth. By popularising an ecosystem for grey-collar work execution in India, we're unlocking the true potential of India's gig economy towards sustainable growth for India Inc" added Sarthak.
The report also slates retail operations, merchandising, market intel and consumer insights, consumer product testing, AI operations, and on-demand knowledge as the next areas for gigification, to be significantly driven by tech-based enterprises.
Image Credit: Awign