Talent Management
Top five talent trends in finance and accounting
Despite concerns about job replacement by technology including AI, finance professionals evince a strong desire for training and development, indicating a positive outlook for the future of the sector in India.
Indian finance professionals prioritise career development, growth opportunities, and mobility. They also value hybrid working arrangements and place a high priority on well-being and mental health, reveals the inaugural India Talent Trends in Finance Survey 2023 by the Association of Chartered Certified Accountants (ACCA), the global body for professional accountants.
Despite concerns about job replacement by technology including AI, professionals in the field show a strong desire for training and development, indicating a positive outlook for the future of the finance profession in India.
The survey highlights key trends in the industry that underscore the readiness of the ambitious workforce to leverage the benefits of modern workplaces.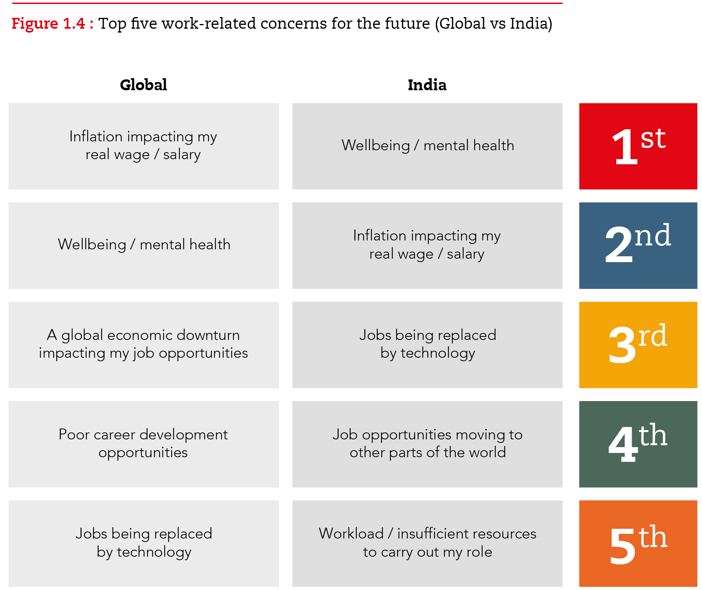 Five significant talent trends in the finance and accountancy profession were identified by the survey:
1. A holistic approach to well-being is needed among finance professionals and their employers, ranging from consideration for personal well-being and self-actualisation in the workplace to social relevance and physical and physiological safety. Among the finance professionals surveyed in India, almost 50 per cent highlighted well-being and mental health concerns as the foremost workplace concerns of the future, with close to 80 per cent interested in organisation-led support in managing mental health.
2.Technology is empowering, but professionals still worry about its impact on jobs and well-being.
In India, over 90 per cent of respondents believe technology helps professionals add value, but almost 90 per cent also want more training and development from their employers.
Also about 51 per cent of the Gen Z (professionals aged below 25) respondents in India are particularly concerned about technology replacing their jobs, with experts alluding to a generation that is more adept at social engagement tools than core workplace ones. Another 46 per cent of professionals aged between 25 and 42 also feared technology taking their jobs.
3. Hybrid work opportunities are crucial.
Unlike the global trend of returning to working fully from the office, the survey found out that India has a significantly high appetite for hybrid work arrangements.
The survey identified several noticeable factors that are critical to the success of hybrid working arrangements in organisations, including trust, communication, and access to technology. Of the professionals surveyed in India, 70 per cent are working partially or fully remotely. A staggering 92 per cent of all the professionals surveyed were interested in working from home at least once a week – showing a high demand for hybrid work opportunities in the country.
4.Upskilling and reskilling is shown to drive satisfaction among professionals. 
The survey recommends that organisations prioritise learning and development opportunities for their finance and accountancy talent, to keep up with the pace of change in the profession. Gen-Z (professionals aged under 25) seemed more inclined than older professionals to continually acquire new capabilities/skills.
5.A desire to move across borders through the profession was visible, with about 44 per cent respondents in India desiring to move across the globe within 12 months.
Satisfaction gaps captured for India depict that there is more than a sector-sensitive talent war raging, painting a picture of a more purpose-driven desire to move or stay within an organisation. This finding highlights the importance of purpose-driven work and a positive work culture in retaining finance talent in India.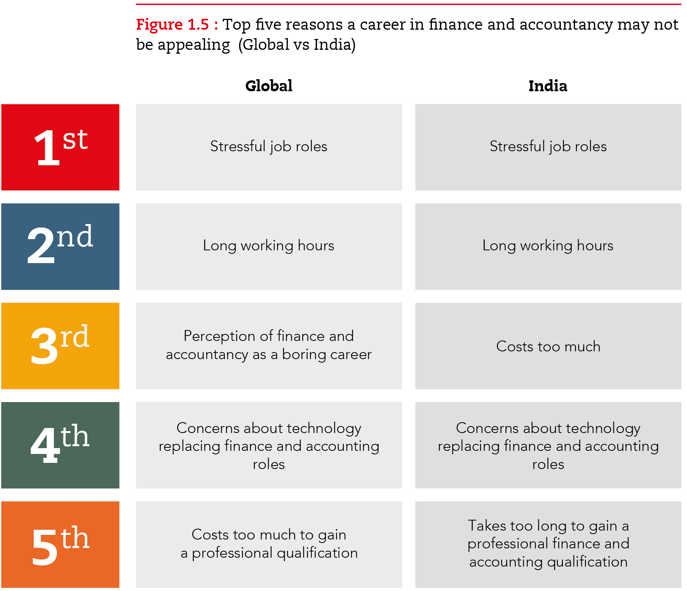 "Attracting the next generation of talent to the accountancy profession is vital to healthy economies. ACCA's inaugural India Talent Trends in Finance survey ensures the voice of those pursuing and working in the profession in India is heard, and that the profession helps create a working environment where tomorrow's talent wants to be," said Md Sajid Khan, Director-India at ACCA.